January 2019 (1AUD=0.7USD):
This trip was during the New Year's holiday in 2019. We had a 3-day tour of the wineries of Yarra Valley in Victoria, Australia. We toured wineries by rental car because Uber was not available in this area. The wineries which needed reservations were few. We bought an Optus prepaid SIM card for communication at Melbourne International Airport when we arrived.

When I selected wineries, I mainly referenced Australian wine awards.
Wineries and other places visited
-Four Pillars Gin (Gin Distillery)
-Seville Estate
-Levantine Hill Estate
-Yering Station Winery
-De Bortoli Wines
-Punt Road
Itinerary
1st day: Great Ocean Road – Yarra Valley
2nd day: Tasting at wineries in Yarra Valley 
3rd day: Yarra Valley – Melbourne International Airport – Singapore Changi Airport – Haneda International Airport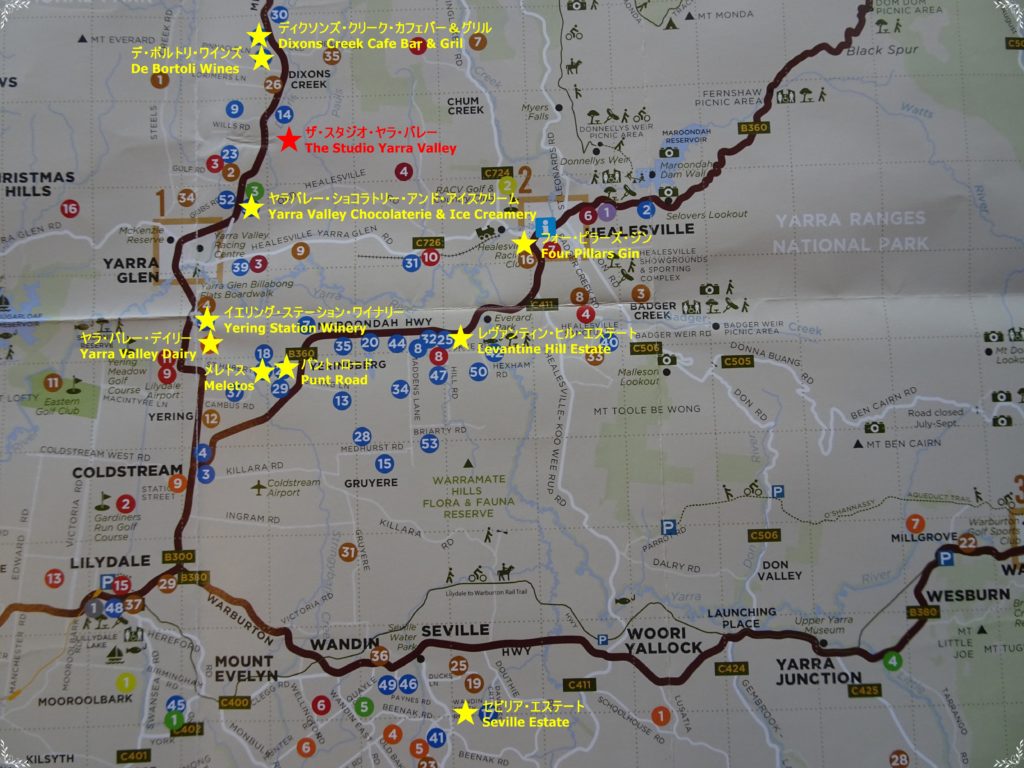 1st day: Wed, Jan 2nd
After the Great Ocean Road Driving itinerary, we arrived at the first winery in Yarra Valley, Seville Estate, about 4:00 P.M. We wanted to visit here in advance because this winery was apart from a central winery, but there was a sign telling us that it would open on January 3rd. After that, we tried to visit Tea Company and Coldstream Dairy for souvenirs, but these were also closed, I guessed, because of the New Year Holiday.
We pulled ourselves together and went ahead to Four Pillars Gin. This is a Gin distillery and uses Australian botanicals as the main ingredients. It won a world award. We looked inside the distillery and only I, who wasn't driving, tasted (A$10). When we purchased NAVY STRENGTH (A$100), the tasting fee was waived.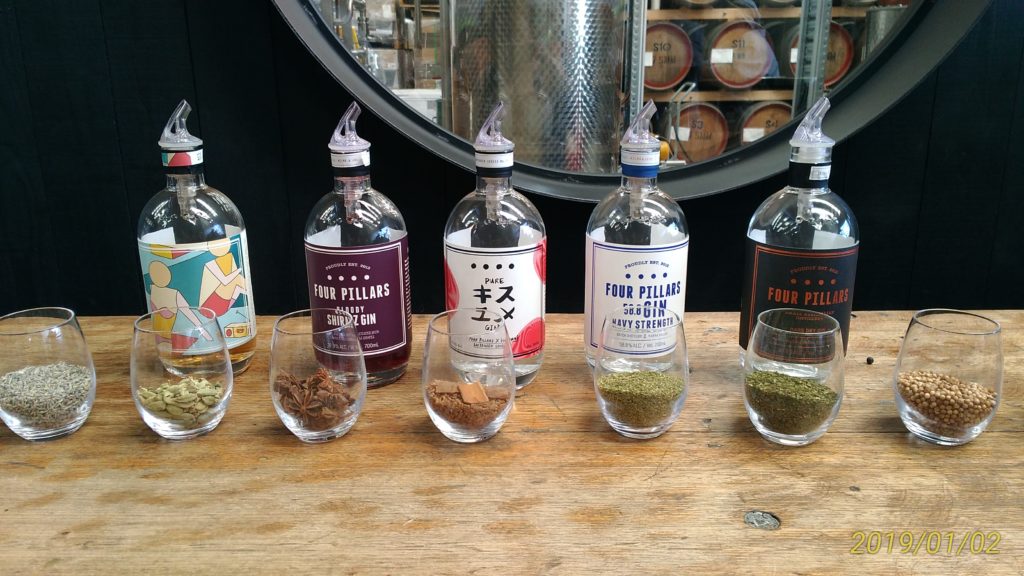 When we checked in at The Studio Yarra Valley and took a shower, we called an Uber to go to Dixons Creek Cafe Bar & Grill, which we had reserved for dinner. However, it didn't come at all. We were canceled by the first Uber, and the second one, which we called after that, took a long time to come. After all that, we arrived at the restaurant an hour late. Two main dishes and several alcoholic drinks cost A$129.50.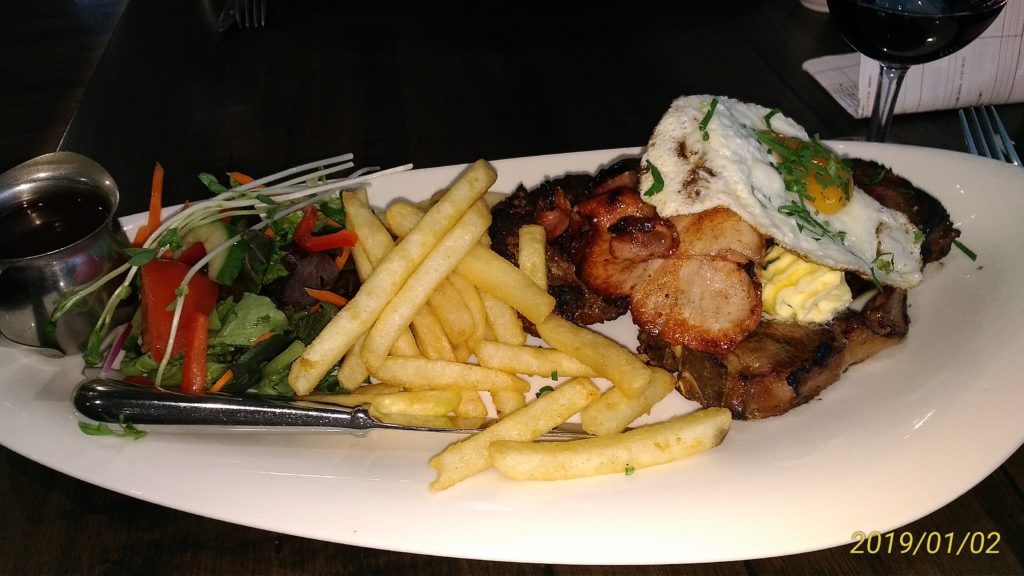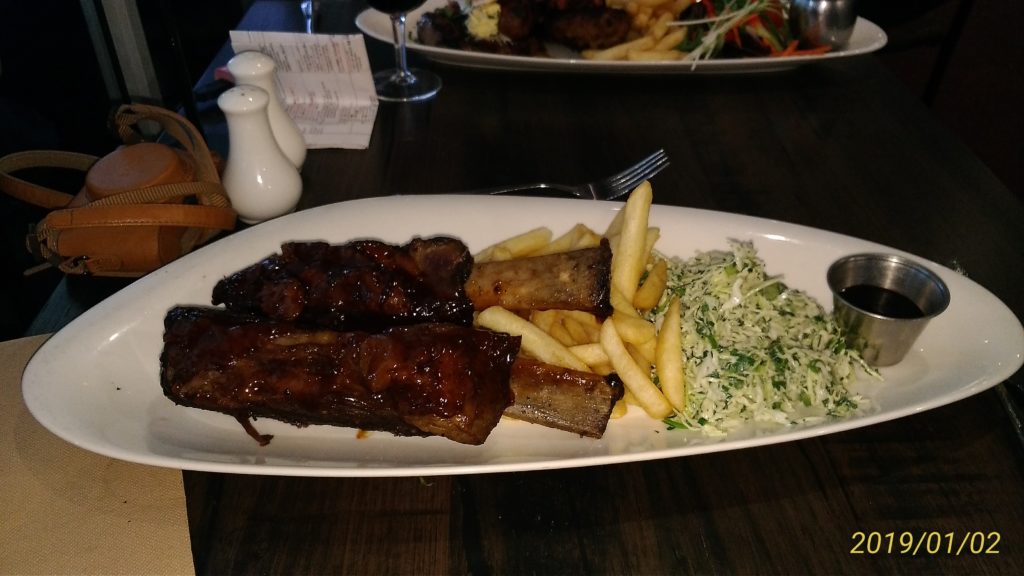 After the meal, when we were going to call Uber, there were no Ubers on the smartphone screen. I guessed they went home because it was late. We asked a staff member to call a taxi, but she replied that taxis were already off for the night. We were at a loss for what to do, so the restaurant owner, who was going home at that time, drove us to our cottage.
16:00 Yarra Valley
16:30 Four Pillars Gin
18:00 Check in at The Studio Yarra Valley
20:00 Dinner at Dixons Creek Cafe Bar & Grill
2nd day: Thurs, Jan 3rd
There is a popular attraction from which you can see the vineyards and sunrise – a hot air balloon. We drove around to see the balloons in the morning. However, there were many obstructions from the road, so it was unexpectedly difficult to find the balloons. The balloons were landing when we were finally able to find them.
We returned to the cottage and had breakfast on the terrace. There were ingredients for breakfast at check-in: bread and jam, which were likely homemade, eggs, milk, and yogurt.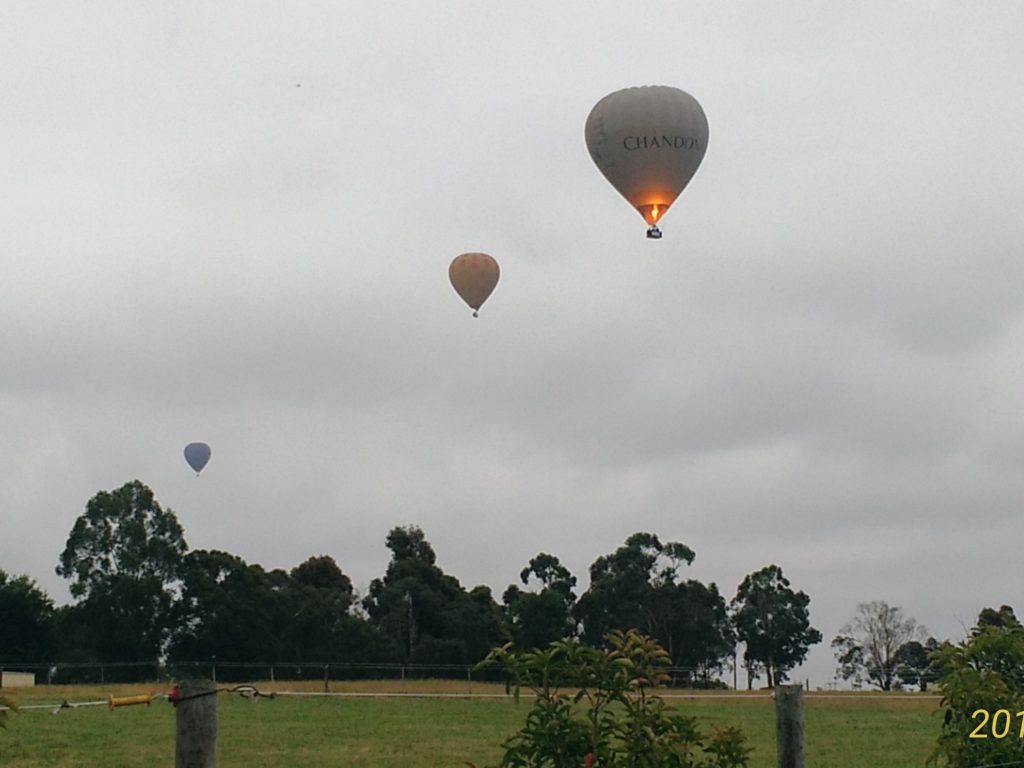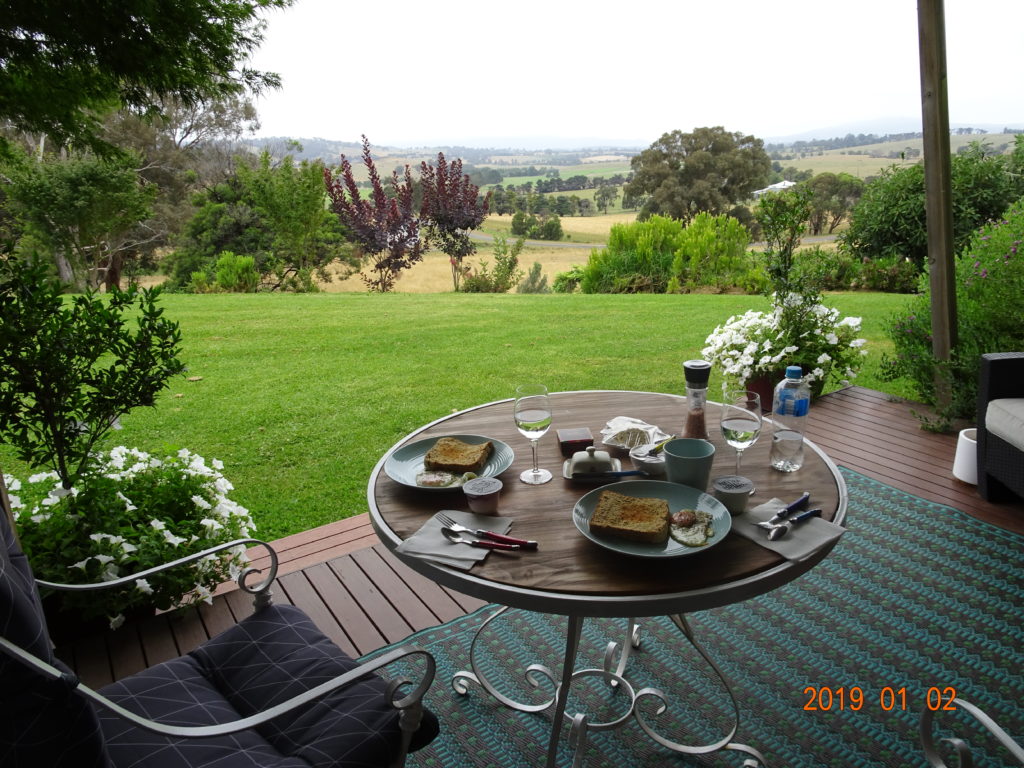 As we found that Uber was not useful, my husband drove to tour the wineries on this day.

At first, we stopped by a supermarket, Woolworths, and looked for Cabernet Blend of Yeringberg at the liquor shop. It is said that we can only visit this winery once a year, so the only way to find it was in the shops. There was no Cabernet Blend, but there was Chardonnay (A$65), so we bought it. We also bought sparkling wine from Chandon (A$41).

The first winery was Seville Estate. This winery won many awards by James Halliday, who is an Australian wine critic. I tasted 8 wines for A$20, including some reserve wines. We bought Reserve Shiraz (A$70) as a souvenir.

This winery had a very good reputation, so I wanted to visit there the most. Every wine was more delicious than expected.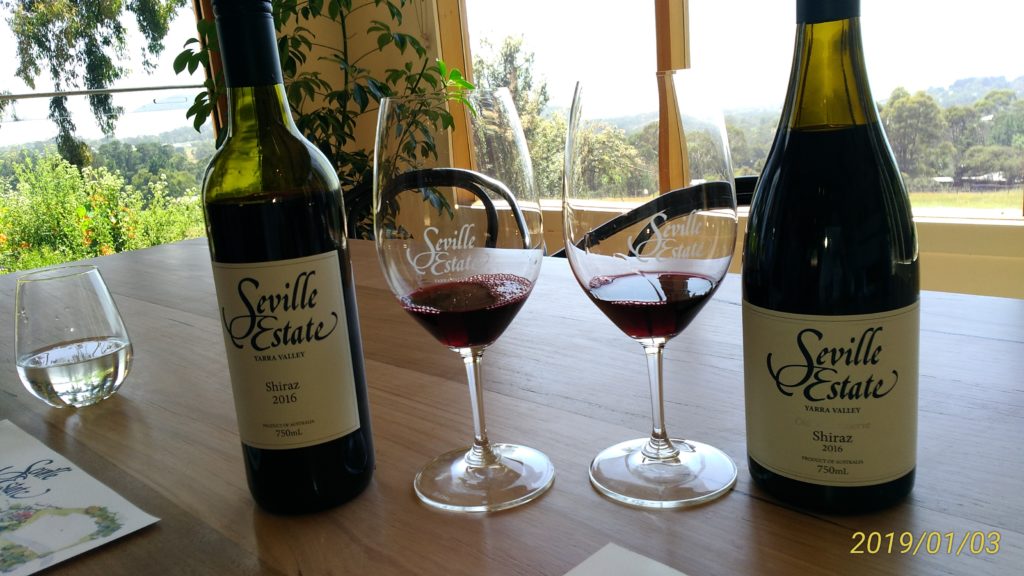 Before we went to the next winery, we stopped by Yarra Valley Chocolaterie & Ice Creamery and bought chocolates as a souvenir.

The second winery was Levantine Hill Estate. This winery won the London wine award. We bought Syrah (A$80) as a souvenir, and the tasting fee, which was 5 wines for A$18, was waived.

On the way to the next winery, we bought souvenir cheeses at Yarra Valley Dairy.

The third was Yering Station Winery. This winery has been around a long time and won James Halliday awards. I tasted 5 wines for A$15.

The fourth was De Bortoli Wines. This winery is famous for its good restaurant. We planned to have lunch with wine, but we changed our plans because we were driving a rental car. As we didn't have time to taste, we only bought a botrytis wine(Noble One:A$36) as a souvenir.

At last, there was Punt Road. We had reserved at 4:00 P.M. This winery won a Melbourne award. The tasting fee for a small group is free. We purchased Block 11 Cabernet Sauvignon (A$85) as a souvenir.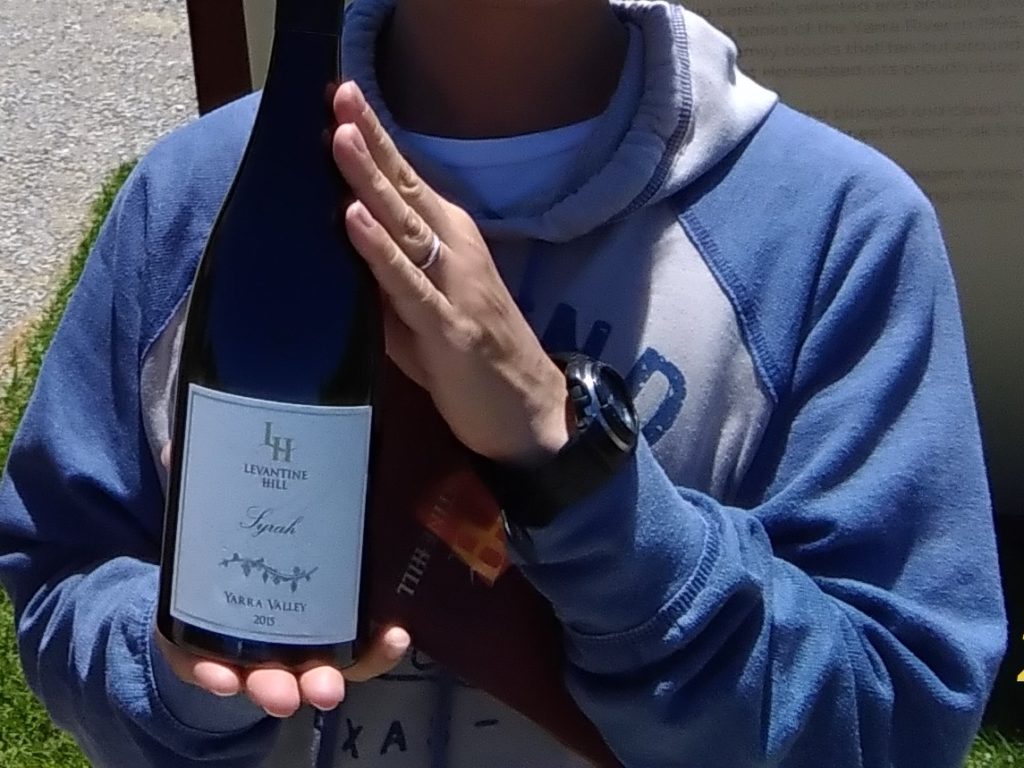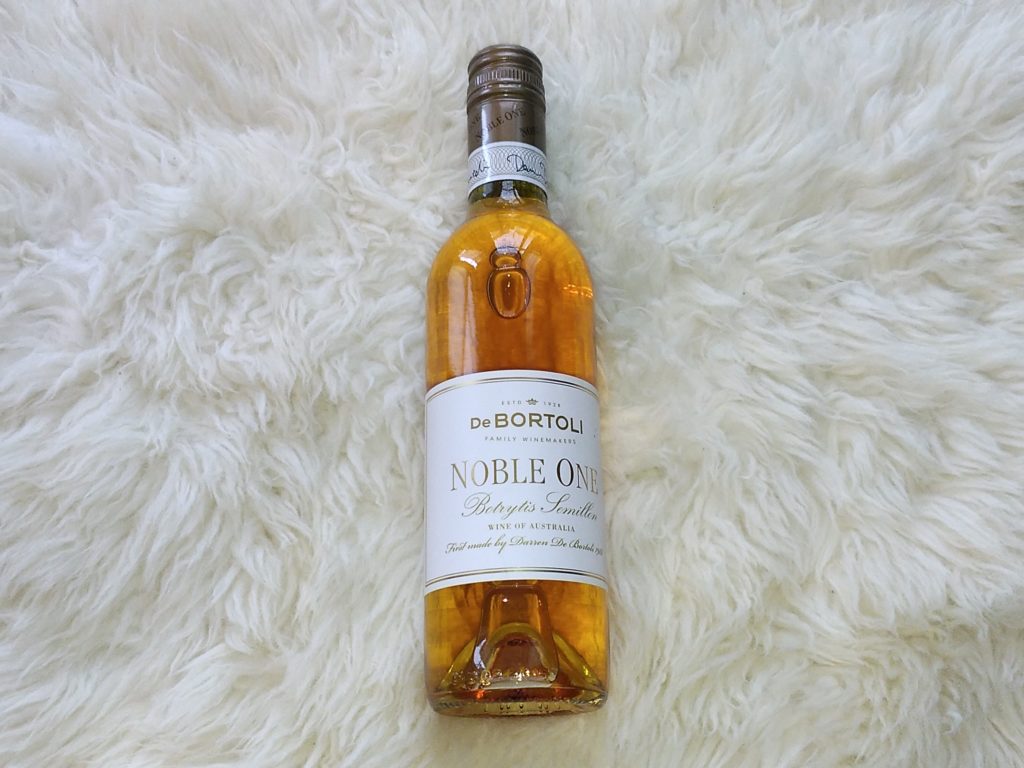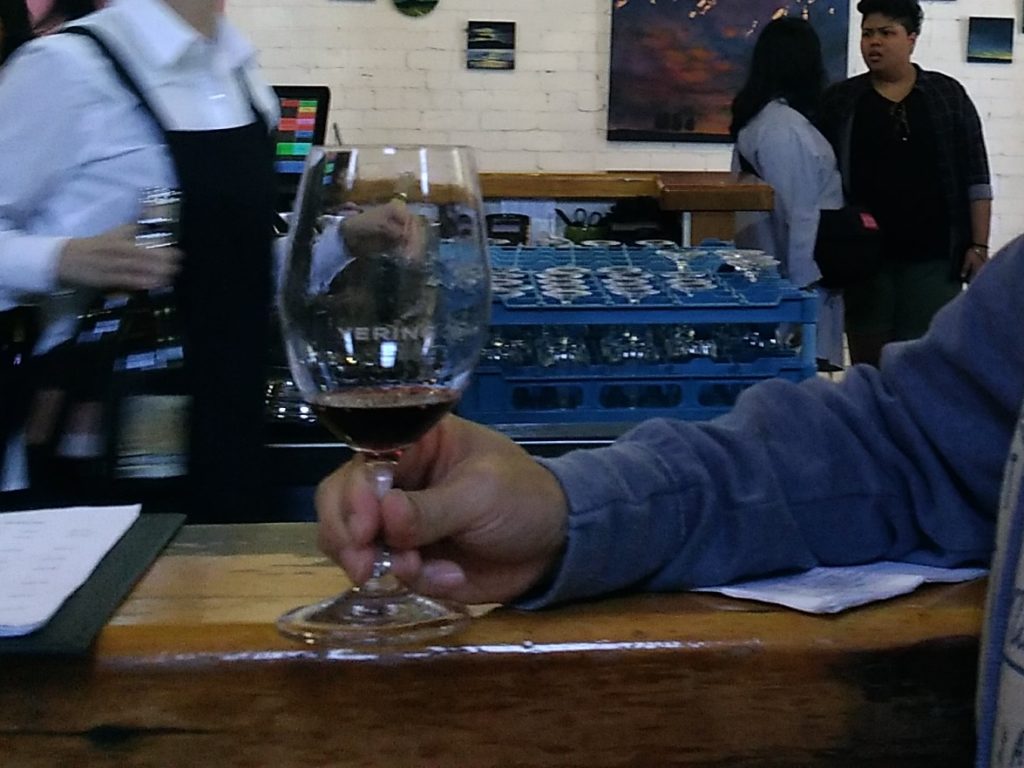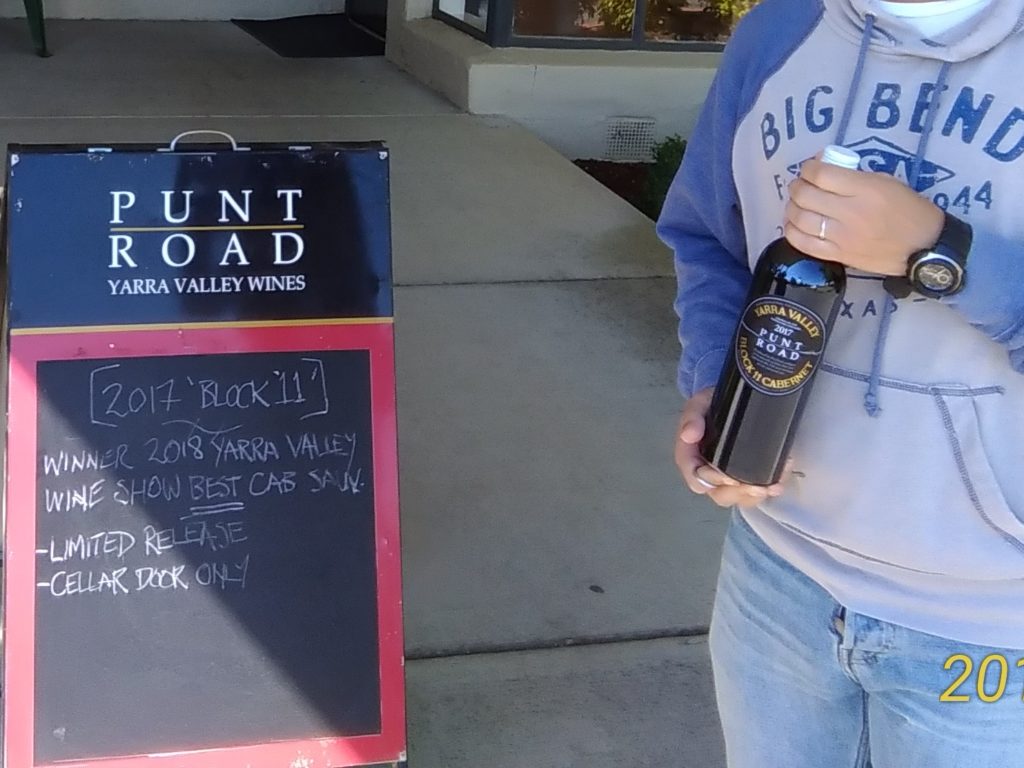 After that, we went to a restaurant, Meletos, next to Punt Road. We had reserved here because it was a popular place. You can drink draft beers and wines and it has a good reputation for food. We planned to have dinner with alcoholic drinks here but only had a pizza [because we were driving.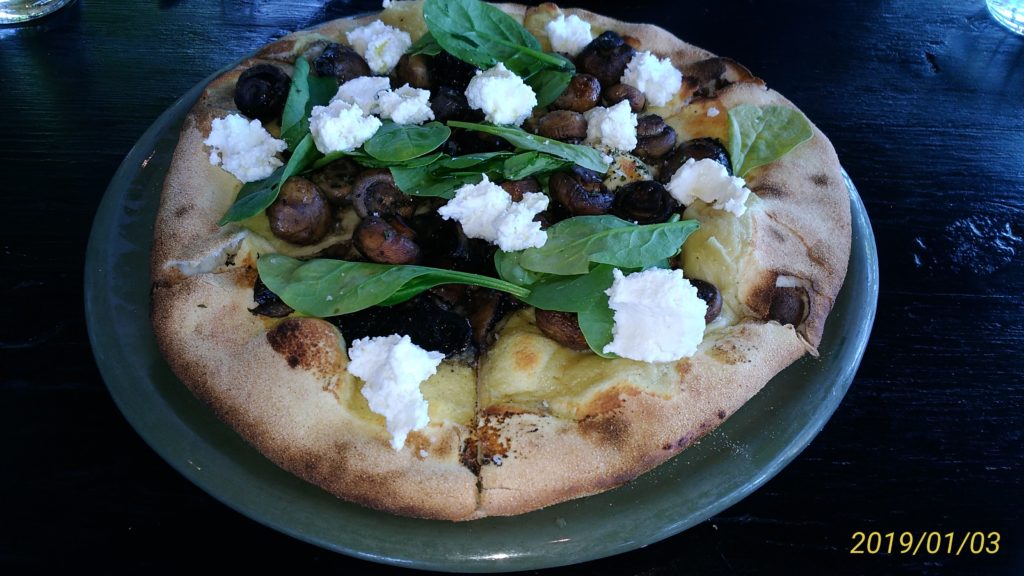 We returned to the cottage after getting groceries and wine for dinner at a supermarket. The kitchen was great because it had an oven. I guessed it was the ideal way to enjoy wines, which we bought at the wineries, with home cooking. The groceries cost A$29.35. Yarra Valley LDR of Giant Steps wine cost A$33.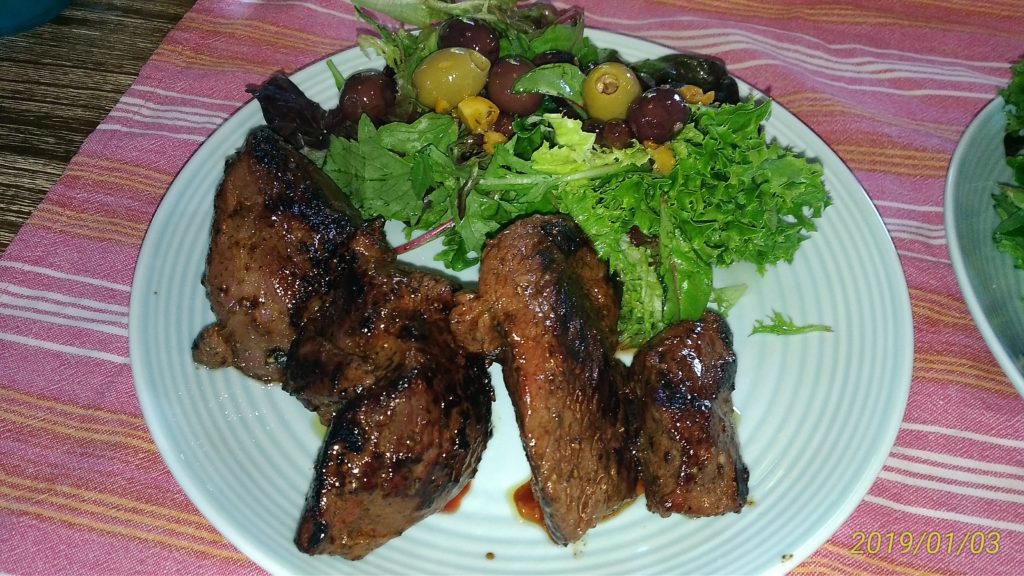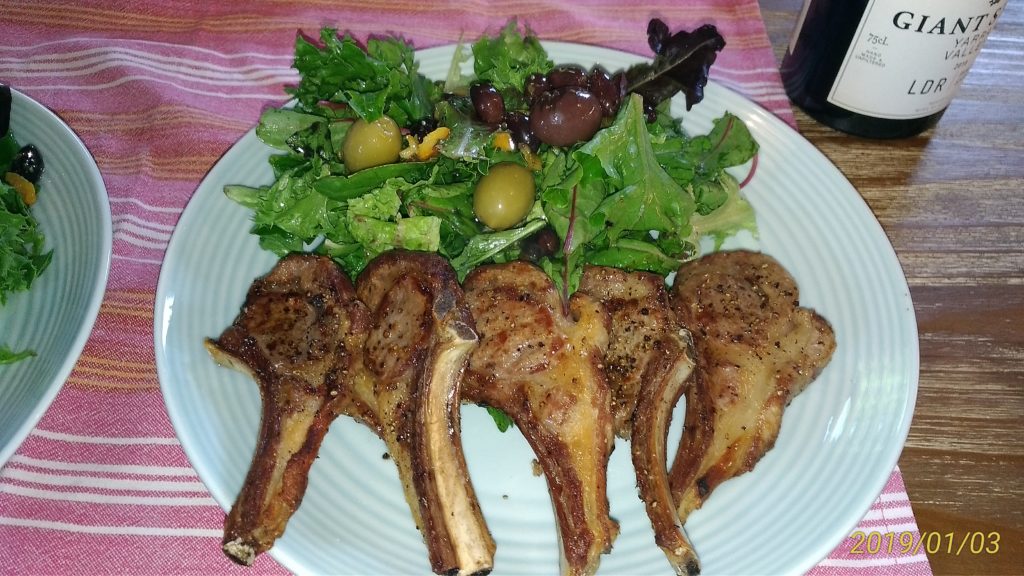 My husband, who didn't have to drive, finally enjoyed enough wine.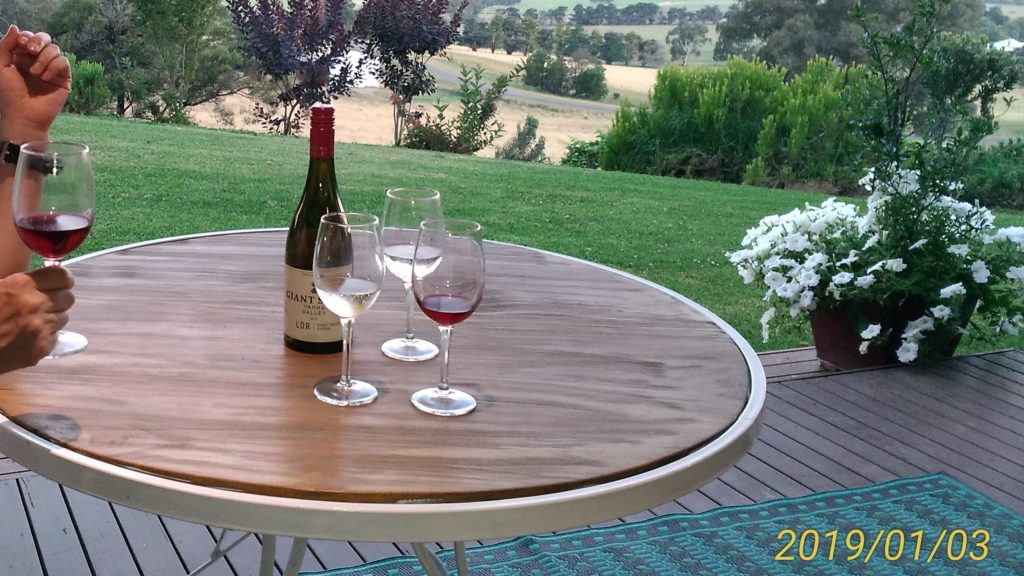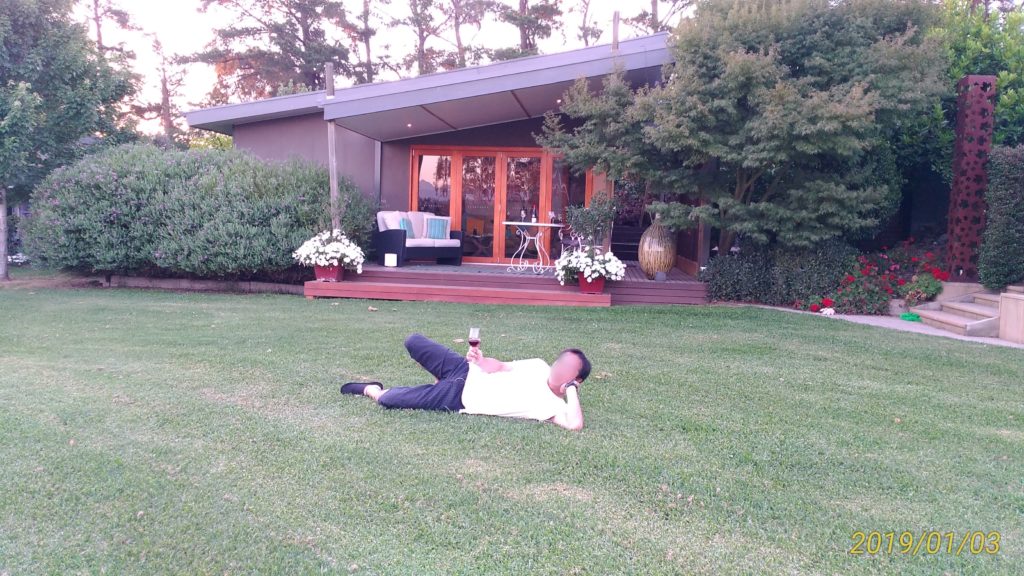 05:45 Looking for hot air balloons
10:45 Seville Estate
12:30 Yarra Valley Chocolaterie & Ice Creamery
12:45 Levantine Hill Estate
13:45 Yarra Valley Dairy
14:30 Yering Station Winery
15:30 De Bortoli Wines
16:00 Punt Road
16:45 Light meal at Meletos
19:00 Dinner at the cottage
3rd day: Fri, Jan 4th
When I was preparing breakfast, I heard a roar in the silence. I found that it was the burner sound from the hot air balloon, so I waited a while for it to appear. We looked for it for about an hour on the previous day, but it also took off from the wineries near our cottage. The hot air balloons which floated in the sunrise were so beautiful.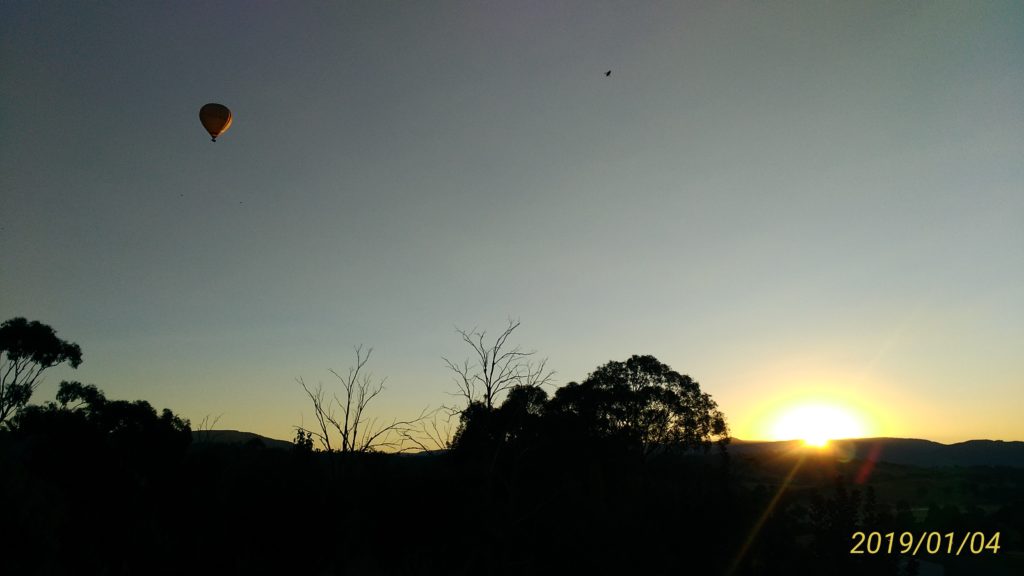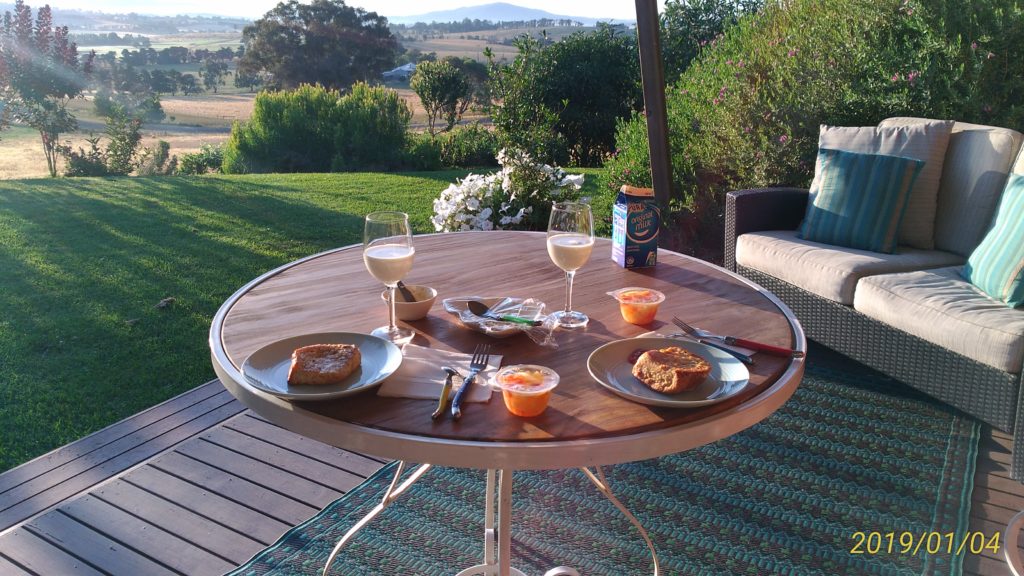 06:00 Sunrise & Balloon
08:30 Check out at the cottage
12:20 Melbourne International Airport
Impressions
Before the trip, when I had checked Uber, there were 3 cars on the weekdays and 4 or 5 cars on the weekends. When we actually used the Uber there, it was not useful after all. Yarra Valley, which was mixed with wineries and ranches, was pretty big and there weren't enough Ubers for the area. Unless you are with a tour group, it may be better to stay in Healesville, which has wineries and tourist attractions, if you don't use Uber or a rental car.

The Cabernet Blend of Yeringberg was sold at a souvenir shop after departure in Melbourne International Airport. We didn't buy it because we planned to transit in Singapore, but I want to buy it next time.