January 2019 (1AUD =0.7USD):
This trip was during the New Year holiday in 2019. We drove around Great Ocean Road in Victoria, Australia for two days in this area. We used an Optus prepaid SIM card for communication. We had reserved a rental car online in advance and rented it near Melbourne Airport.
Itinerary
Pre-trip day: Melbourne New Year's Eve Fireworks
1st day: Melbourne city – Twelve Apostles Marine National Park – Port Campbell National Park – Great Otway National Park
2nd day: Lake Elizabeth Platypus Tour – Kennett River wild Koala – Yarra Valley
Pre-trip day: Mon, December 31, 2018
We went from Red Centre Way, which was our previous journey, to Melbourne. We looked at Melbourne's New Year's Eve Fireworks.
1st day: Tue, January 1
We drove through the inland roads to Twelve Apostles Marine National Park, without driving on Great Ocean Road. We had breakfast at Hungry Jacks and went cheese tasting and shopping at Apostle Whey Cheese, and had a hot chocolate drink at G.O.R.G.E. Chocolates on the way.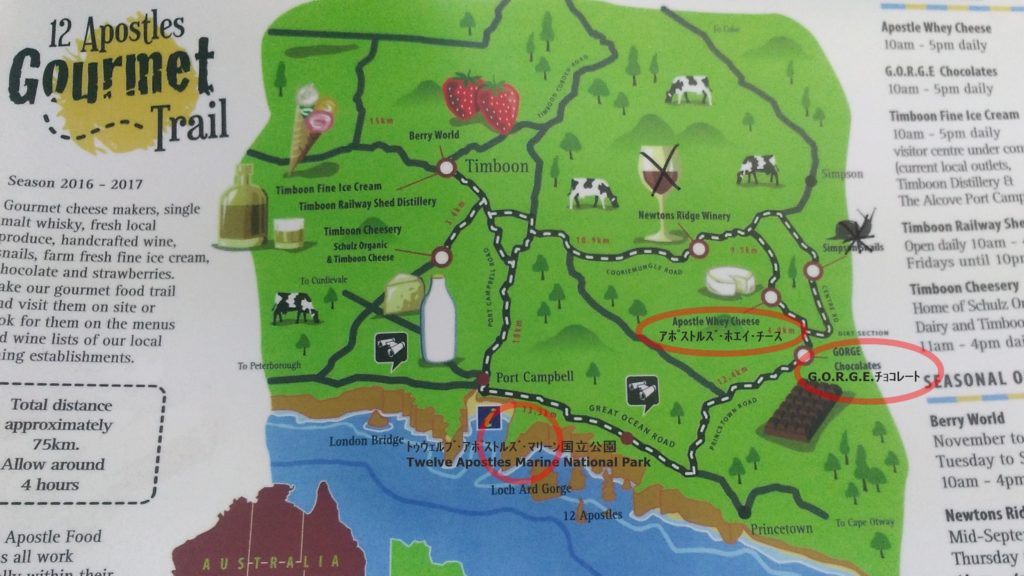 We walked for about 15 minutes from the car park of Twelve Apostles Marine National Park to Gibson Steps. It was a little crowded because Gibson Steps is very narrow.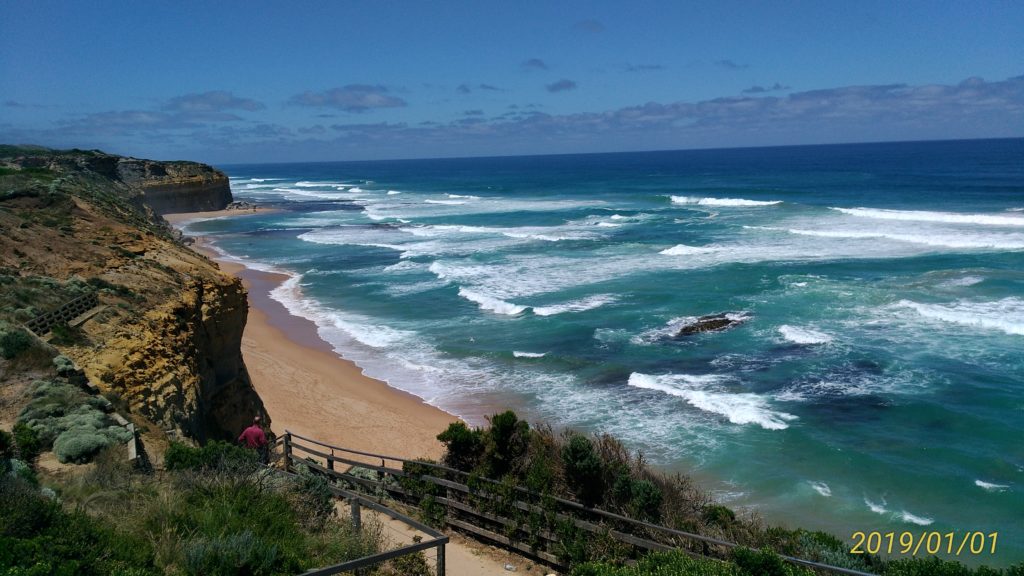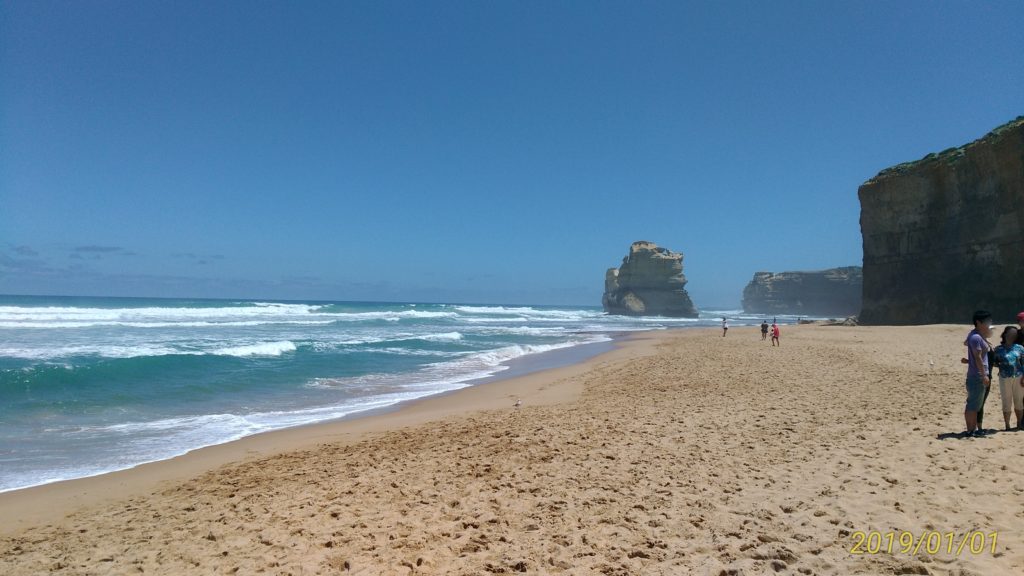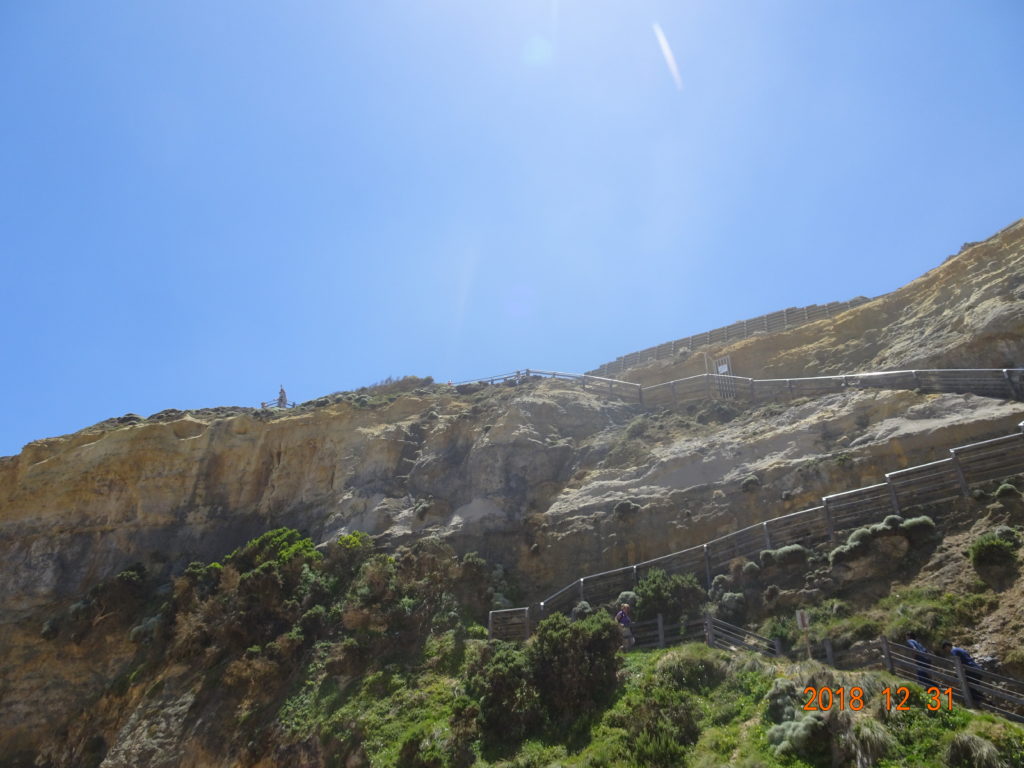 We returned to the car park and headed to the lookout points of The Twelve Apostles.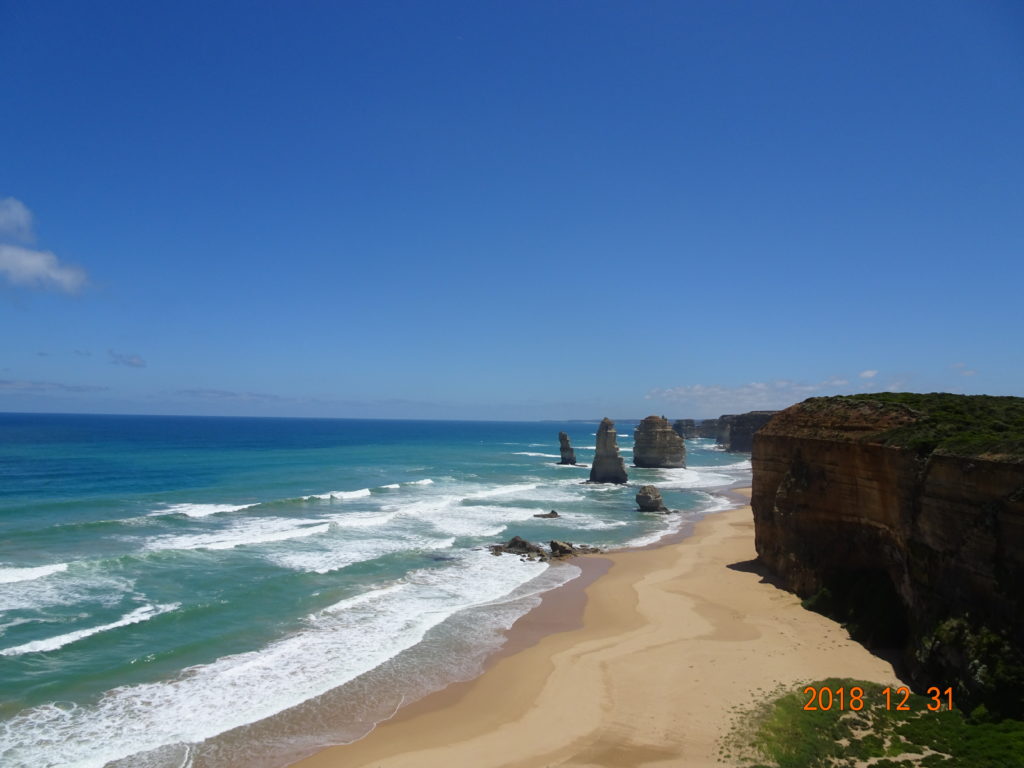 Next, we went to the park next door, Port Campbell National Park. We went around to focus on Loch Ard Gorge, Island Arch Lookout, Tom and Eva Lookout, and The Razorback because this park was very large.
Loch Ard Gorge was named after Loch Ard Ship, which was shipwrecked at Mutton Bird Island in 1878.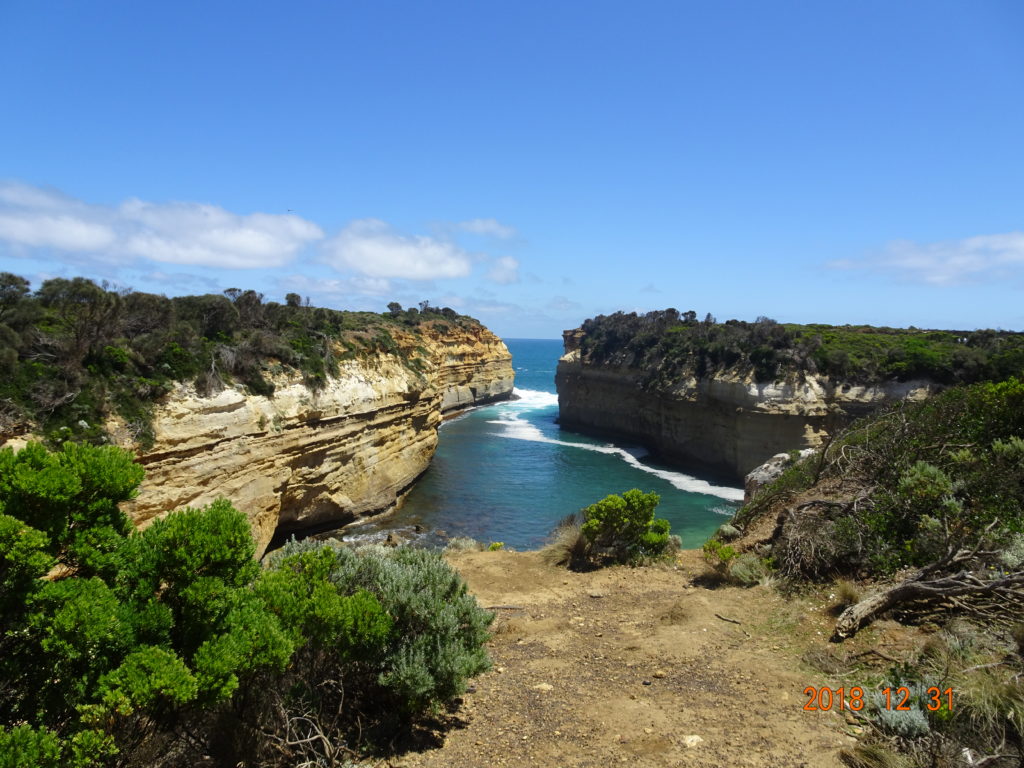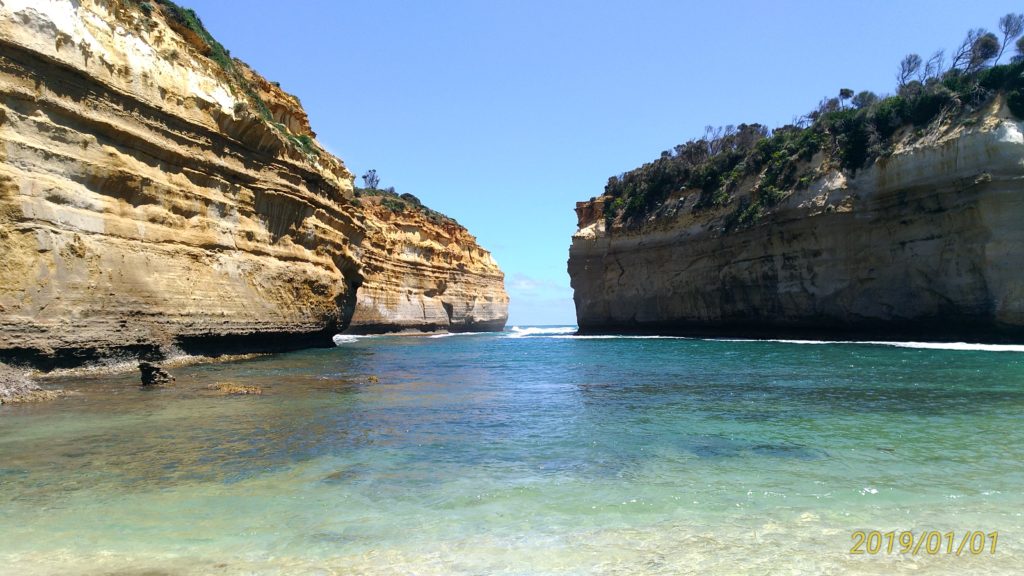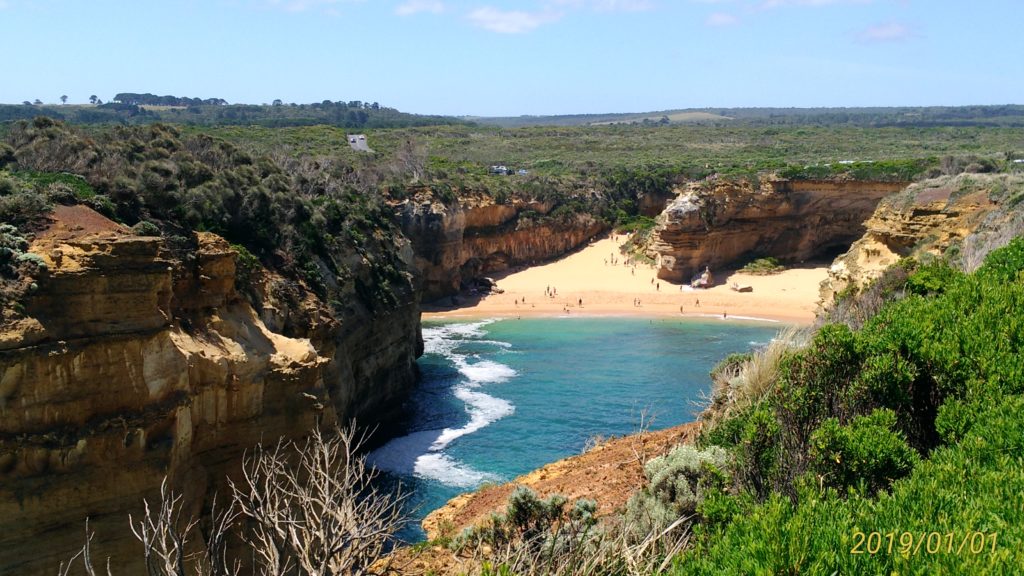 Two limestone stacks from Tom and Eva Lookout were named after survivors of the wreck of the Loch Ard.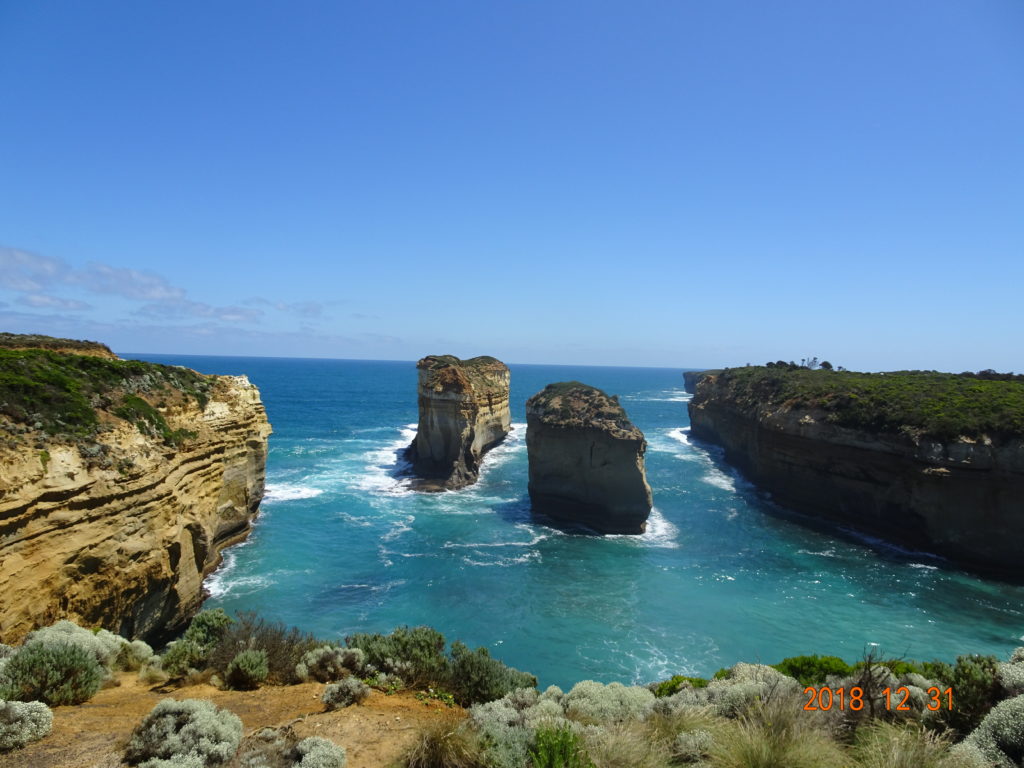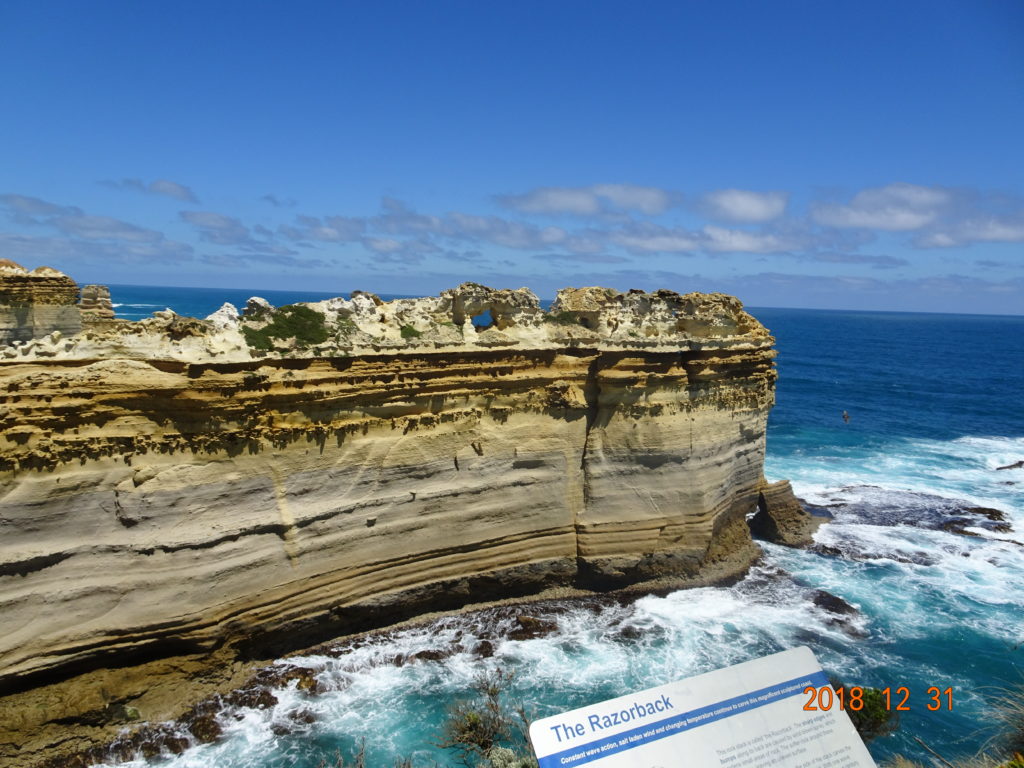 After that, we went around The Arch, London Bridge, and The Grotto.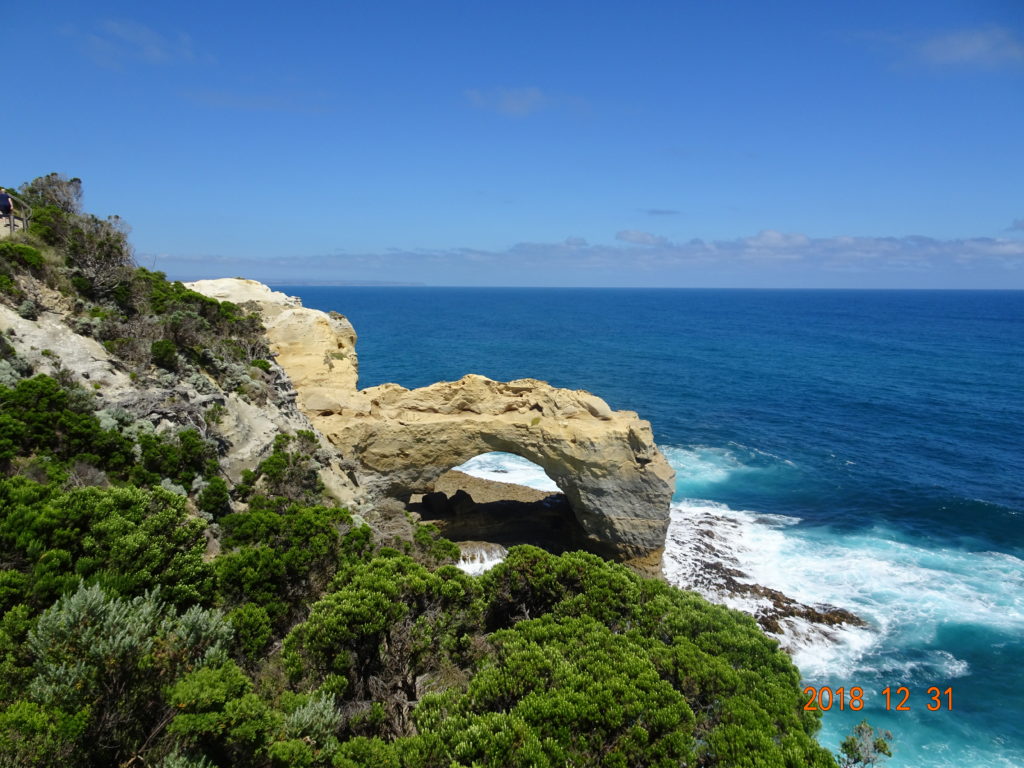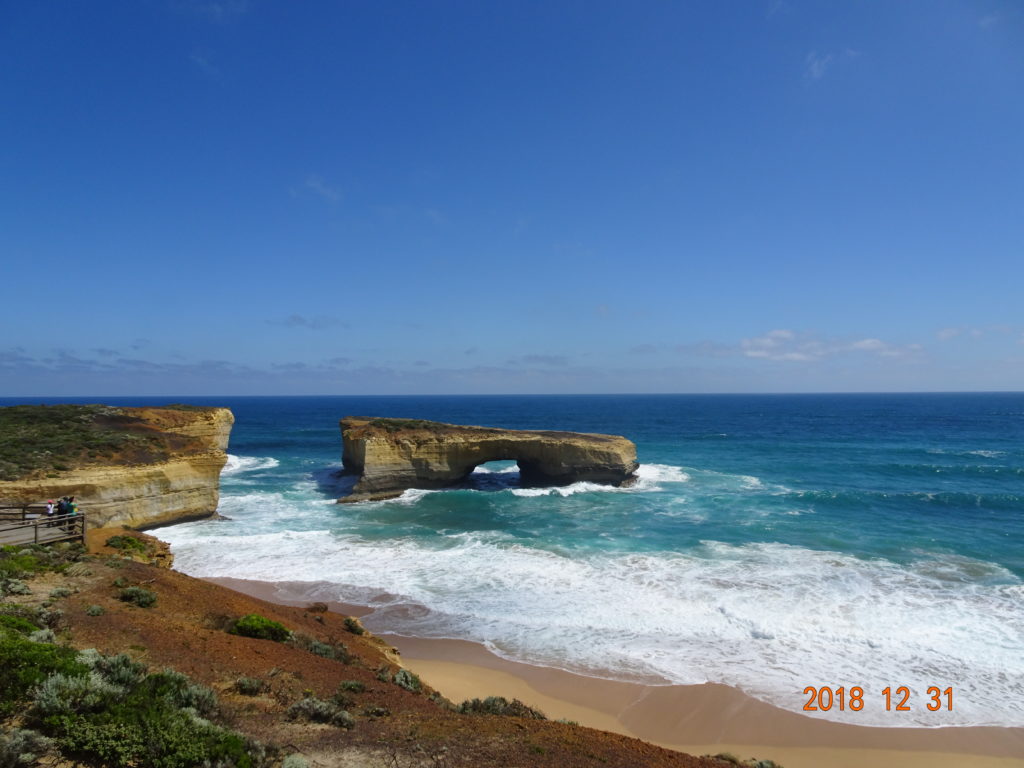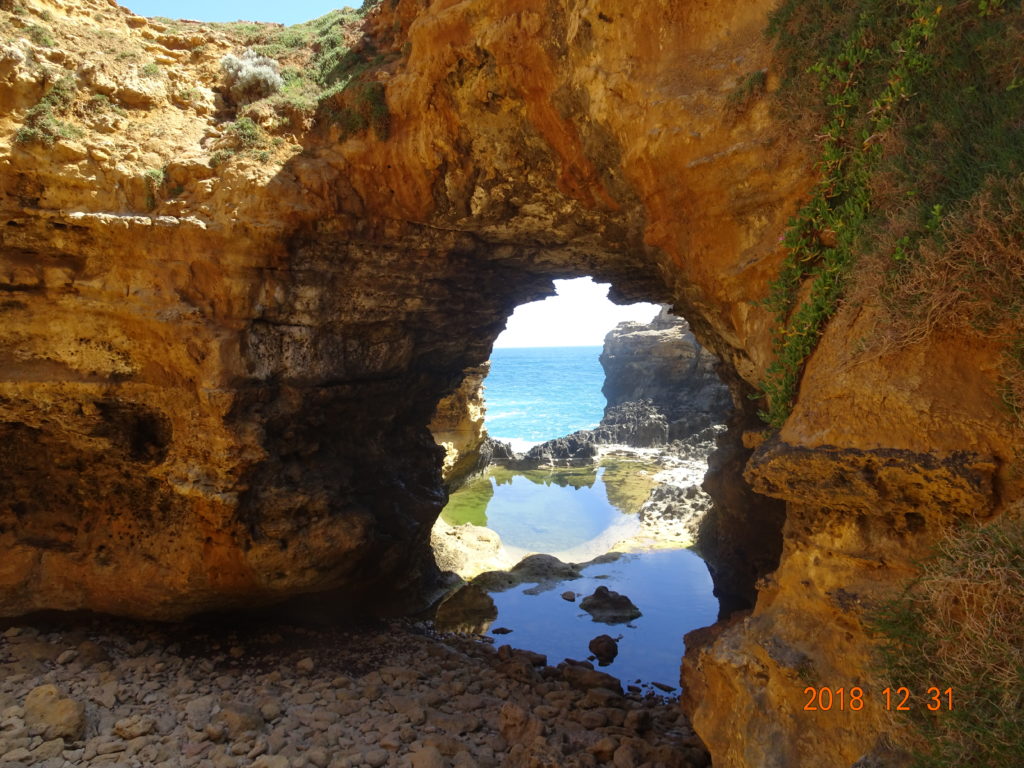 We stayed at The Wonky Stables Holiday Park in the little town, Forrest. You can look at wild platypuses in Lake Elizabeth in Otway National Park nearby.
When we went to buy beers in the restaurant and shop nearby after check-in, it was almost closing time, which I didn't know, because the online information was outdated. We planned to have dinner after driving to the lake but ordered and ate at that time.
After dinner, we went to the Lake Elizabeth car park and walked for about 15 minutes to the point where we could look at the platypuses. We looked for them with binoculars for a while, but couldn't find any. On the way back to the car park, we looked at the glow worms on the banks. The light was very dim, so we were not able to take their photos.
12:00 Apostle Whey Cheese
12:40 G.O.R.G.E. Chocolates
13:00 Twelve Apostles Marine National Park (Gibson Steps – Twelve Apostles)
14:15 Port Campbell National Park (Loch Ard Gorge –  Island Arch Lookout – Tom and Eva Lookout – The Razorback)
15:20 The Arch – London Bridge – The Grotto
18:00 Check in at The Wonky Stables Holiday Park
18:30 Dinner
20:00 Lake Elizabeth
2nd day: Wed, January 2
We participated in the platypus tour of Otway Eco Tours, which we had reserved. There were dawn and dusk tours, and the dusk tours, in which we could look at glow worms, was full, so we took the tour at dawn.
On the tour, we looked for platypuses on the boats for about one and a half hours. We also enjoyed the birds and their songs.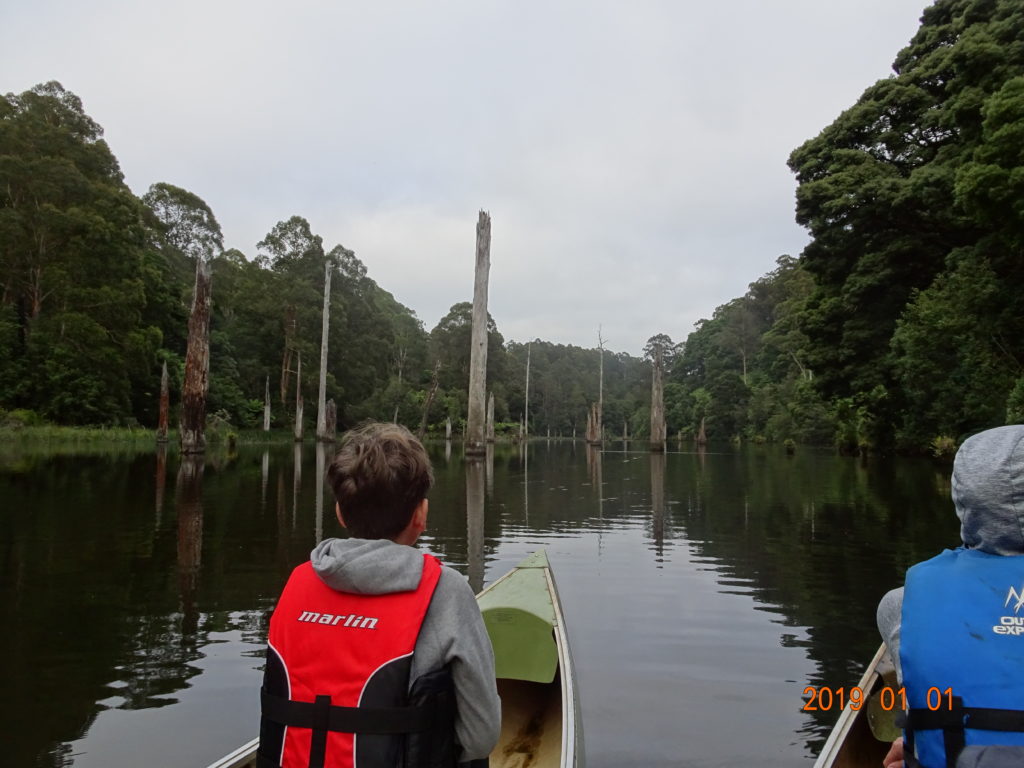 There were seven platypuses in Lake Elizabeth, but they were very shy and showed their faces for only a few seconds far from our boats, so it was hard to focus our camera and binoculars.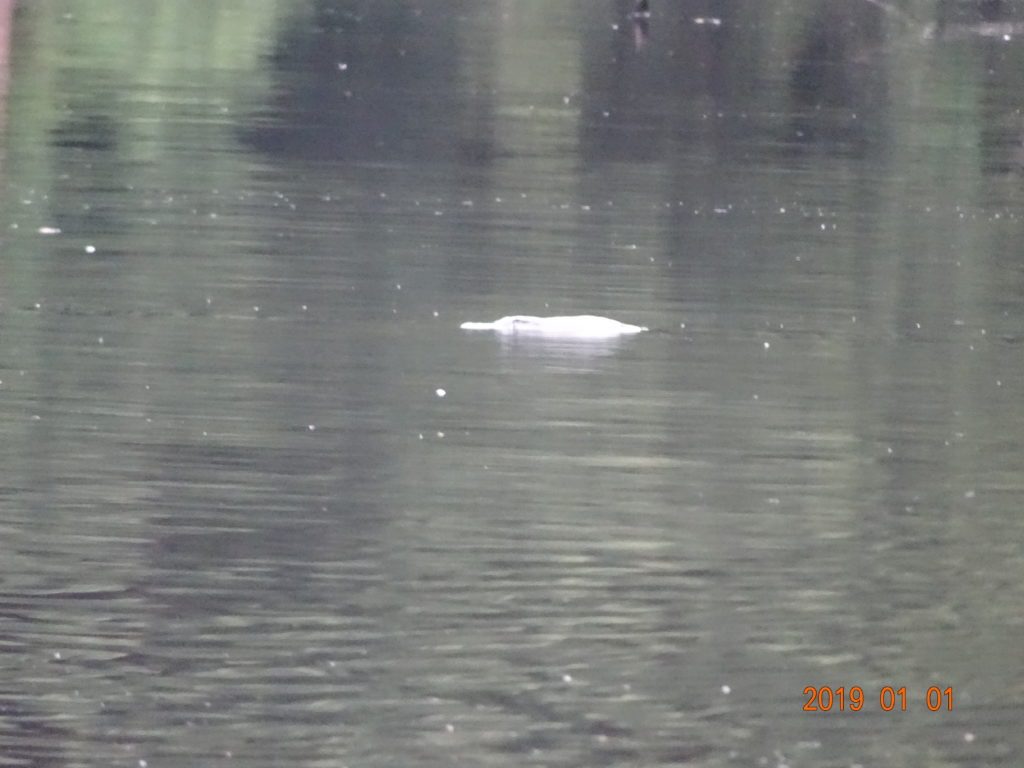 We checked out from our cabin after the tour. We got to the Great Ocean Road and went ahead to Kennett River.
We parked at Kafe Koala and had breakfast. The Grey River Rd, where there were wild koalas, was in front of the restaurant, so we walked and looked for koalas for about an hour after the meal.
There were eucalyptus woods on both sides of the road. The koalas were sleeping in the upper trees, so I guess they had already had breakfast. It was so high that we needed binoculars and a high magnification zoom camera.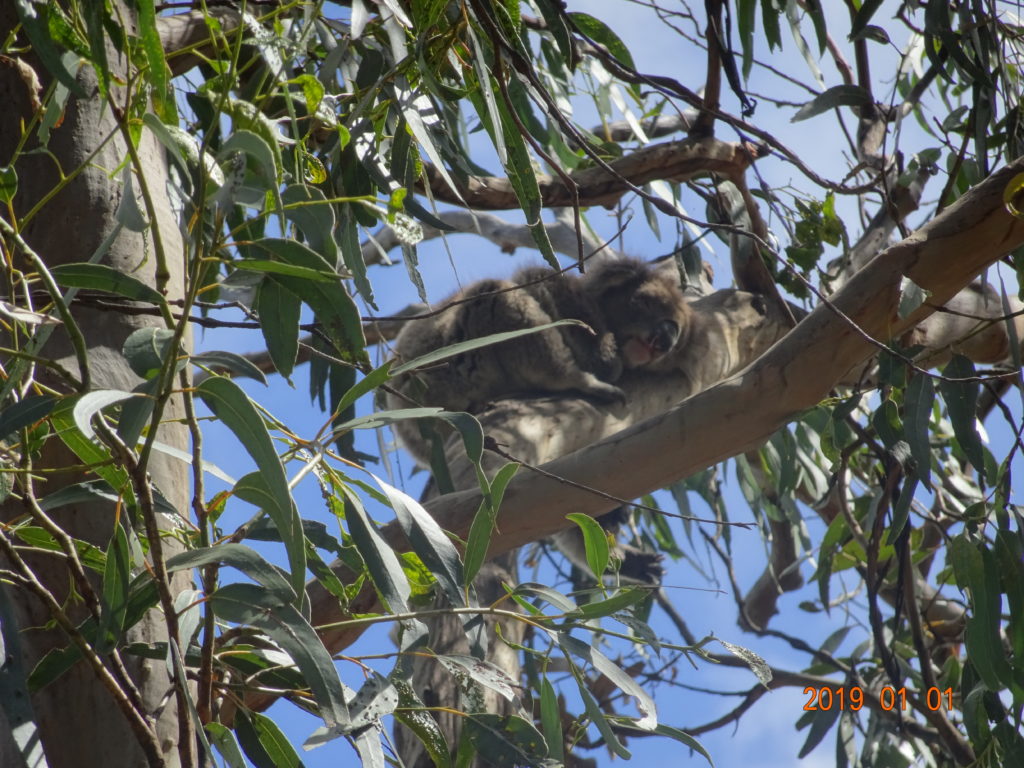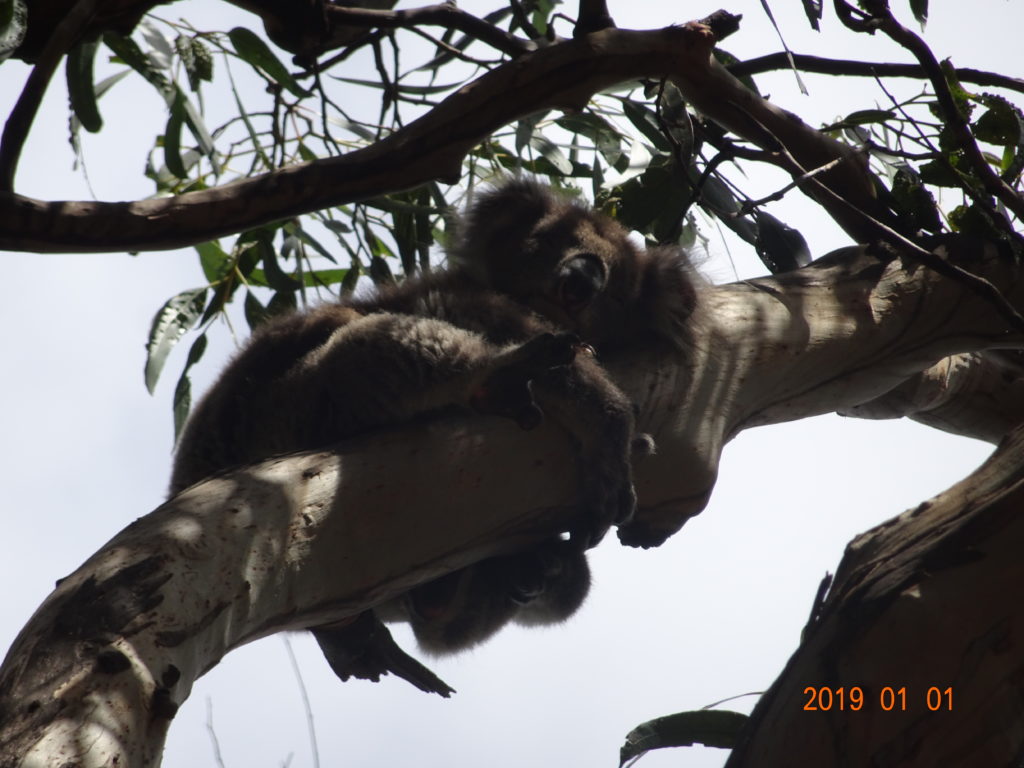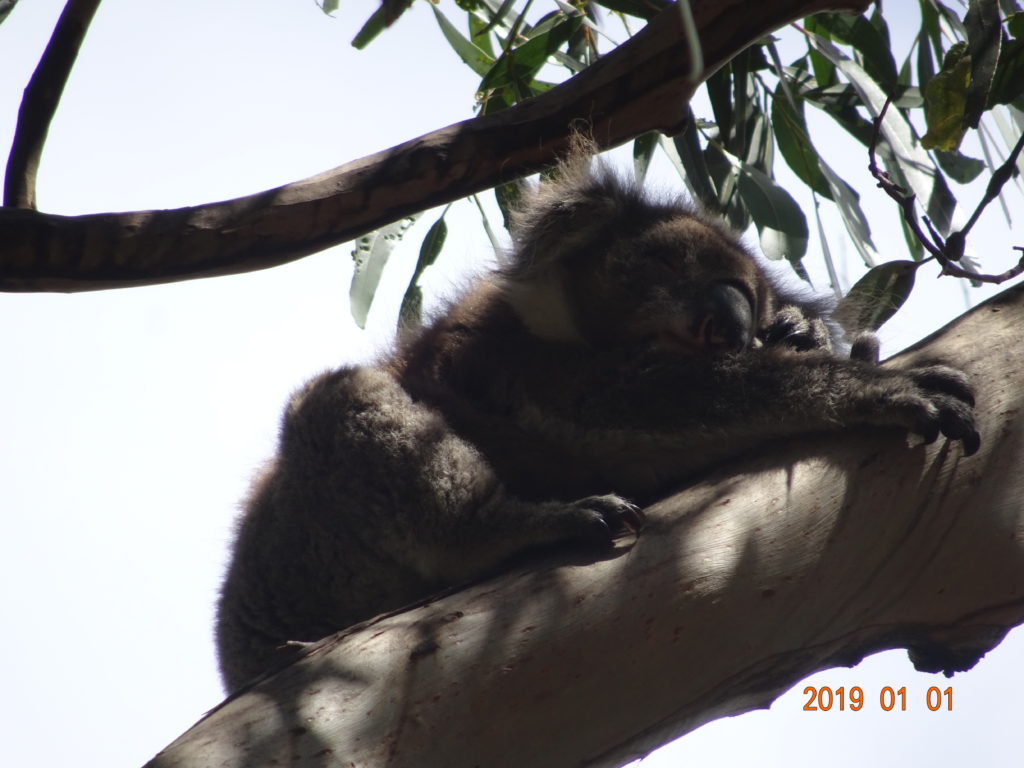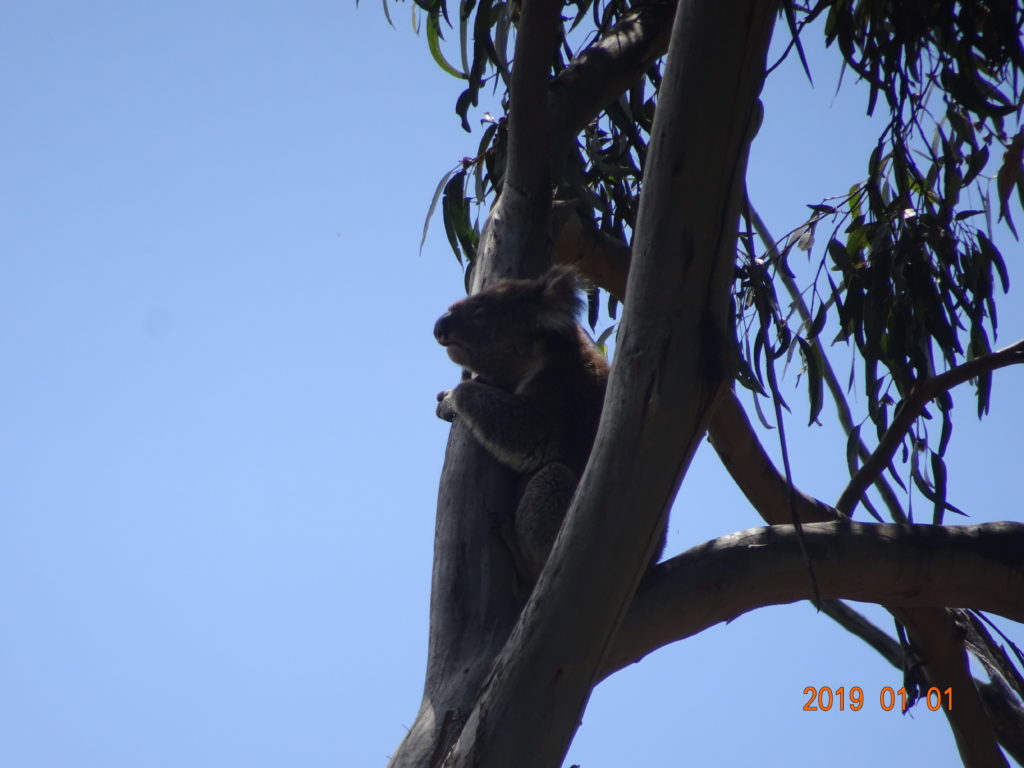 After that, we headed to the Anglesea Golf Club, enjoying the view of the Great Ocean Road. There were kangaroos in this golf club, but we couldn't see any through the fence, unfortunately. We headed to the next destination, Yarra Valley.
05:30 Meeting of the Platypus tour
06:00 Start of the Platypus tour
08:30 Check out from the cabin
10:00 Kafe Koala
16:00 Yarra Valley
Impression
Blessed with good weather, driving while enjoying the view of the Great Ocean Road was the best.
We participated in the tour this time because we wanted to see the platypus, no matter what. We were not able to look at them closely because the lake was big, but we knew the difficulty in looking for the platypuses and the tips to look for them. We will find them better next time. However, it was our first time seeing the wild koalas, so we were excited.
Overall, they were very fulfilling road trips.