August 2019 (1CAD=80JPY):
In August 2019, we drove around four national parks in the Canadian Rockies for six days. We made a visa application and purchased the KK prepaid SIM and the National Park Pass online, in advance. We rented a medium-sized car to be able to go through the narrow mountain path.
The accommodations in these national parks have a relatively high cost and are reserved early, so we struggled to find affordable ones.
Itinerary
Pre-trip day: Narita International Airport – Incheon International Airport – Seattle-Tacoma International Airport – Calgary International Airport
1st day: Calgary – Hinton
2nd day: Hinton – Jasper National Park
3rd day: Jasper National Park – Yoho National Park – Lake Louise
4th day: Lake Louise – Yoho National Park – Lake Louise
5th day: Lake Louise – Kootenay National Park – Radium Hot Springs – Banff National Park
6th day: Banff National Park – Lake Louise – Calgary
Pre-trip day: Wed, August 7
We went from Japan to Canada. We had local cuisines at Incheon and Seattle National Airport during our transit.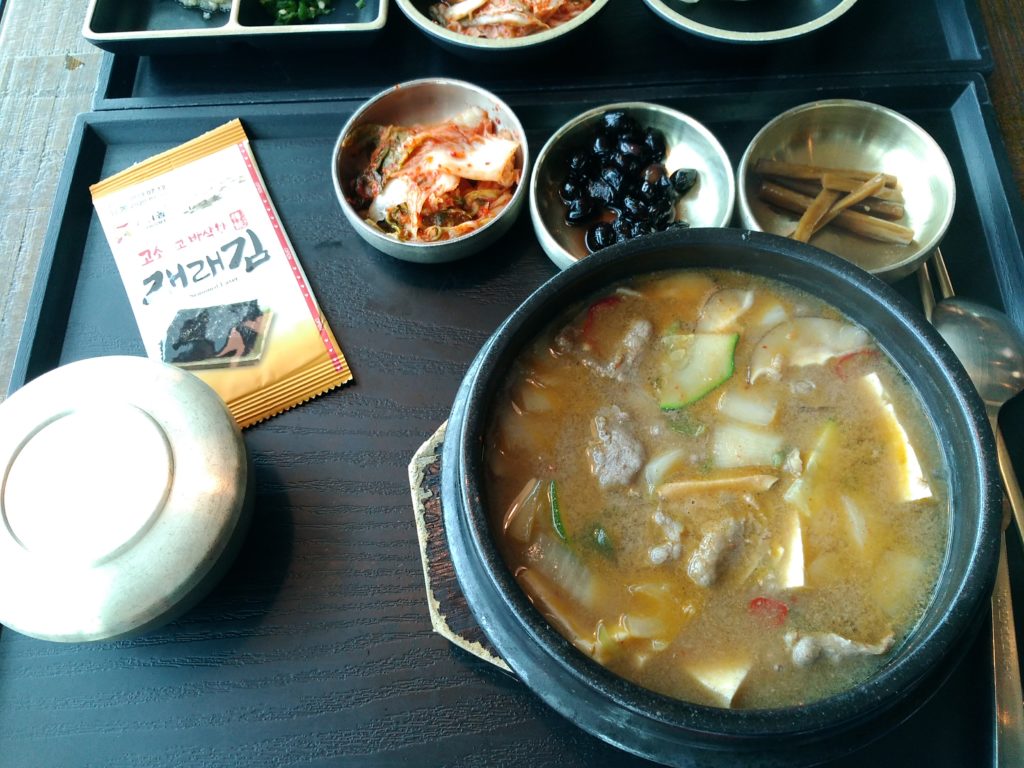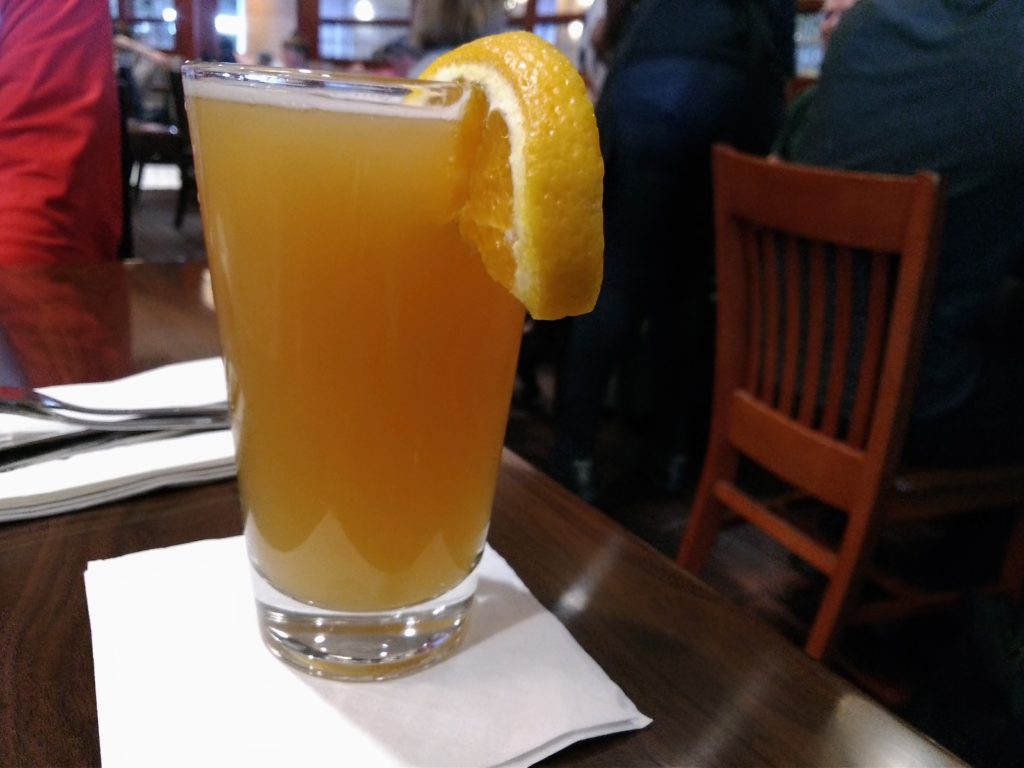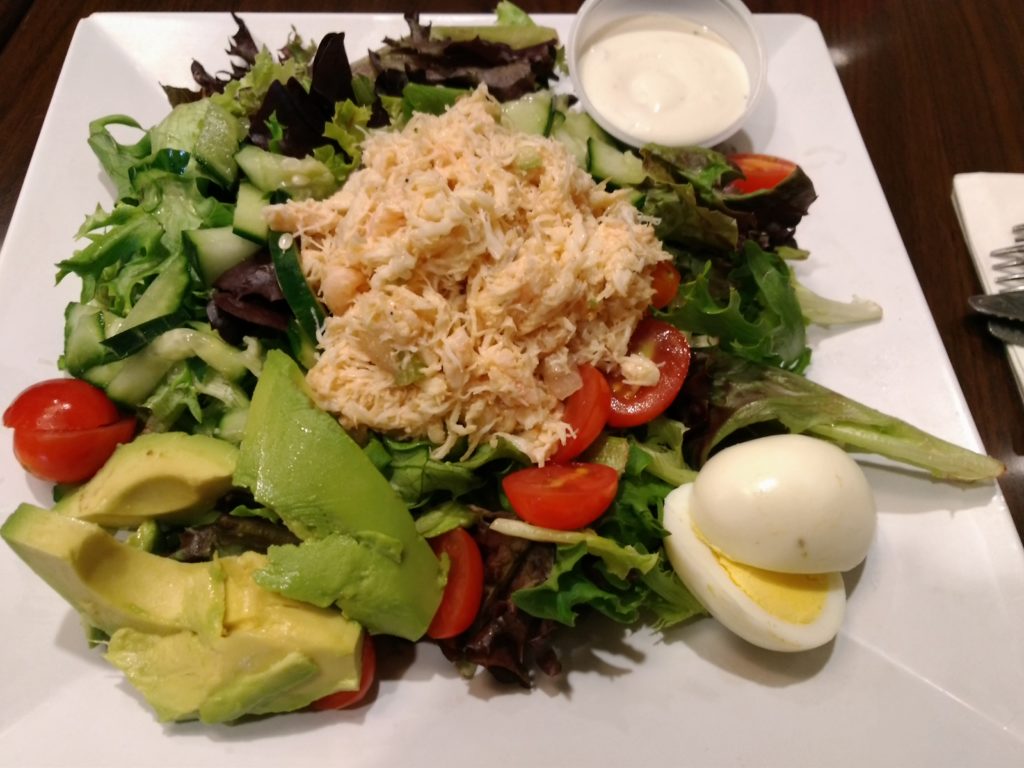 We drove from Calgary National Airport to Calgary by rental car and checked in at International Hotel Calgary. We had dinner at The Keg Steakhouse nearby.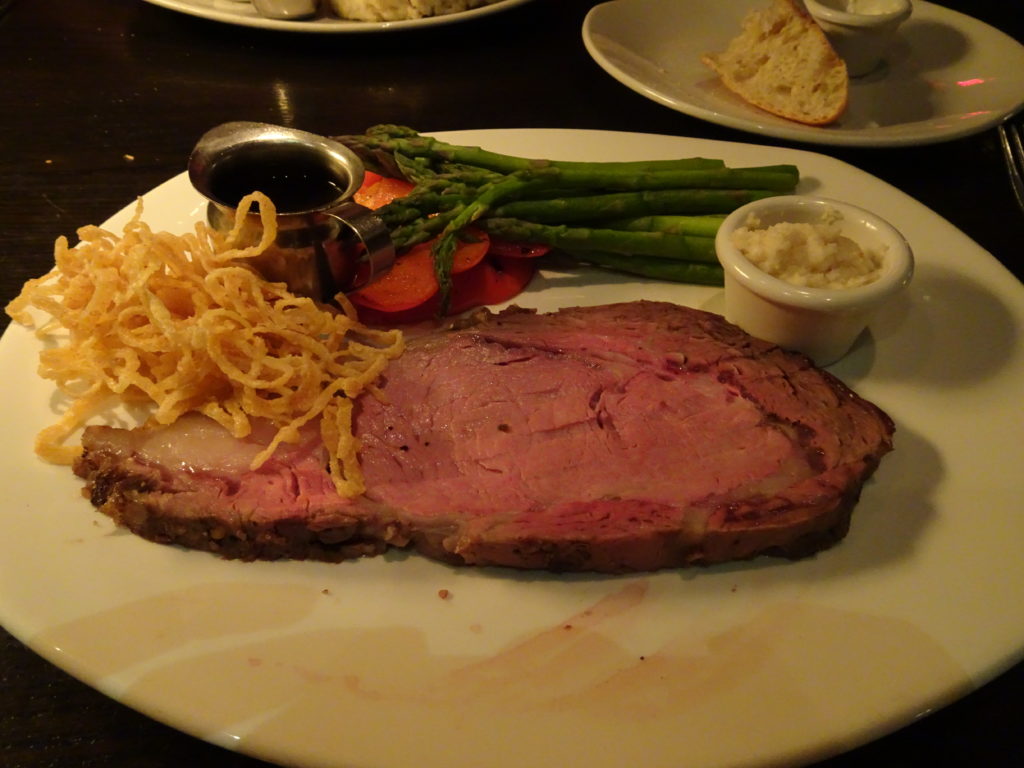 1st day: Thurs, August 8
We entered Banff National Park and went to Hinton going through the Bow Valley Pkwy, the Icefields Pkwy, and the Yellowhead Hwy, stopping along the way.
As we got close to the Rocky Mountains, it was foggy. Before long, we started to see the heavily clouded mountains.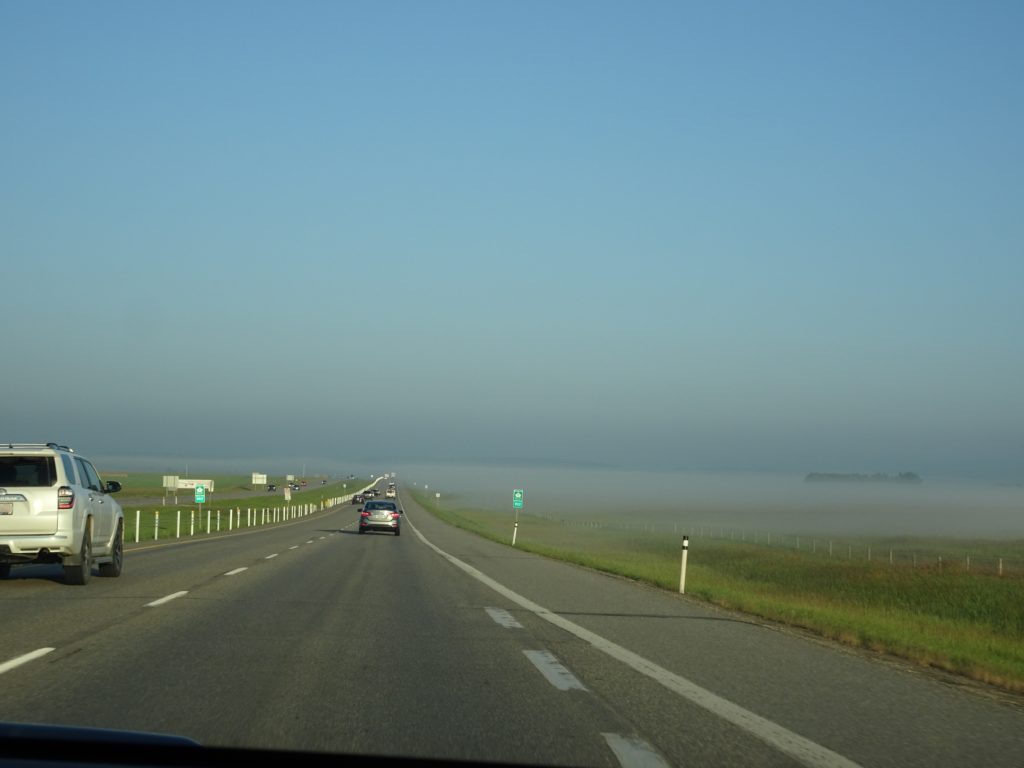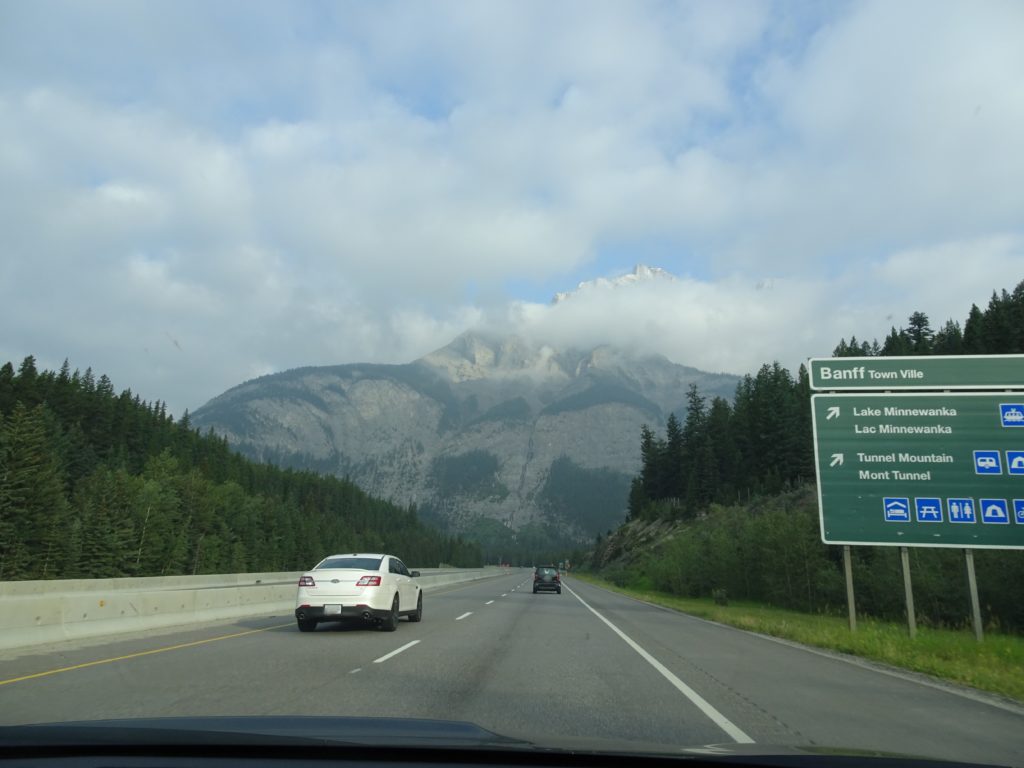 After passing by the town of Banff, we entered the Bow Valley Pkwy. The Trans-Canada Hwy was a highway, so by going this way, there was a better possibility of seeing wildlife, but we didn't.
When we entered from Bow Valley Pkwy to Icefields Pkwy, there was a black bear.
At first, we stopped by Peyto Lake. We walked on a slope for about 10 mins to the lookout. This glacier-fed lake changes color because glacial rock sediment melting in this lake reflects the sunlight.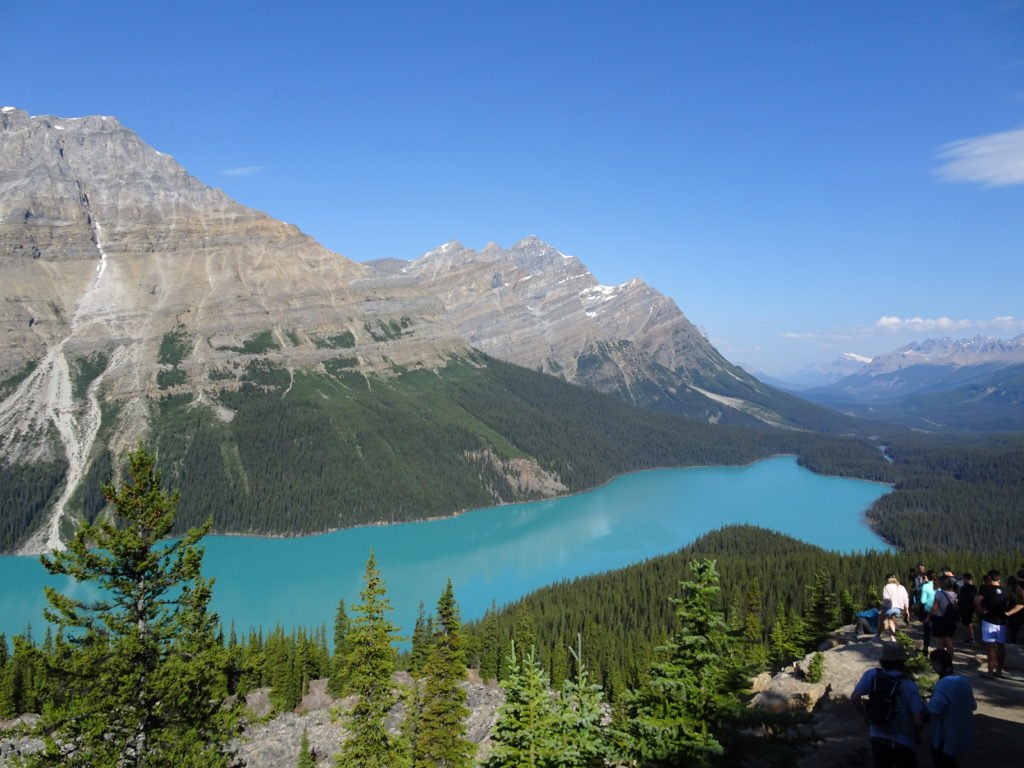 There was about a 15-min easy trail and it was full of alpine plants.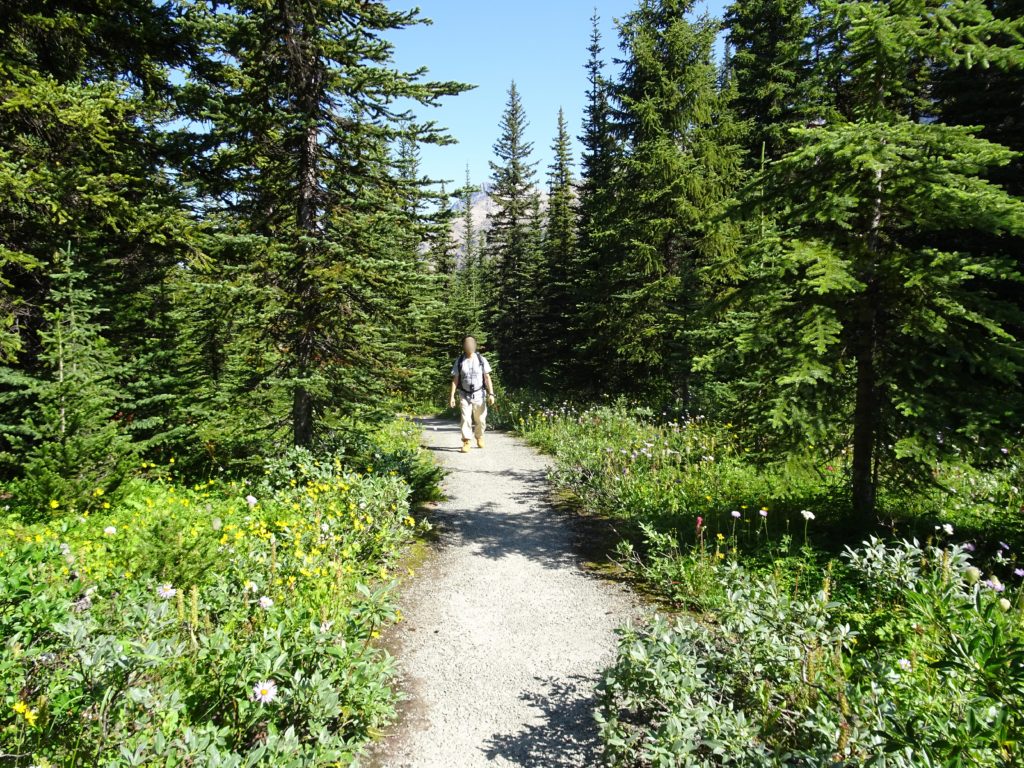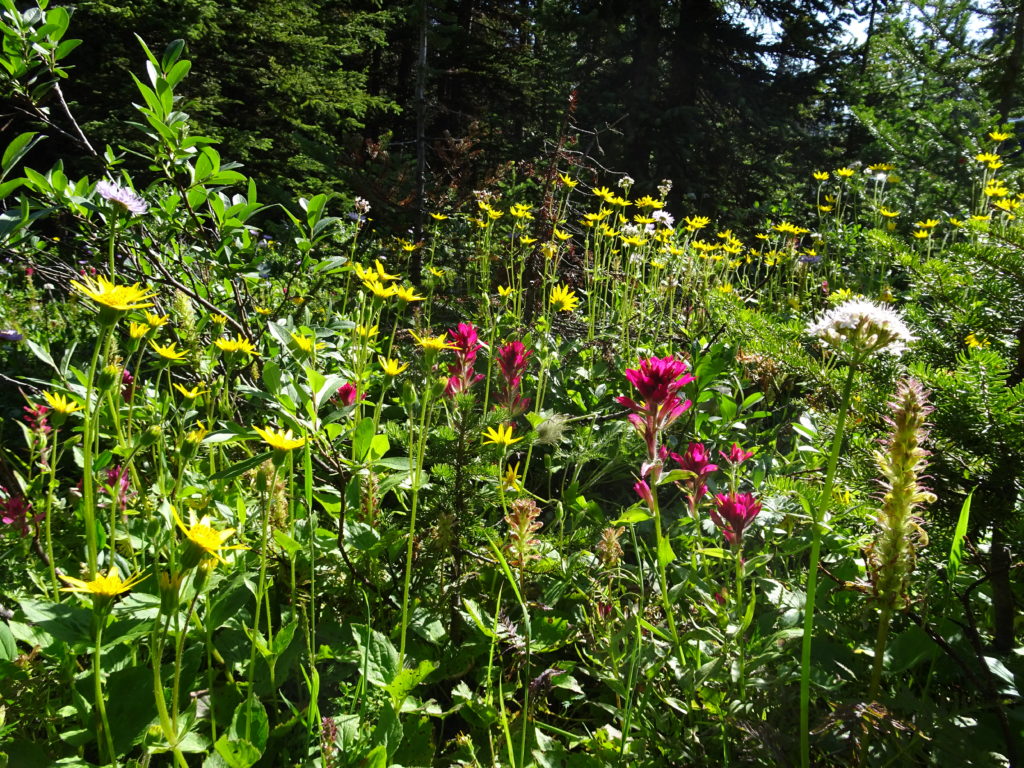 After that, we stopped by Waterfowl Lake. It was the point where you can see moose, but they weren't there.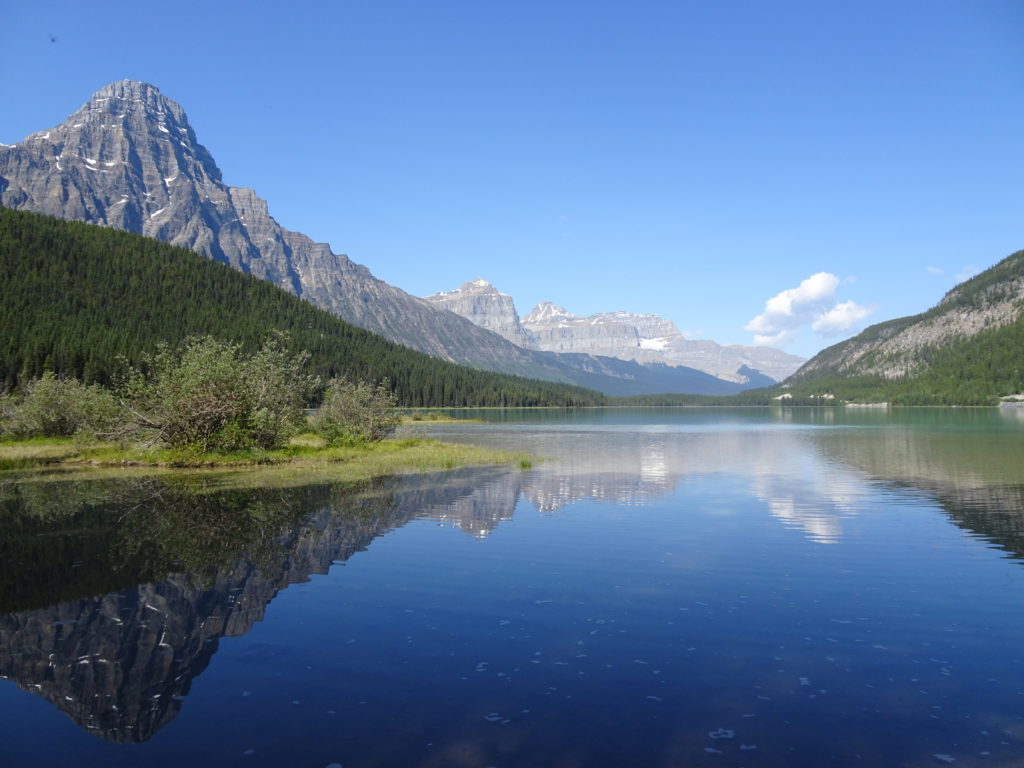 We saw bighorn sheep on the way.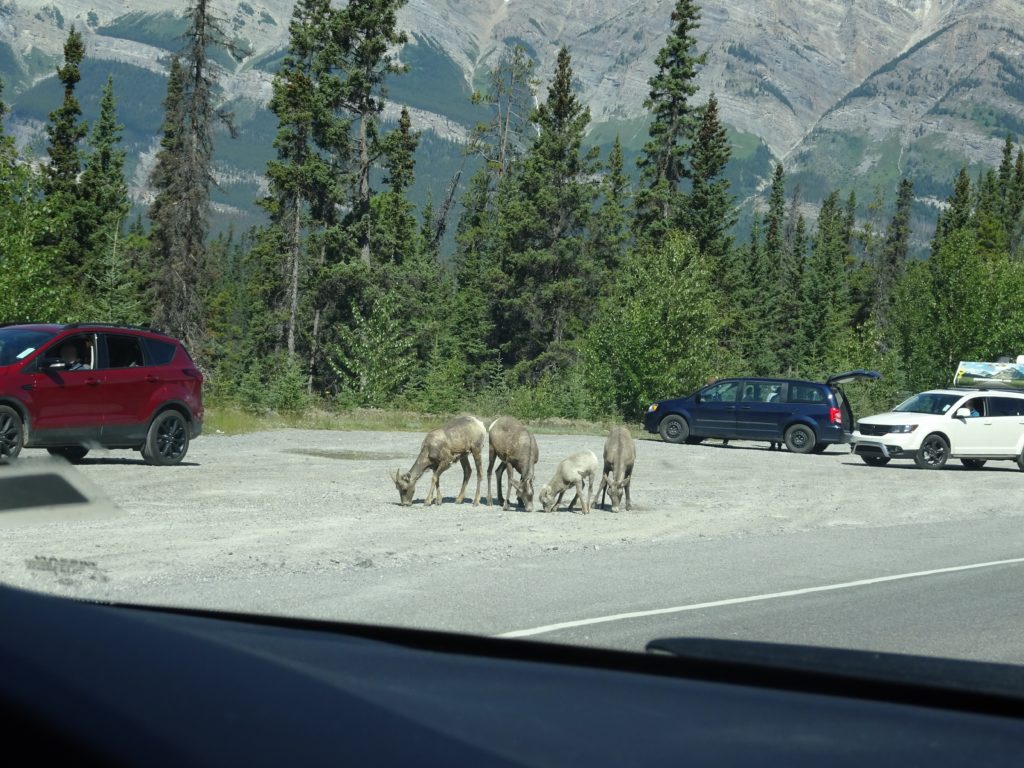 Next, we went to Columbia Icefield. We walked on the Toe of the Athabasca Glacier Trail for about an hour and saw the Athabasca Glacier, which was a part of the Columbia Icefield. There are snow coaches, special vehicles for the snow, from the visitor center, so you can go on the glacier if you use them.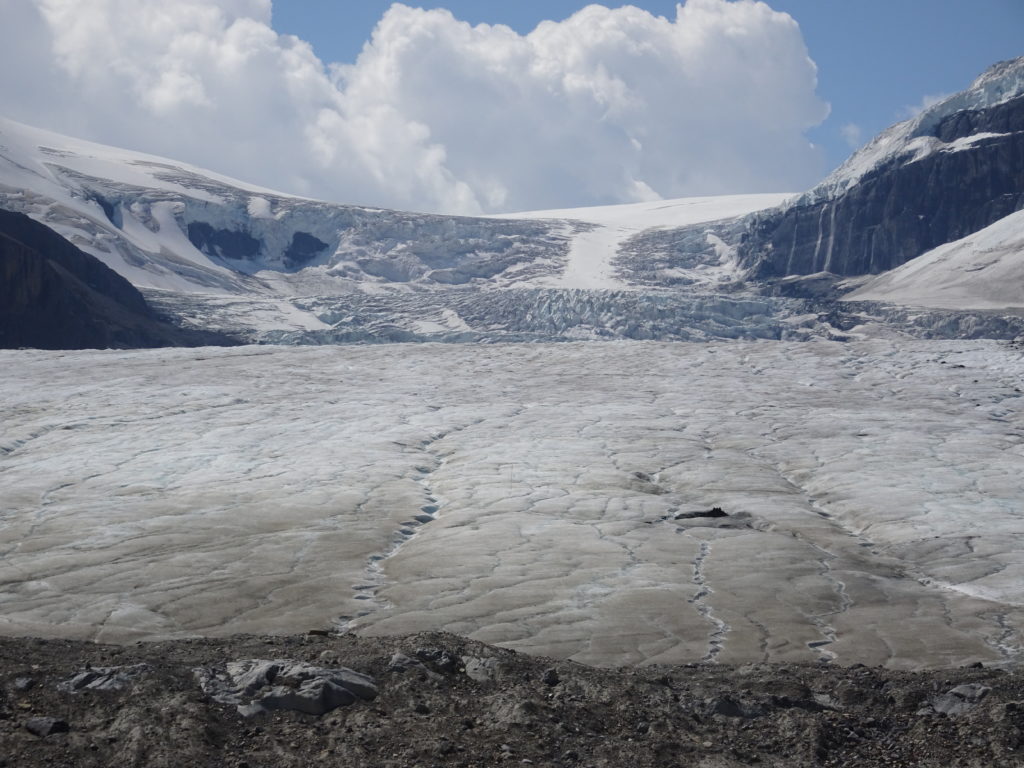 Next, we stopped by Athabasca Falls. The 23m high falls were so powerful.
After passing through Jasper, there was a flock of bighorn sheep which were eating.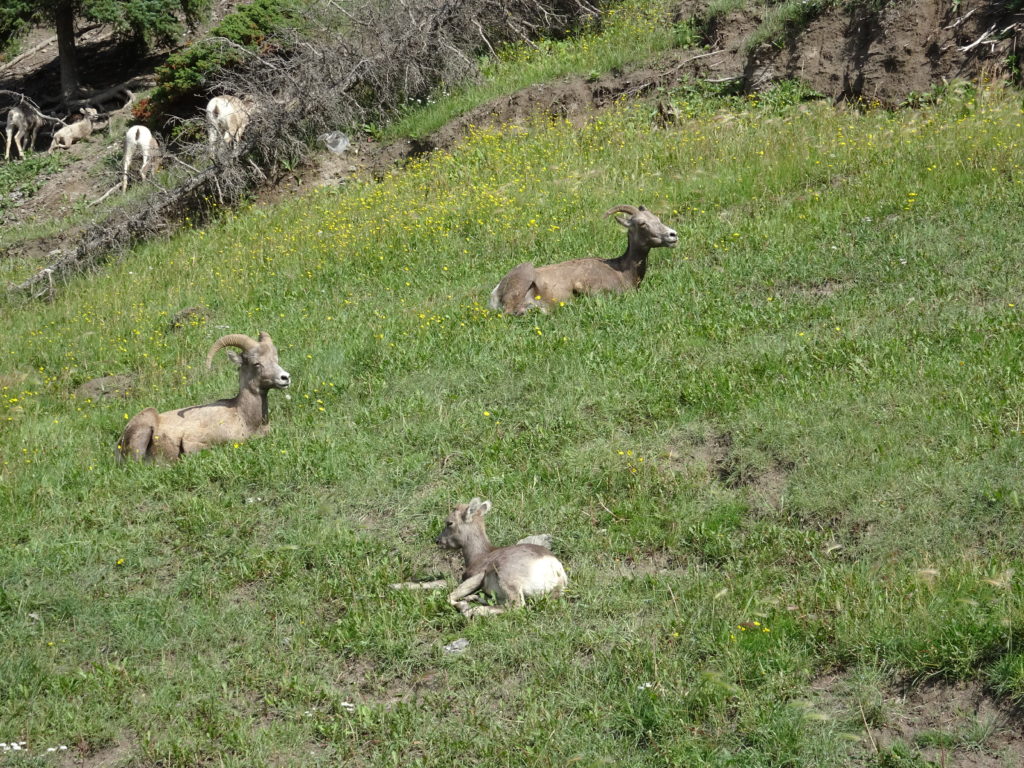 In the evening, we arrived at Twin Pine Inn & Suites in Hinton. This town was outside of the national park, but we visited it because we could see wild beavers. We asked an Inn employee what time the beavers appeared, but she said that she didn't know because it depended on the weather too. It was not yet dusk when we went to the Beaver Boardwalk.
We arrived around six o'clock at the Beaver Boardwalk. We didn't know how to find the beavers, but a man with children taught us. At the place where beavers are usually seen, we were able to see trembling water grasses, hear the sounds of beavers diving, and see ripples. After about 30 mins, we were finally able to see beavers eating.
There were two beavers and we were able to see them for about ten minutes at around six o'clock. After that, they disappeared in the water grasses, so visitors who came after that couldn't see them and go back.
We took a shower at the lodge and had dinner at Canadian Steakout Sports Bar and Grill.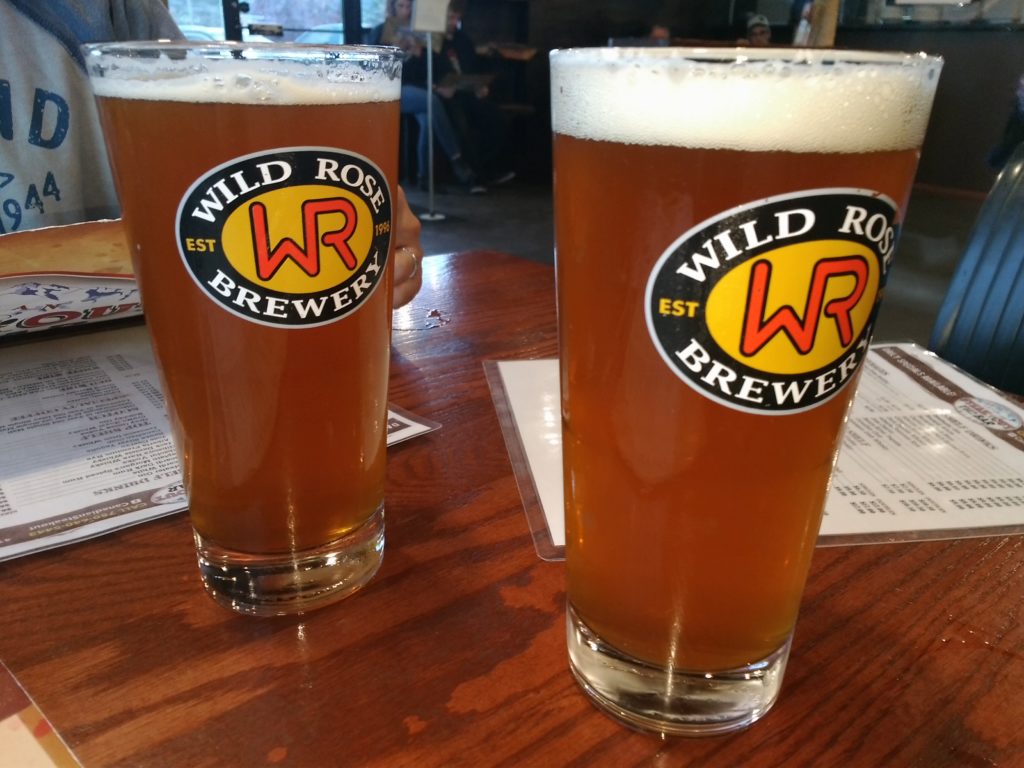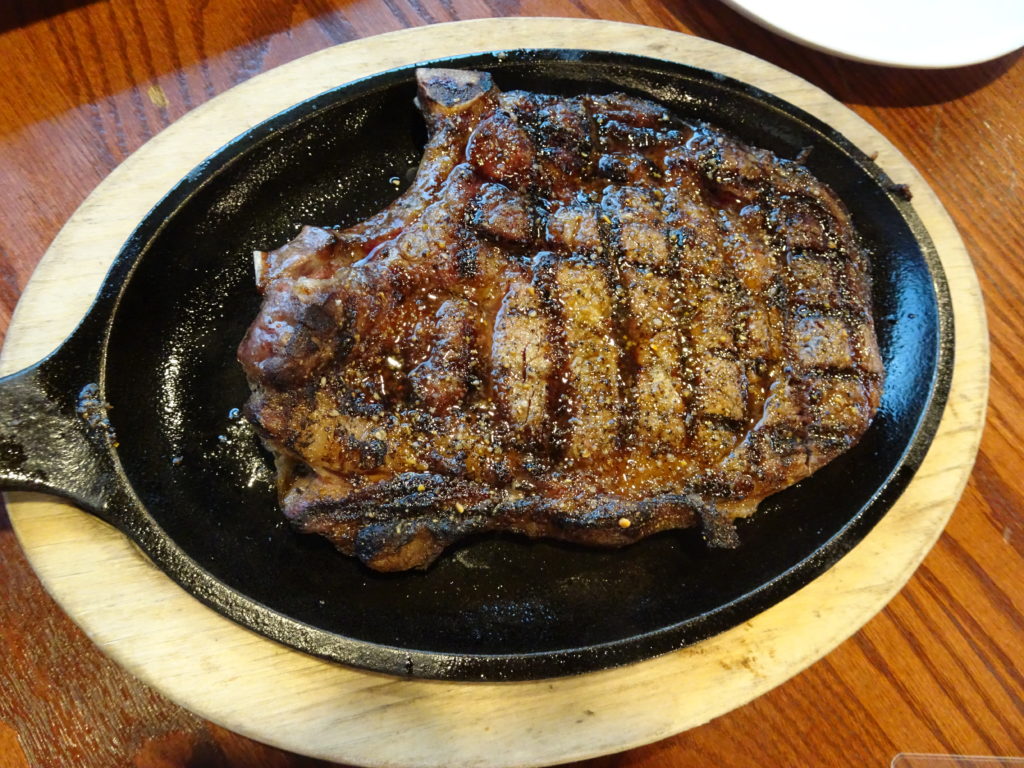 06:30 Check out from hotel
08:00 Enter the Banff National Park
10:20 Peyto Lake
11:40 Waterfowl Lake
13:00 Columbia Icefield
15:00 Athabasca Falls
17:30 Check in at the inn
17:45 Beaver Boardwalk
20:00 Dinner at Canadian Steakout Sports Bar and Grill
2nd day: Fri, October 9
We went sightseeing in Jasper National Park all day.
We checked out after breakfast and went ahead to the  Maligne Lake which was the biggest lake in the Canadian Rockies.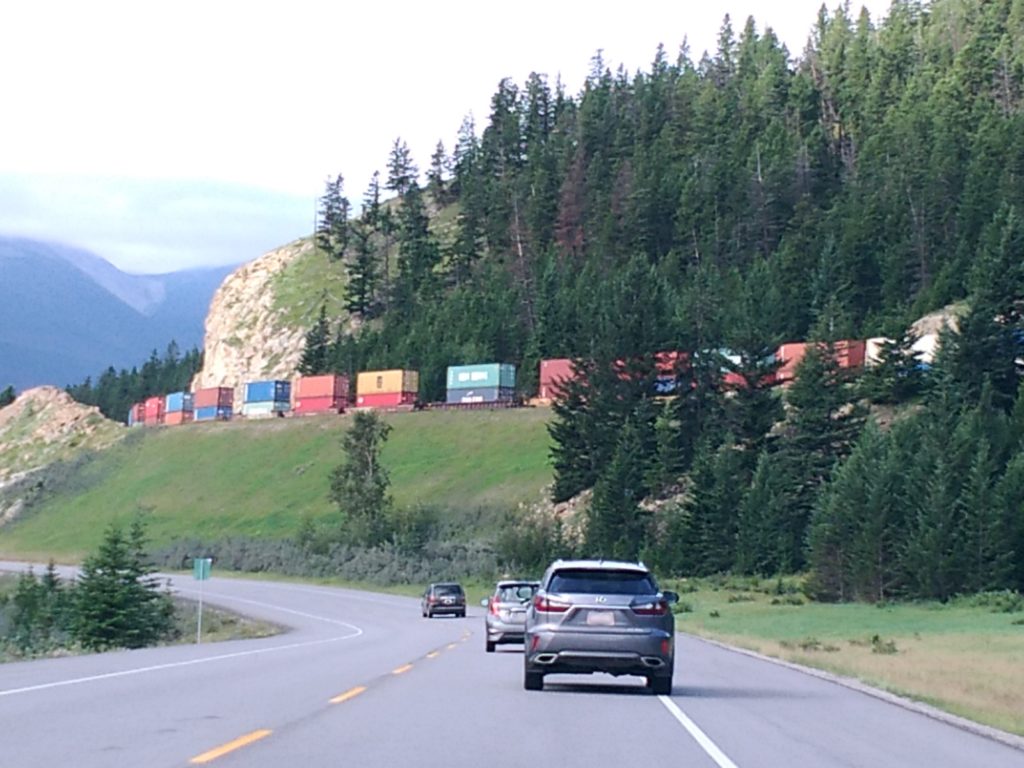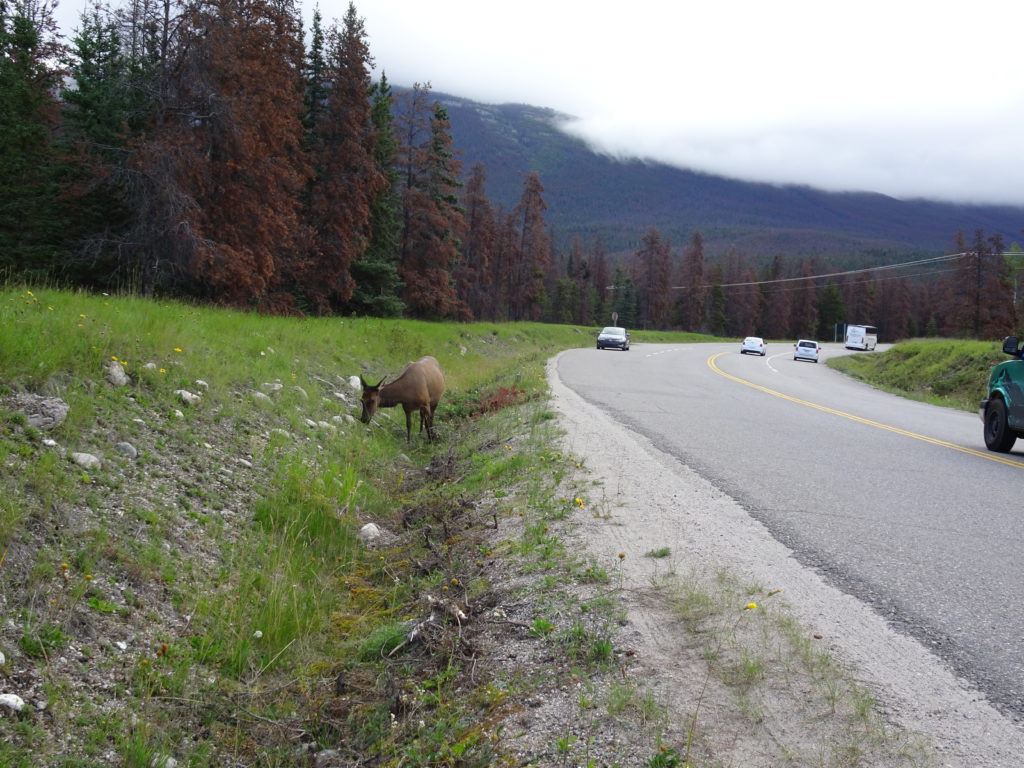 We hiked for about four and a half hours on the Bald Hills trail. You can see the little island in the lake, Spirit Island if you go on a cruise.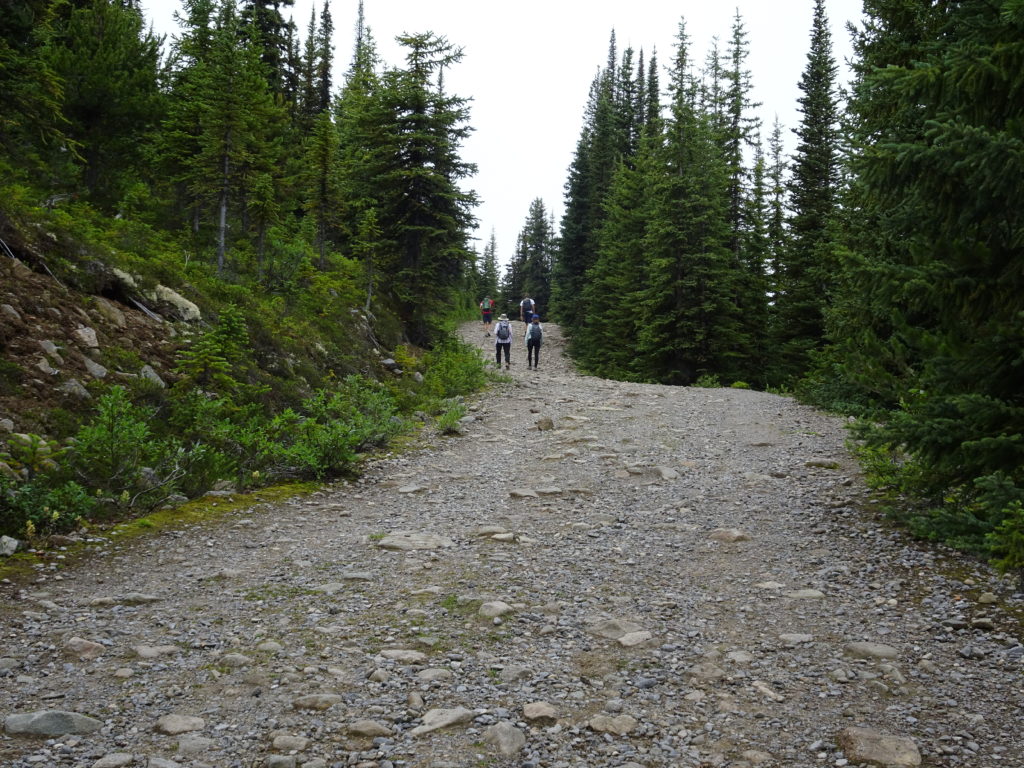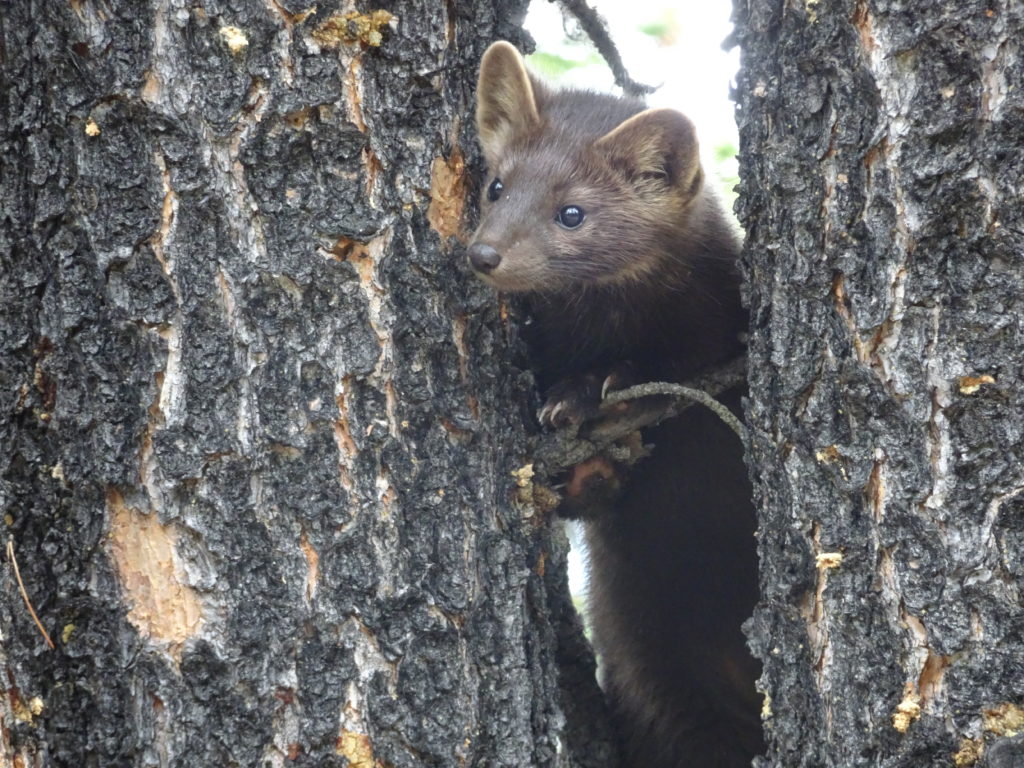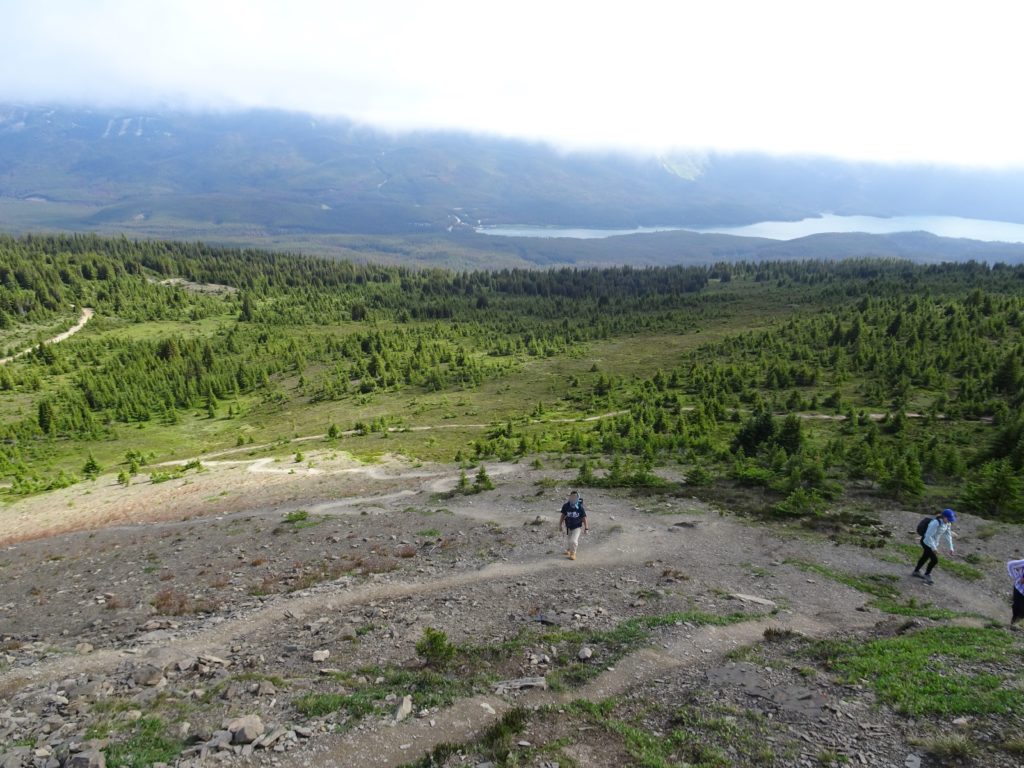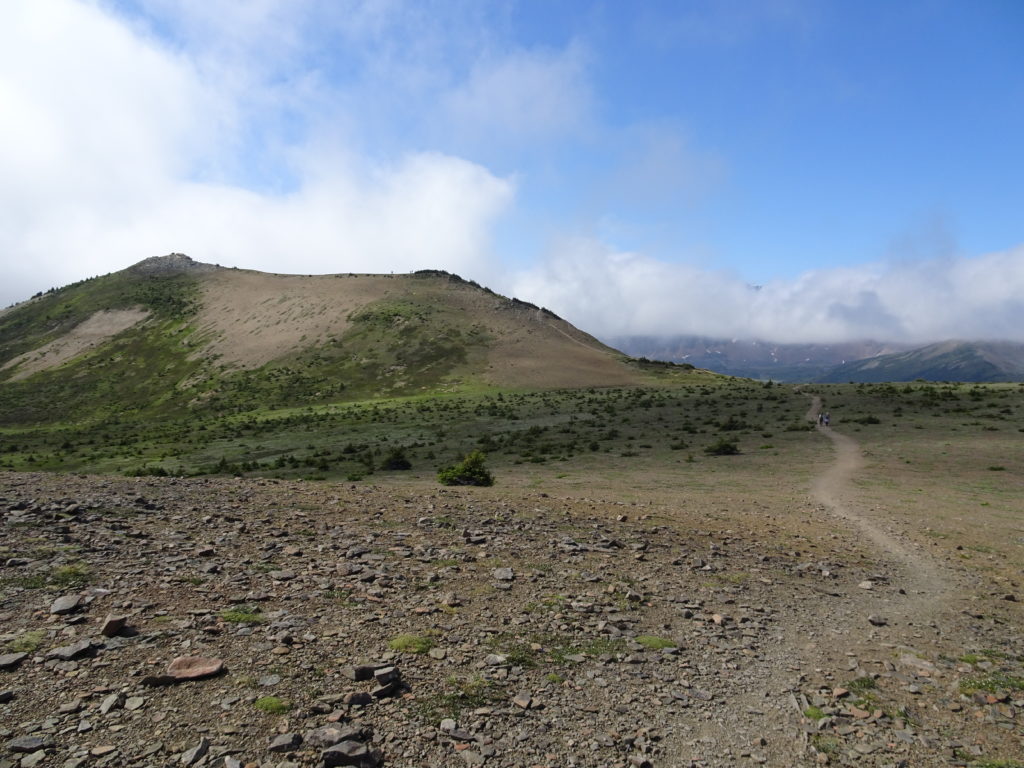 The clouds were low and the view was not good. Most of the hikers saw Maligne Lake from the first peak and went back, but we went ahead.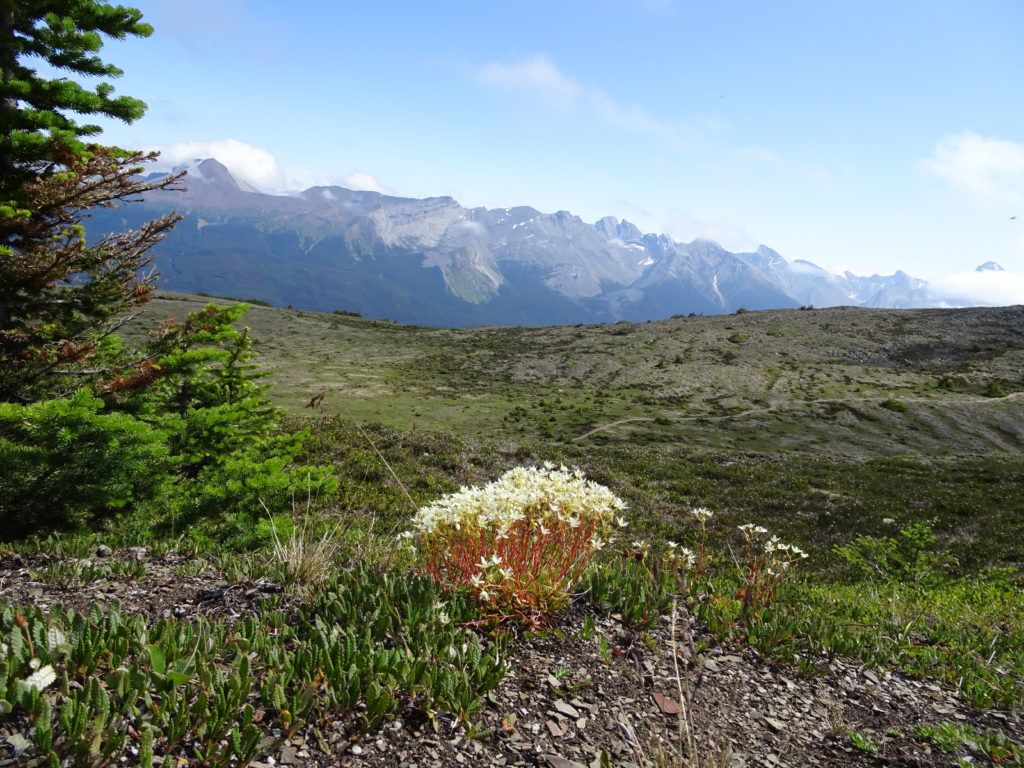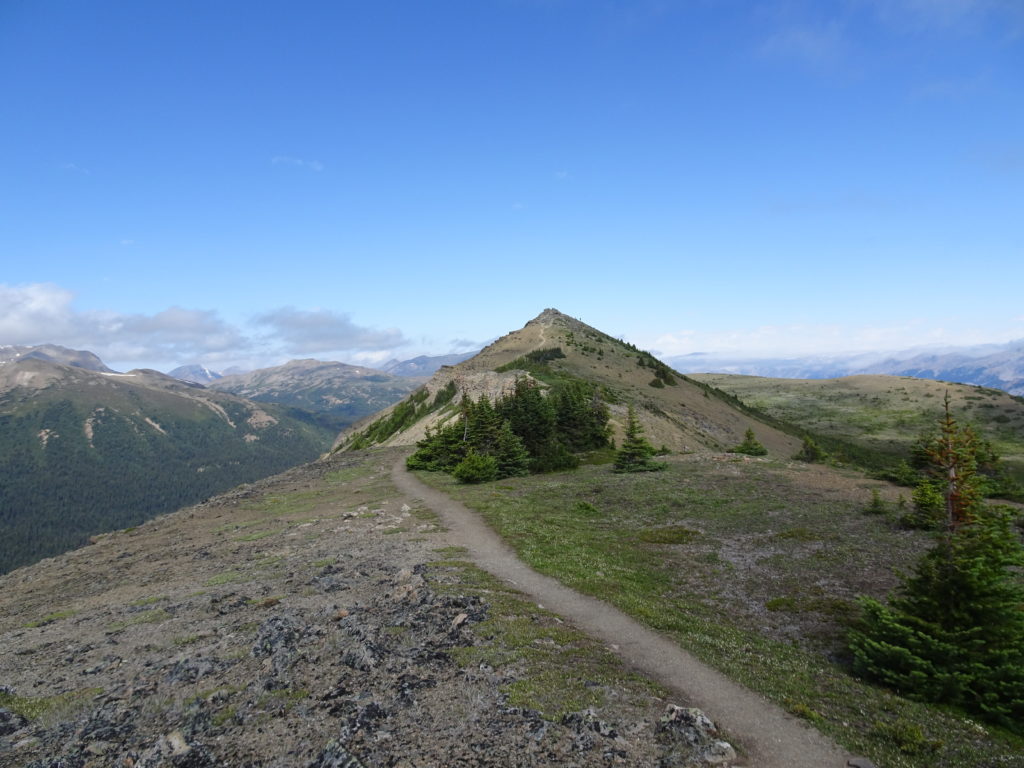 There was a trail over the second peak, so we went ahead.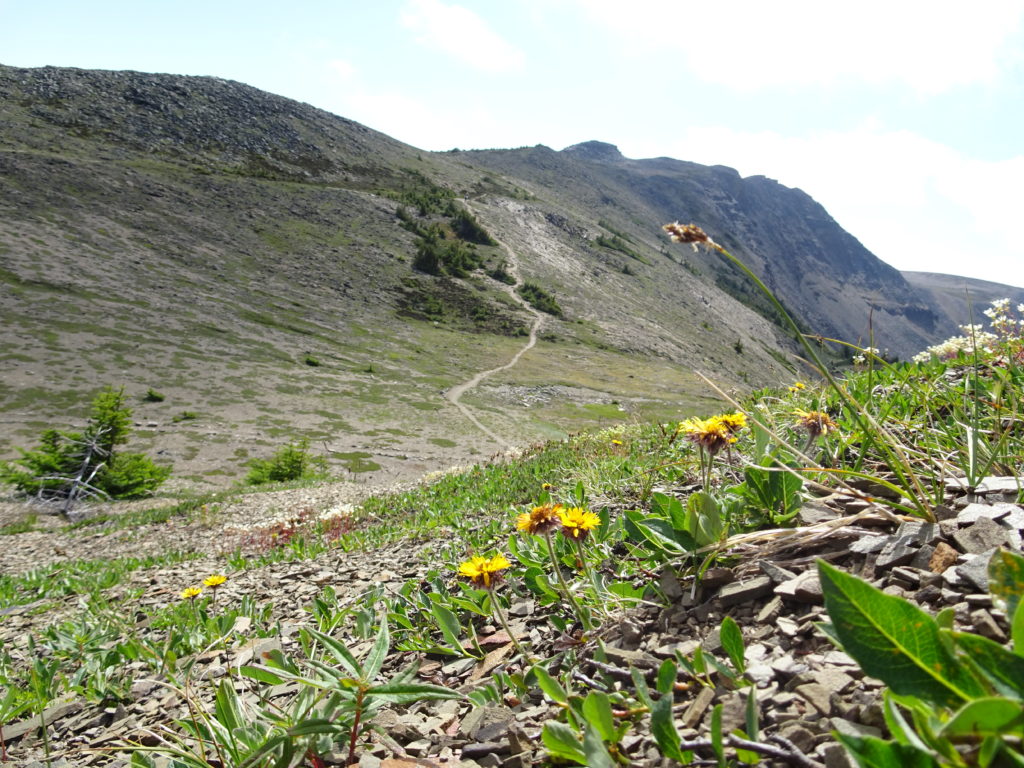 When we arrived at the third peak, it was past twelve o'clock and the temperature had risen. The clouds which covered summits had just cleared and we were able to see good views. We were close to Maligne Lake, so we were able to see it better than ever before.
There was more trail, but only a few people used it, so we descended. Around the third peak, many tiny wildflowers, different from any we had seen before, bloomed.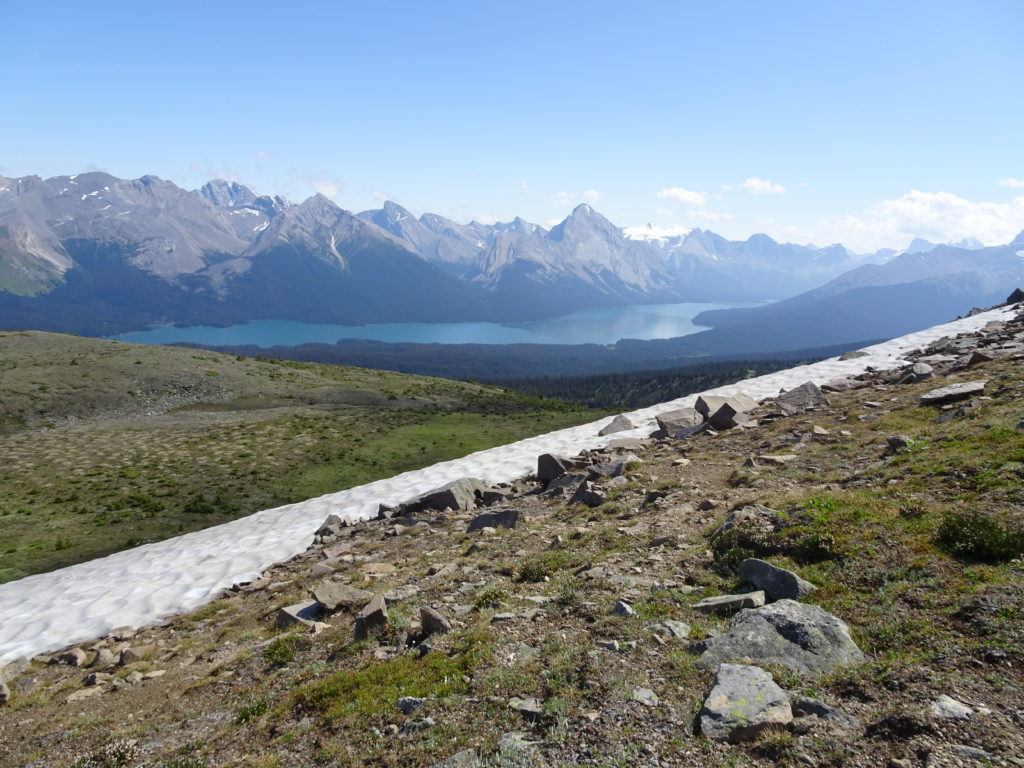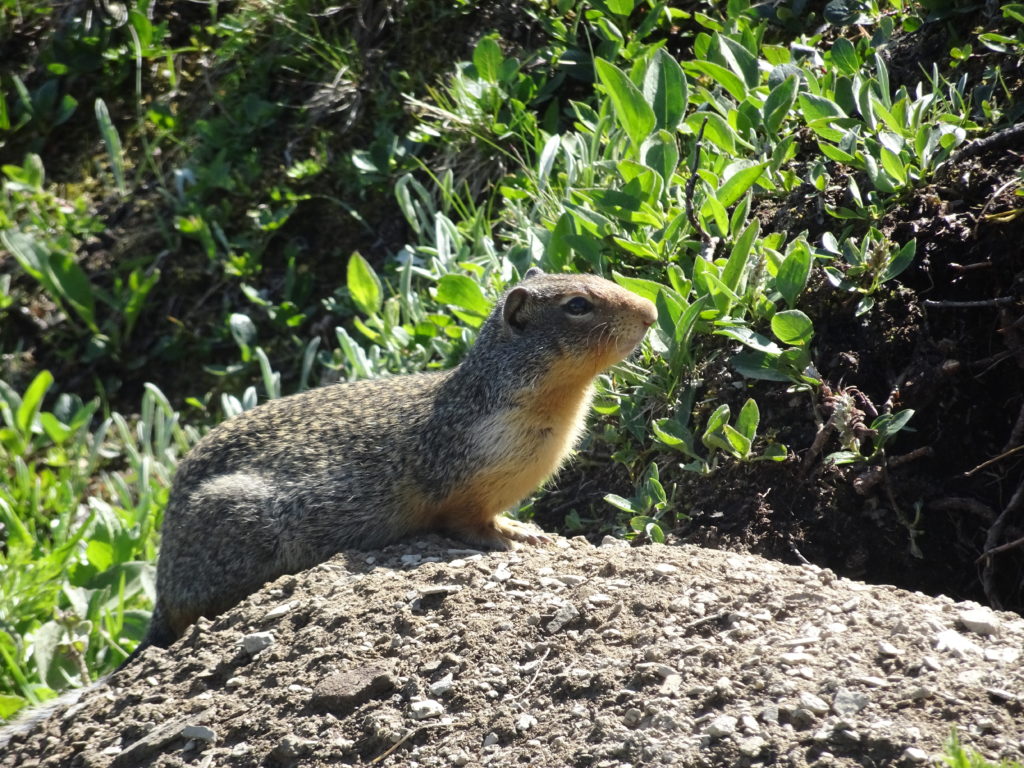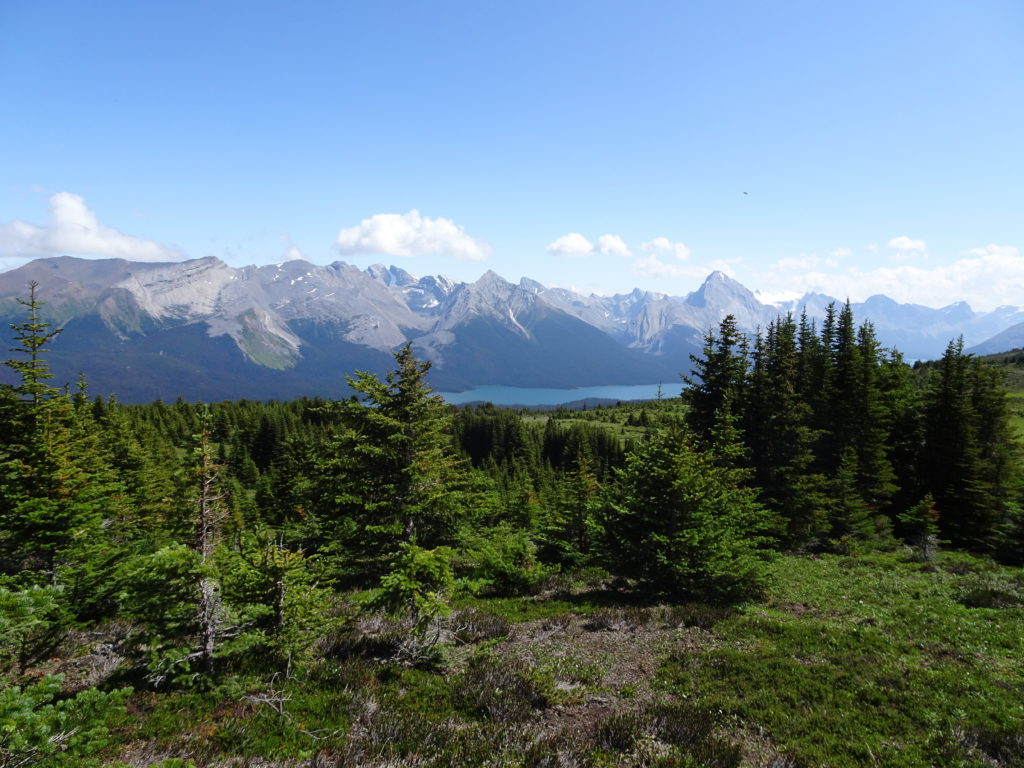 After the descent, we went to the Maligne valley. We passed a flock of bighorn sheep on the way.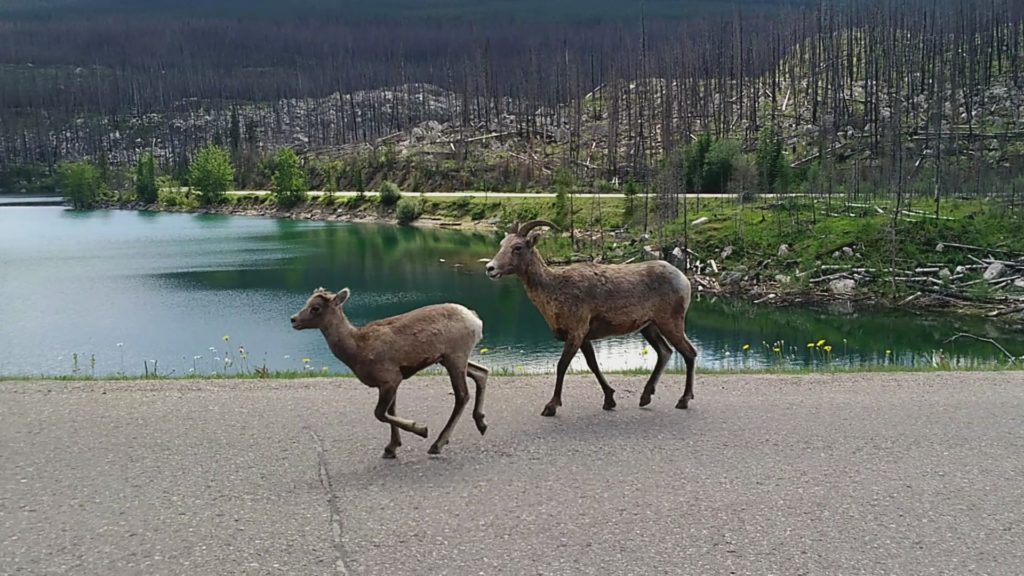 We went to the first, second, and sixth bridges out of six bridges that spanned Maligne Lake. Maligne Lake is more popular in winter, so I want to go back again.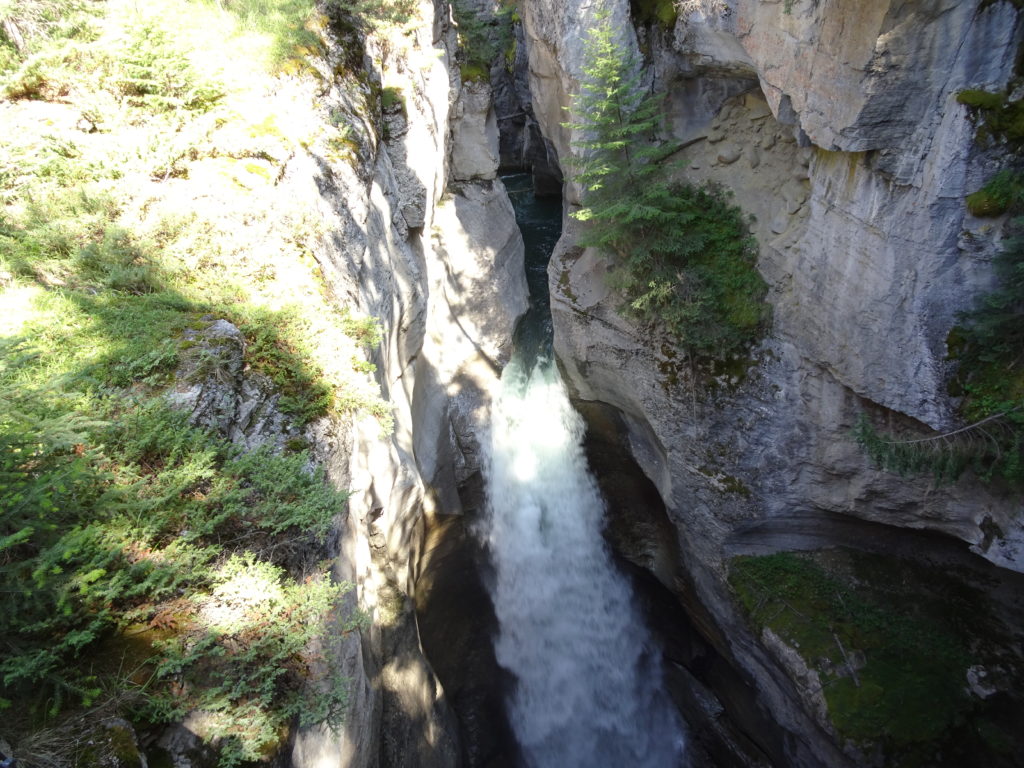 After that, we went to Valley of the Five Lakes. It was about a 5-hour trail, and we could see the five lakes, which were different colors. However, it was cloudy in the evening, so they were less colorful.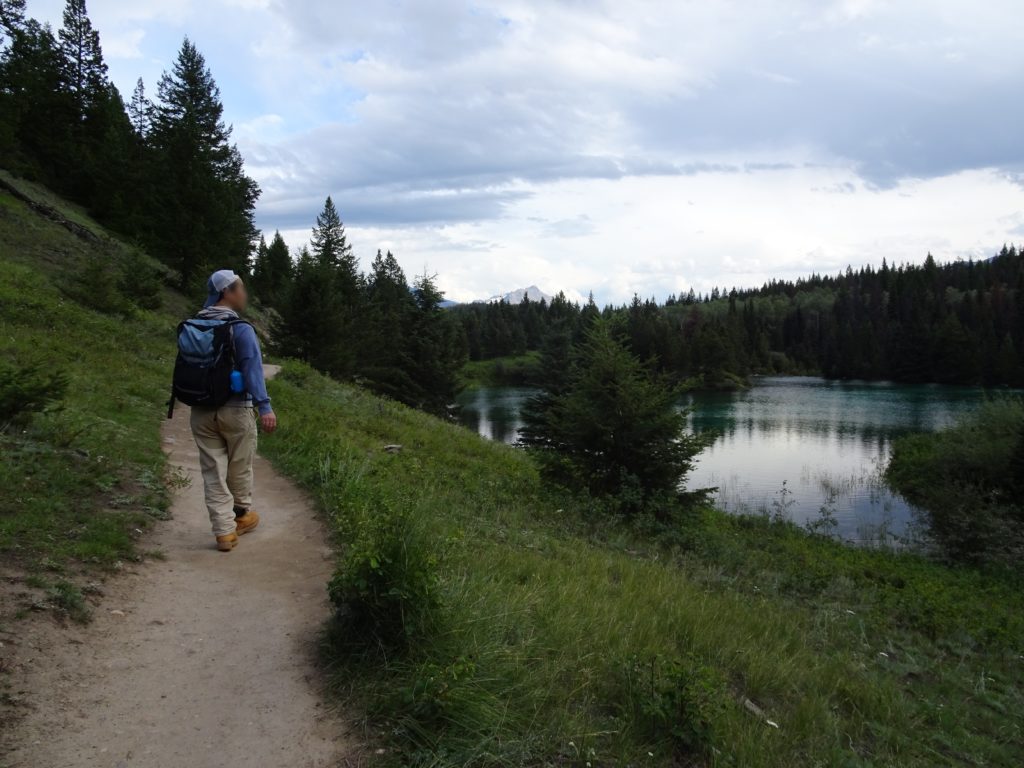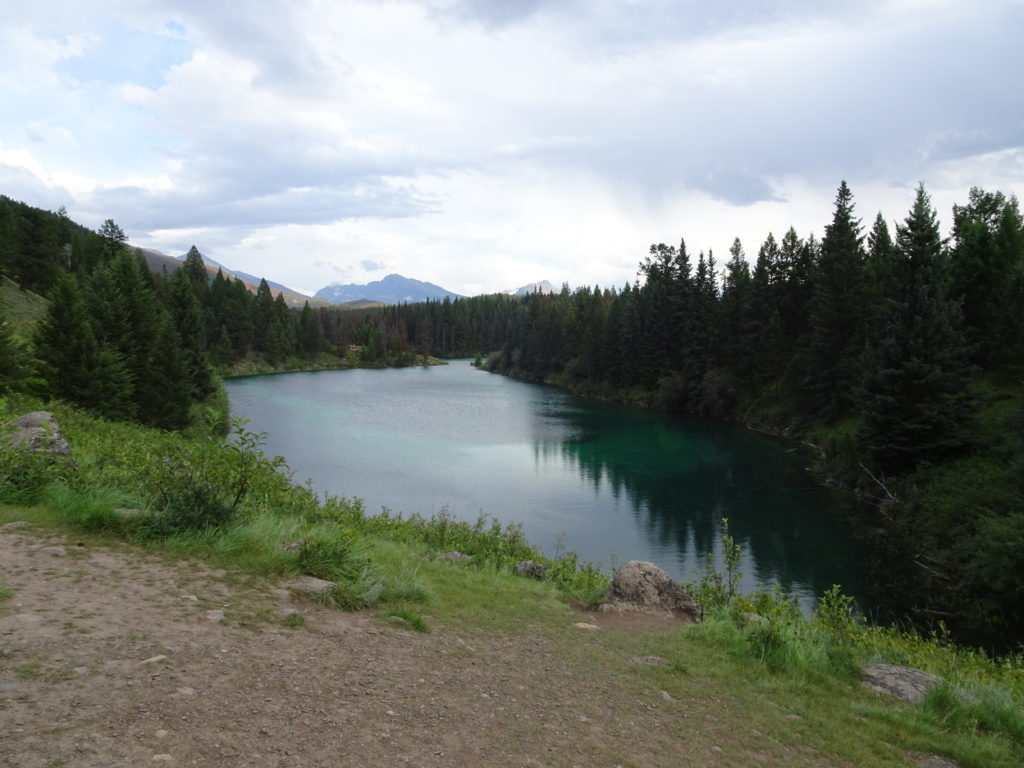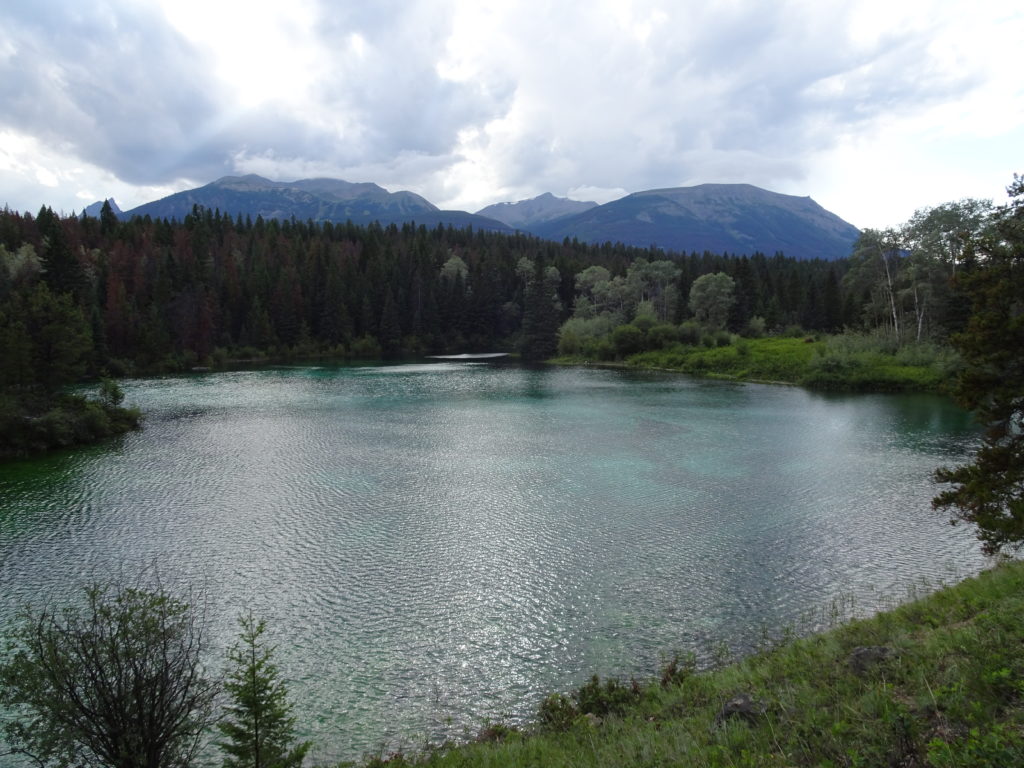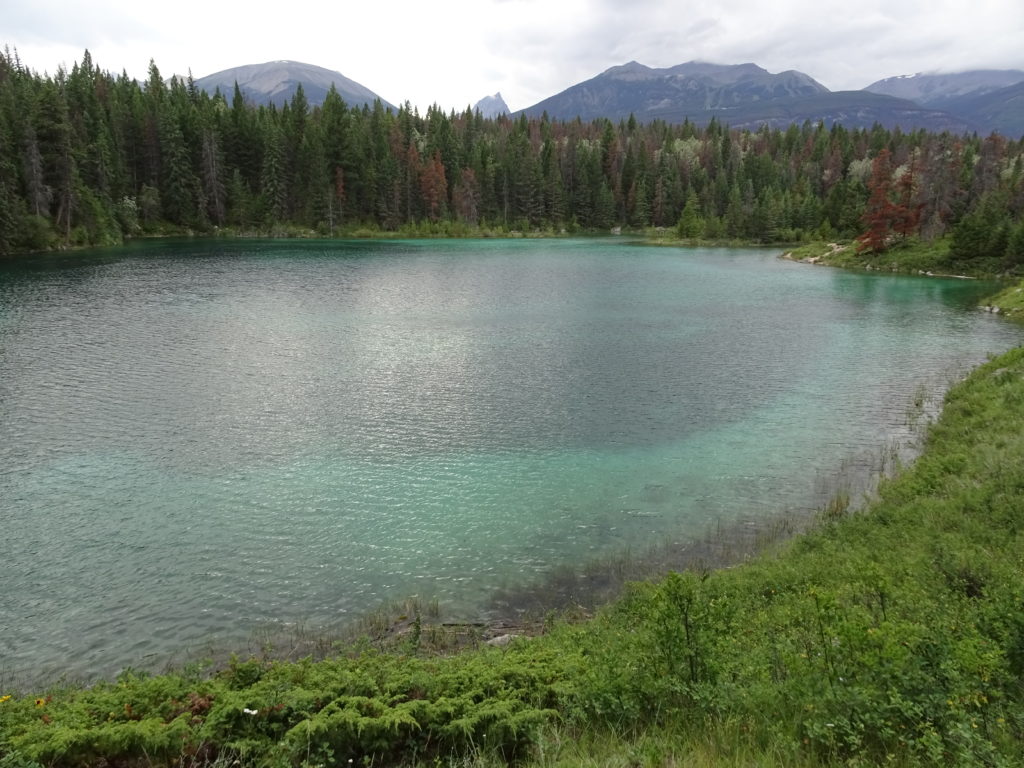 After we checked in at the Mount Robson Inn in Jasper and took a shower, we had dinner at The Raven Bistro. The salmon dish was especially tasty.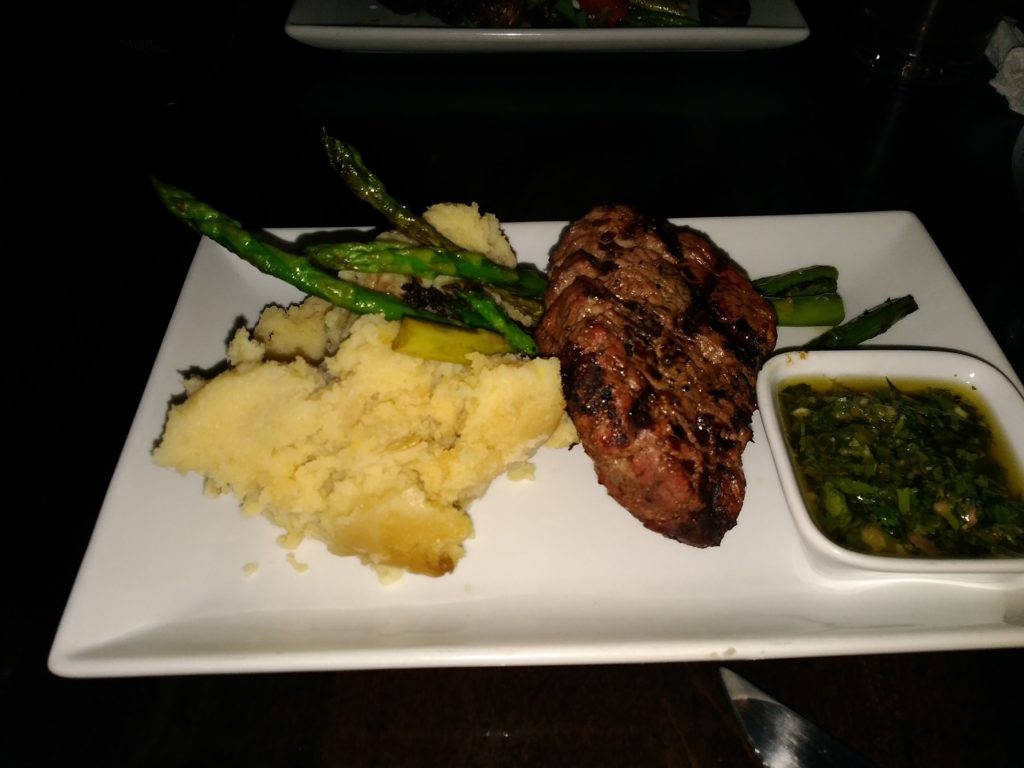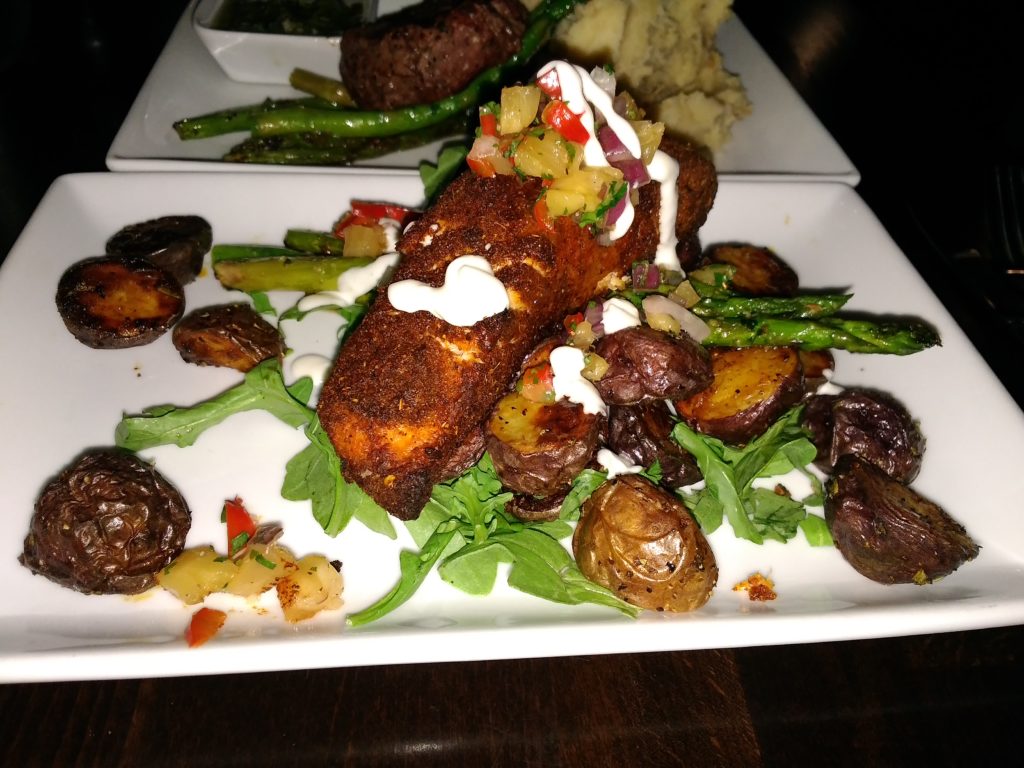 08:00 Check out form the lodge
10:00 Start hiking on Bald Hills Trail
14:30 Finish hiking
16:30 Start hiking on the Valley of the Five Lakes
19:30 Finish hiking
20:00 Check-in at the lodge
21:00 Dinner at The Raven Bistro
3rd day: Sat, Aug 10
We hiked in Jasper National Park and went to Yoho National Park, and stayed in Lake Louise.
After breakfast, we checked out from the lodge and went to Edith Cavell Meadows Trail. The clouds were low this day too, so they covered Angel Glacier above the glacier lake.
The hiking trail began with rocky terrain, and when we went through the forest, the alpine flower garden spread out before us.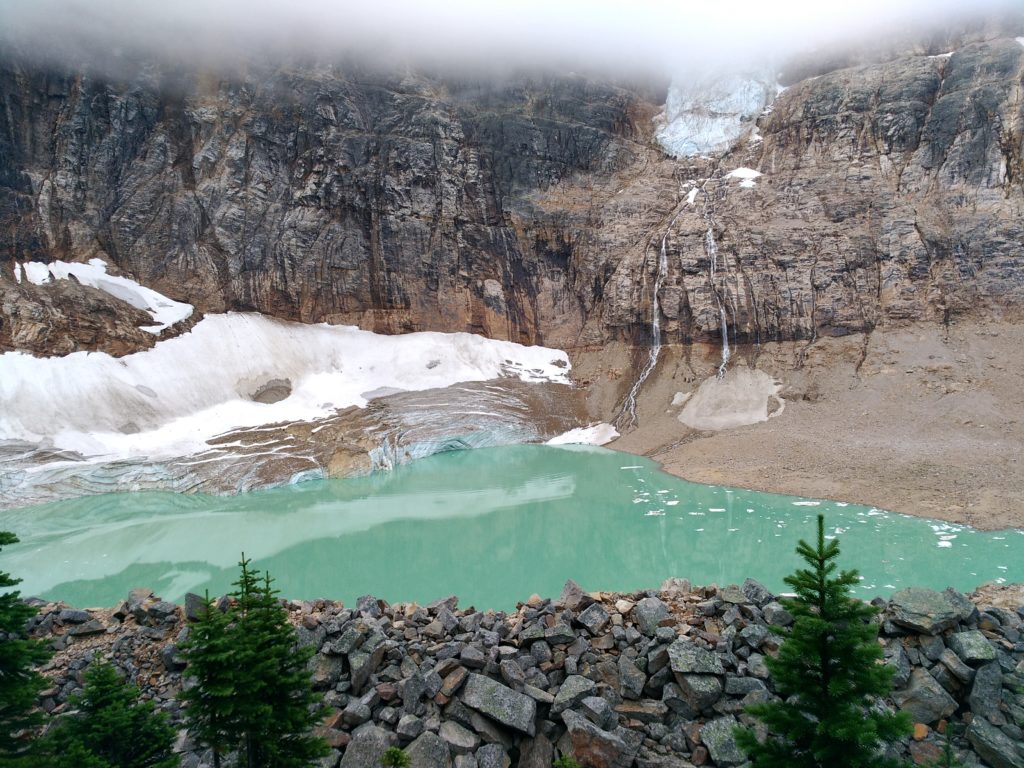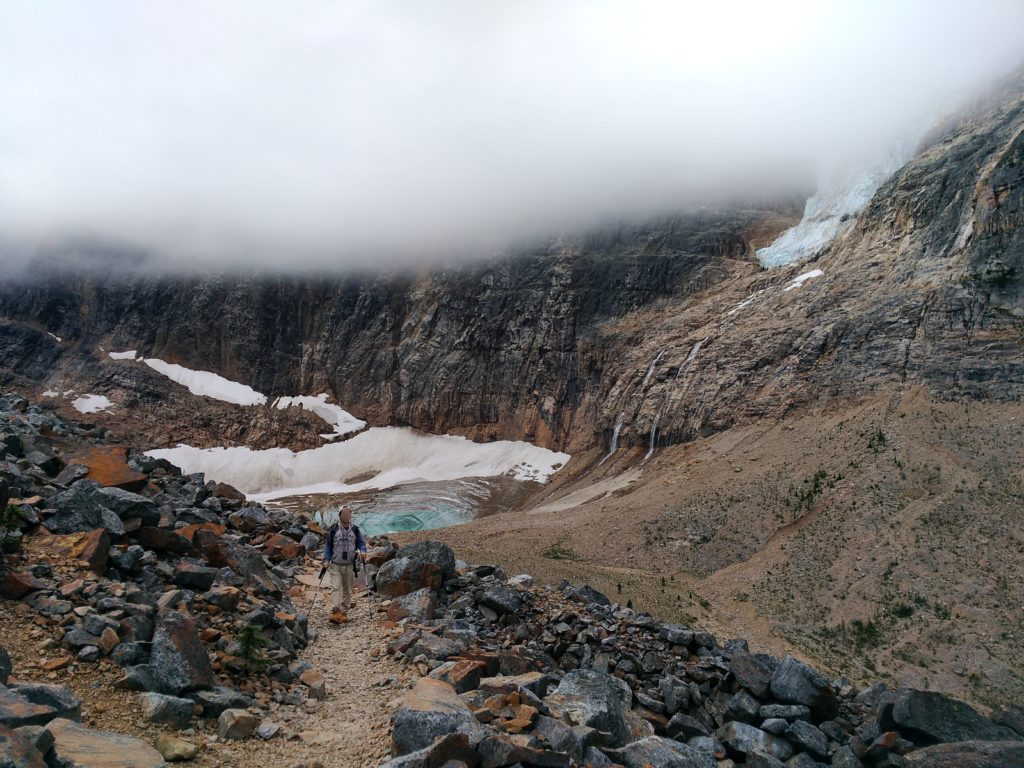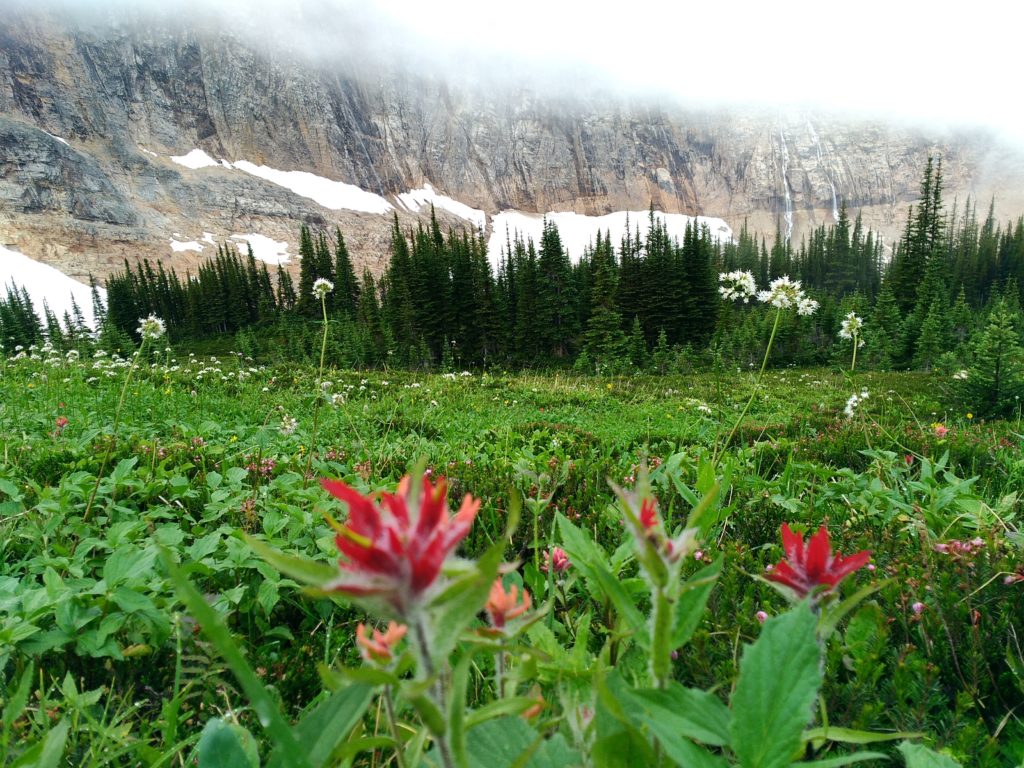 We arrived at the viewing area, but it was still cloudy, so we couldn't see Angel Glacier.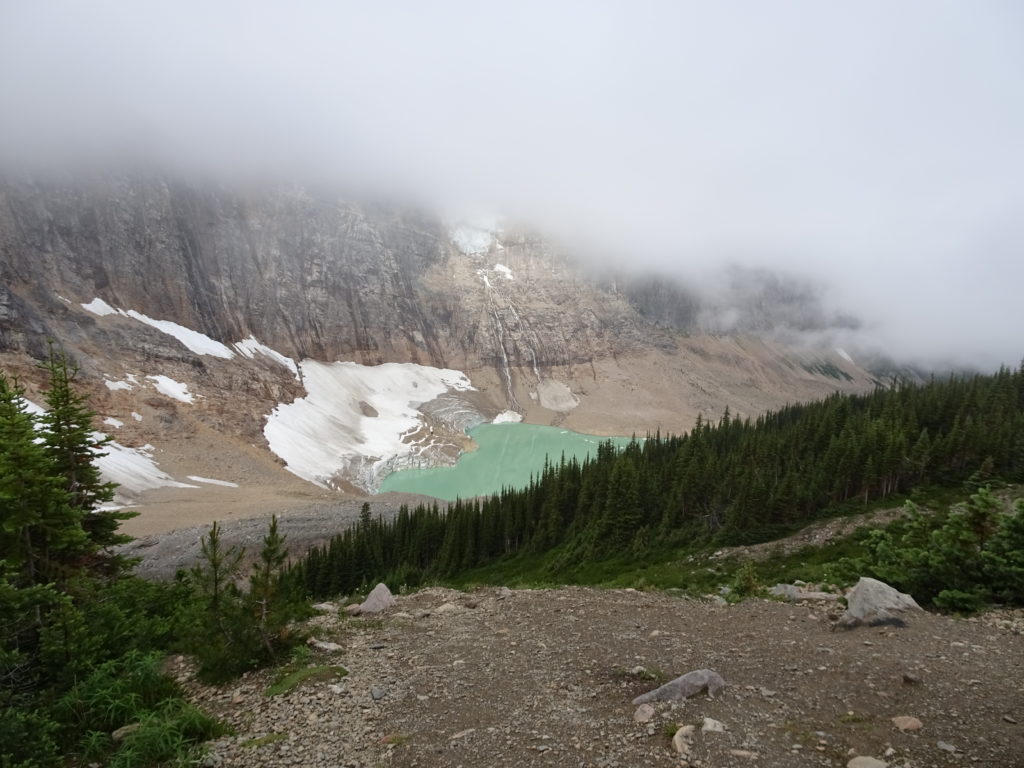 We went to and from the lookout point on the easy trail, where the alpine flowers were spread everywhere, for about three hours. However, you can enjoy a difficult trail if you walk on the loop trail.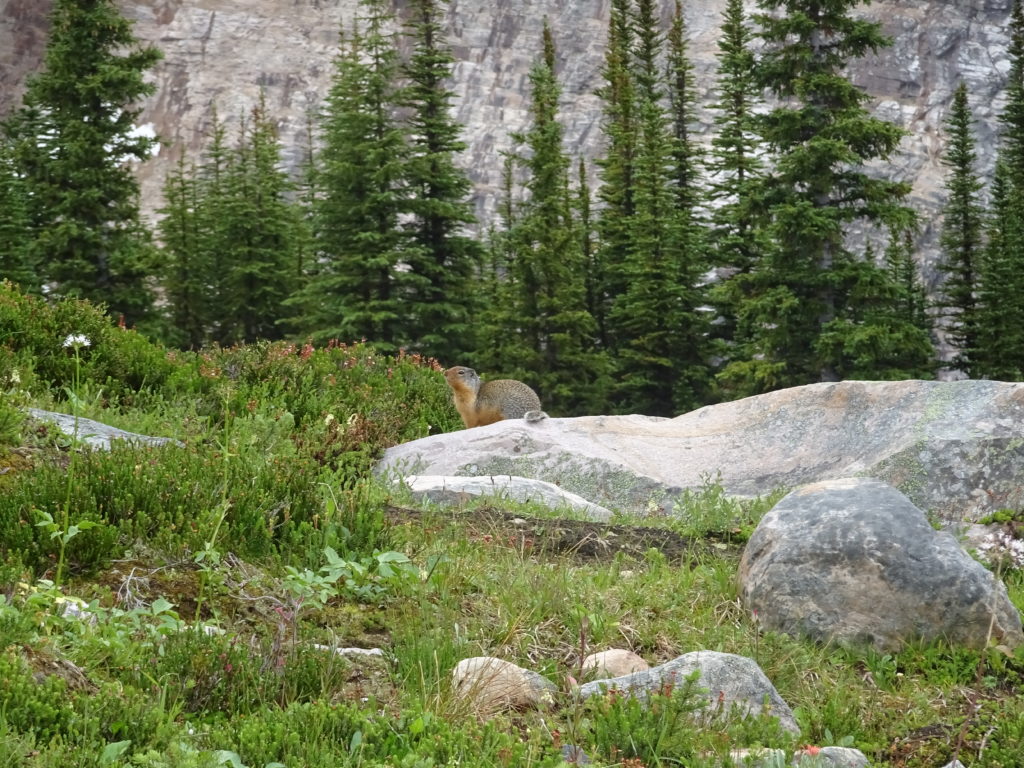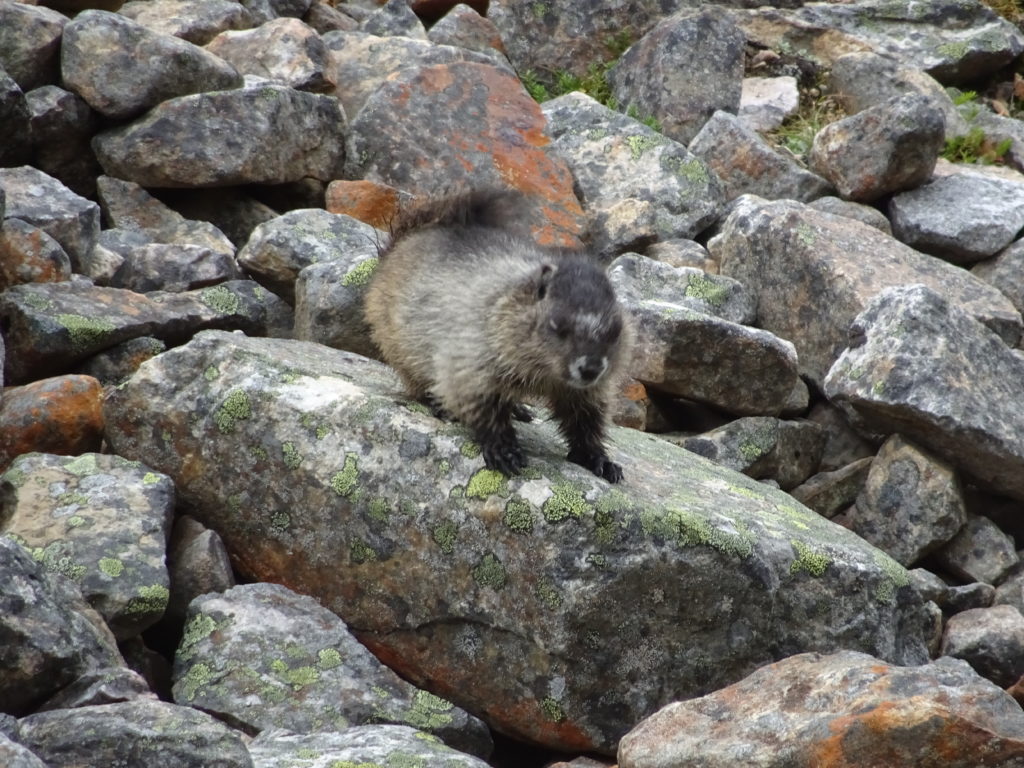 After that, we went to Lake Louise. We found black bears at two points on the way and had a short rest at Bow Lake.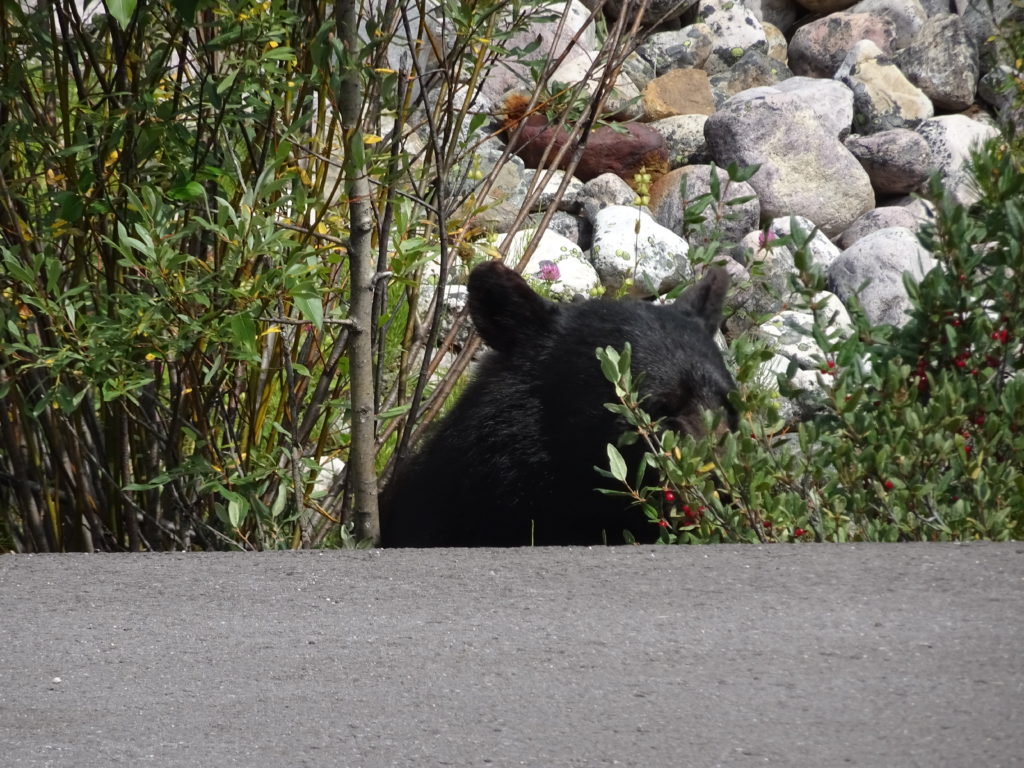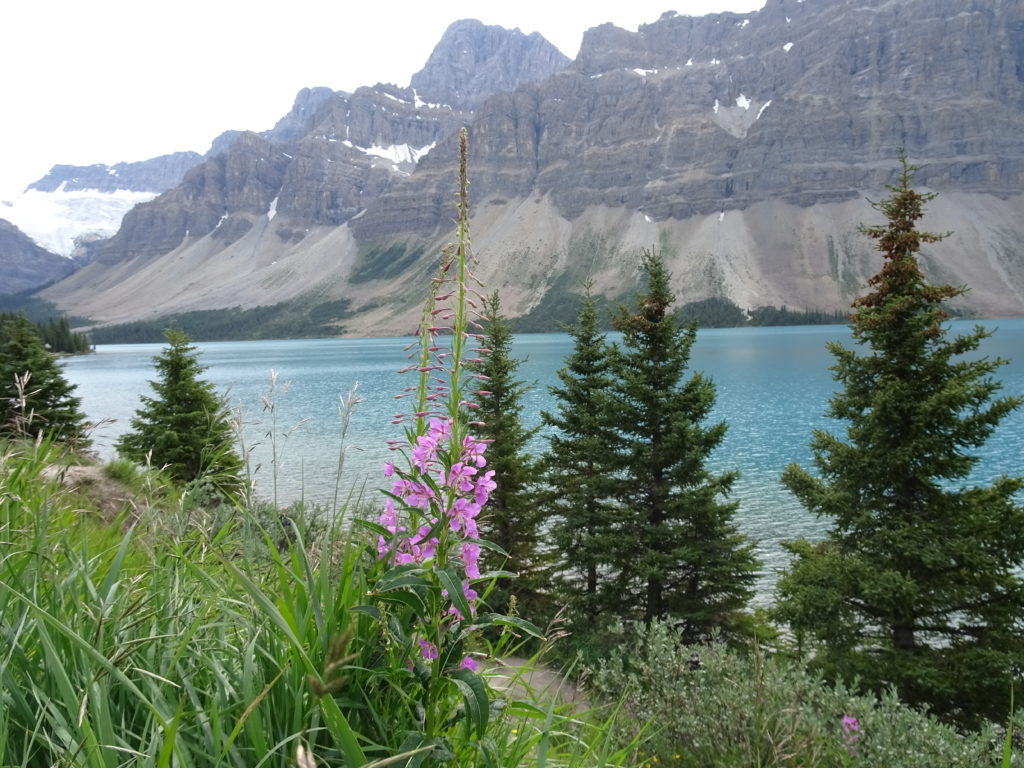 We planned on sightseeing at Lake Louise, but we went the wrong way and entered Yoho National Park. Therefore, we changed the plan and went to Natural Bridge and Emerald Lake.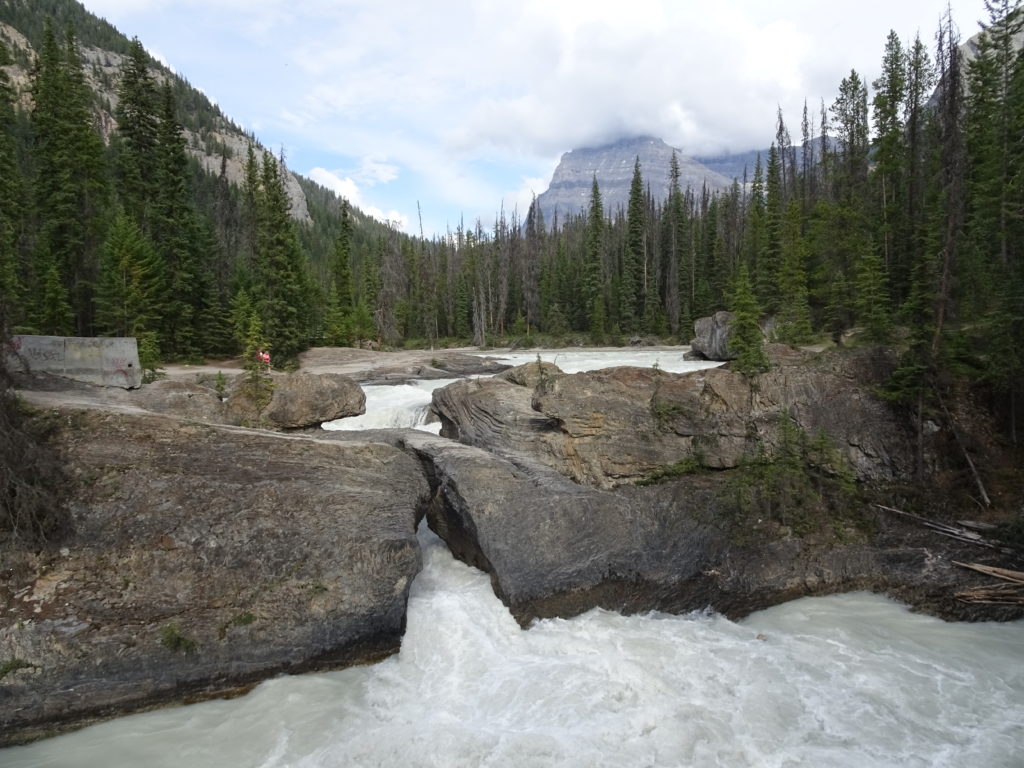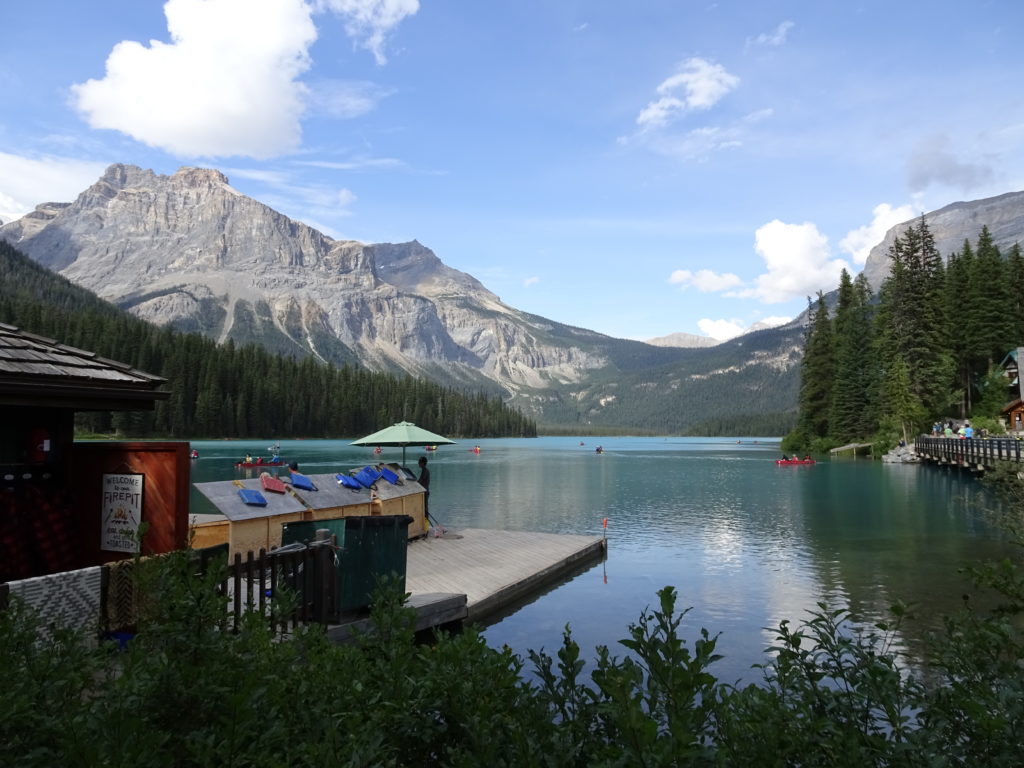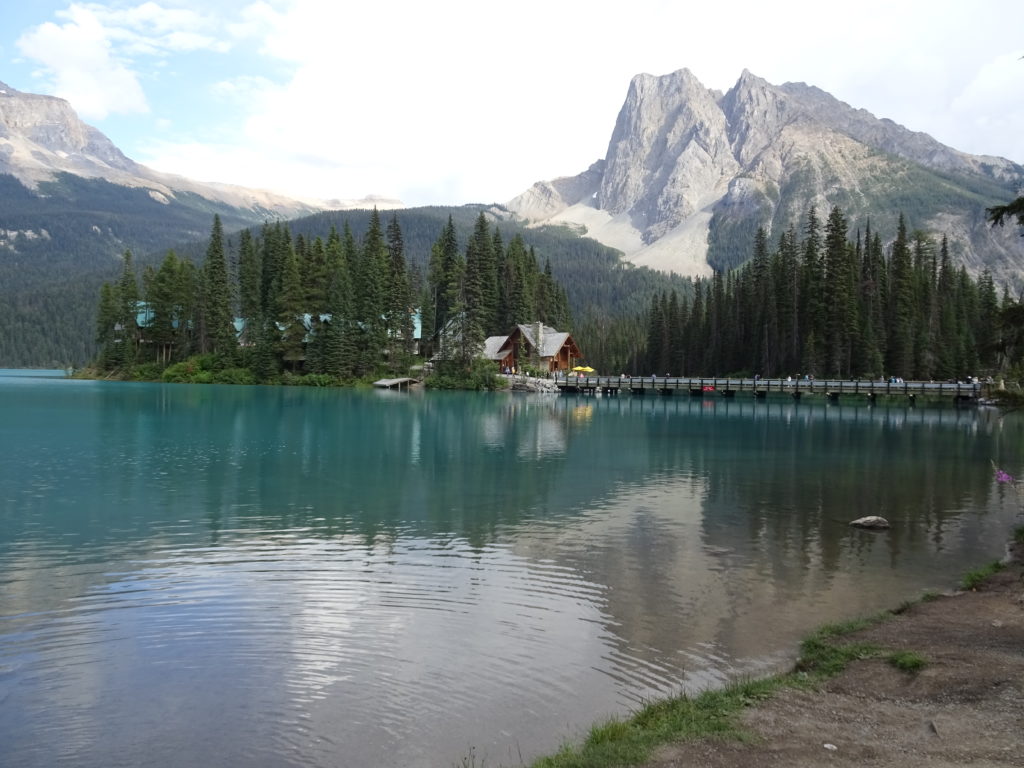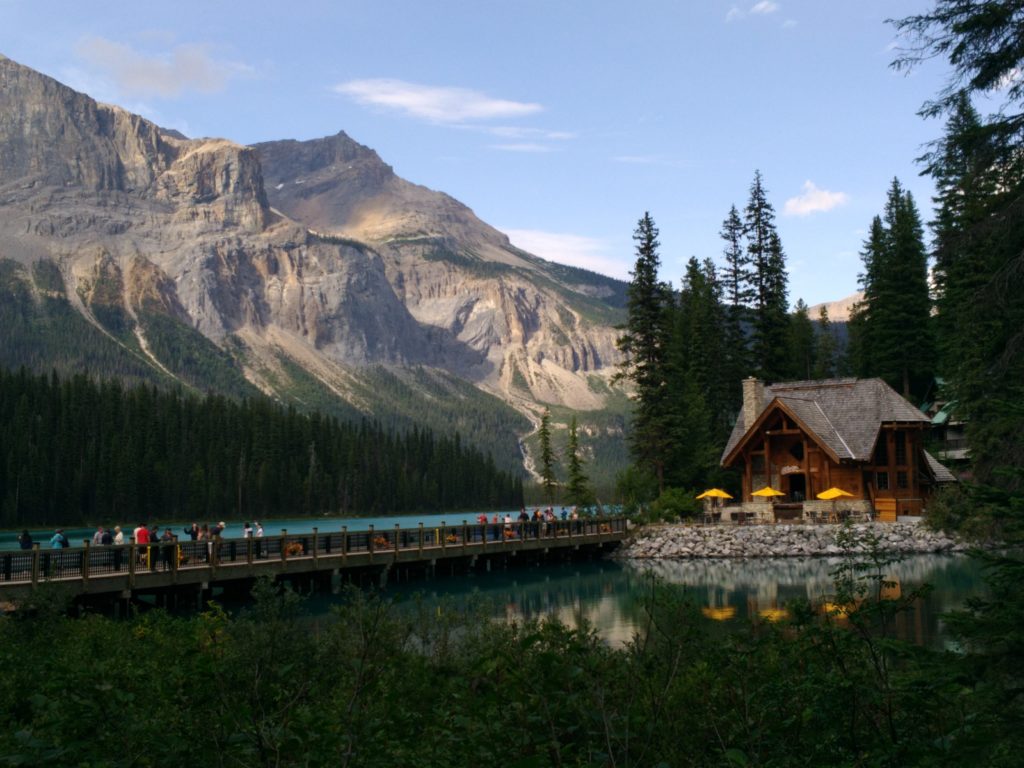 We checked in at Mountaineer Lodge in Lake Louise, took a shower, and bought an insect repellent nearby. We had dinner at Outpost Pub.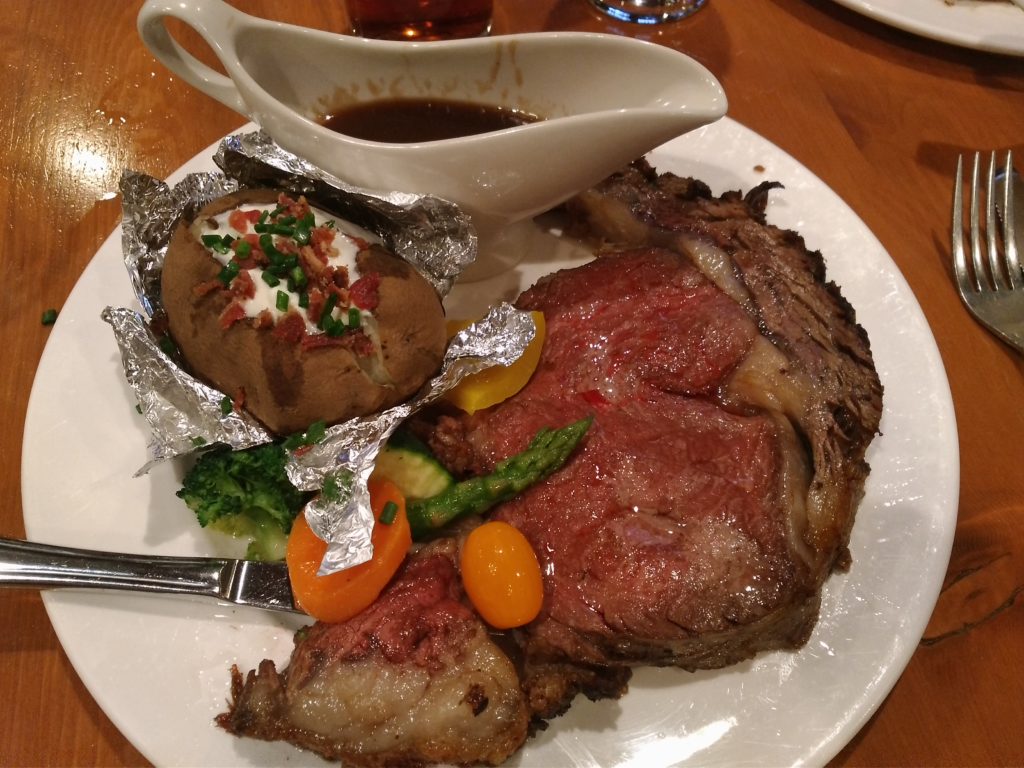 09:00 Check out from the lodge
09:45 Start hiking on the Edith Cavell Meadows Trail
12:45 Finish hiking
15:30 Bow Lake
16:50 Natural Bridge
17:15 Emerald Lake
18:00 Check-in at the lodge
20:00 Dinner at Outpost Pub
Fourth day: Sun, August 11
We went hiking in Yoho National Park all day.
We hiked over eleven and a half hours without a break because we took the wrong trailhead. We started from Twin Falls Trailhead and hiked Yoho Valley Trail, Whaleback Trail, and Celeste Lake Trail. If you hike Iceline Trail, which you start from Whiskey Jack Trailhead and can hike along the glacier easily, it takes about five hours round trip.
The early stage of Yoho Valley Trail was a woody trail and sometimes a hard rocky upslope. Laughing Falls and Twin Falls were high spots.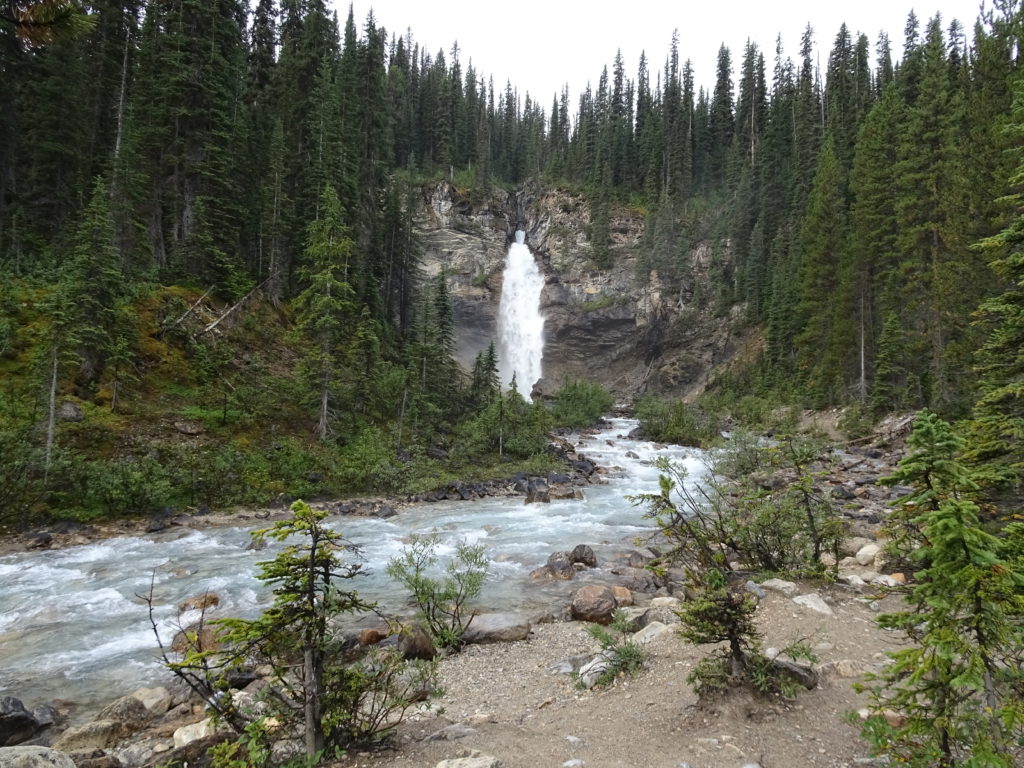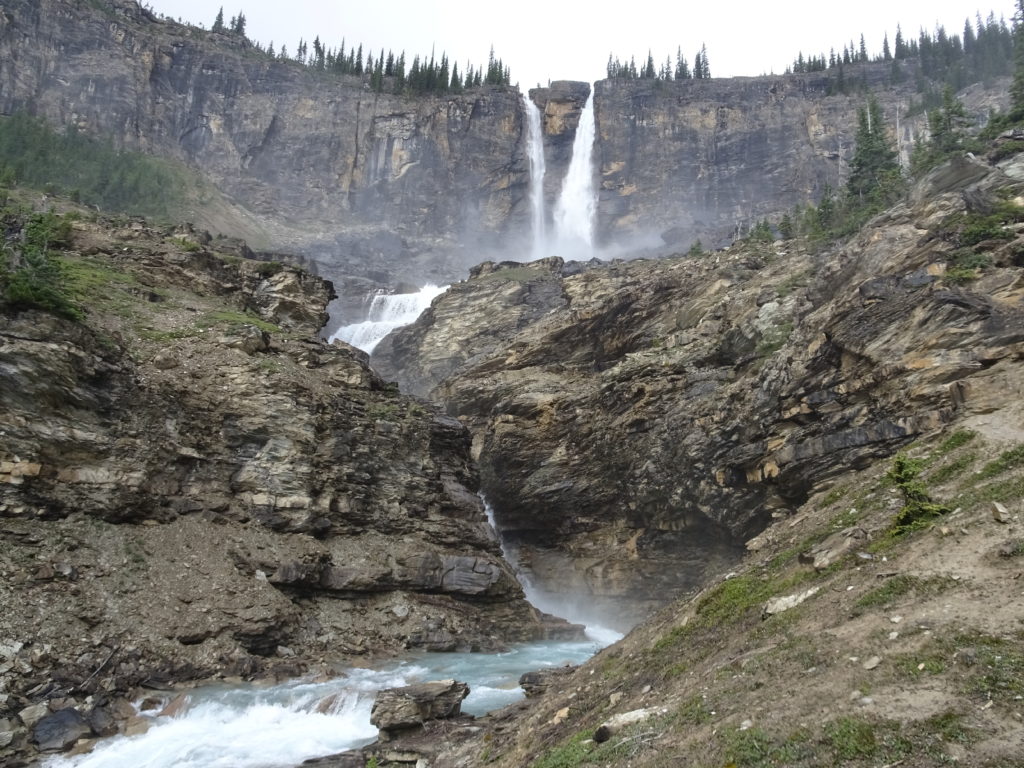 When we hiked on Whaleback Trail past Twin Falls, it was a hard upslope.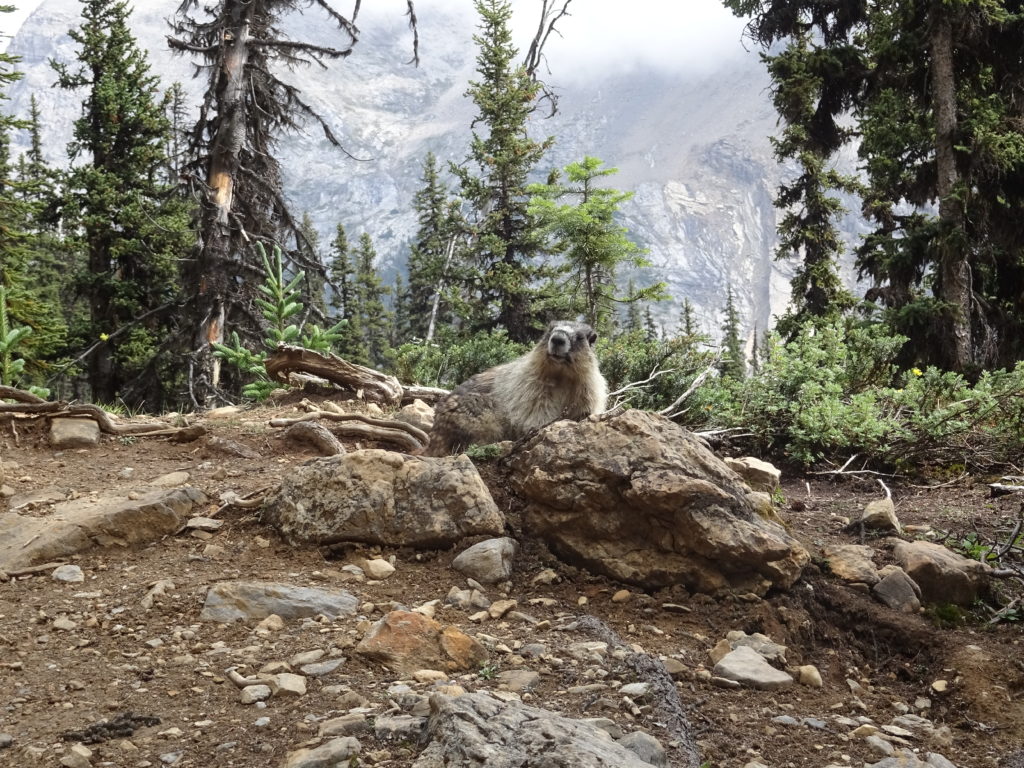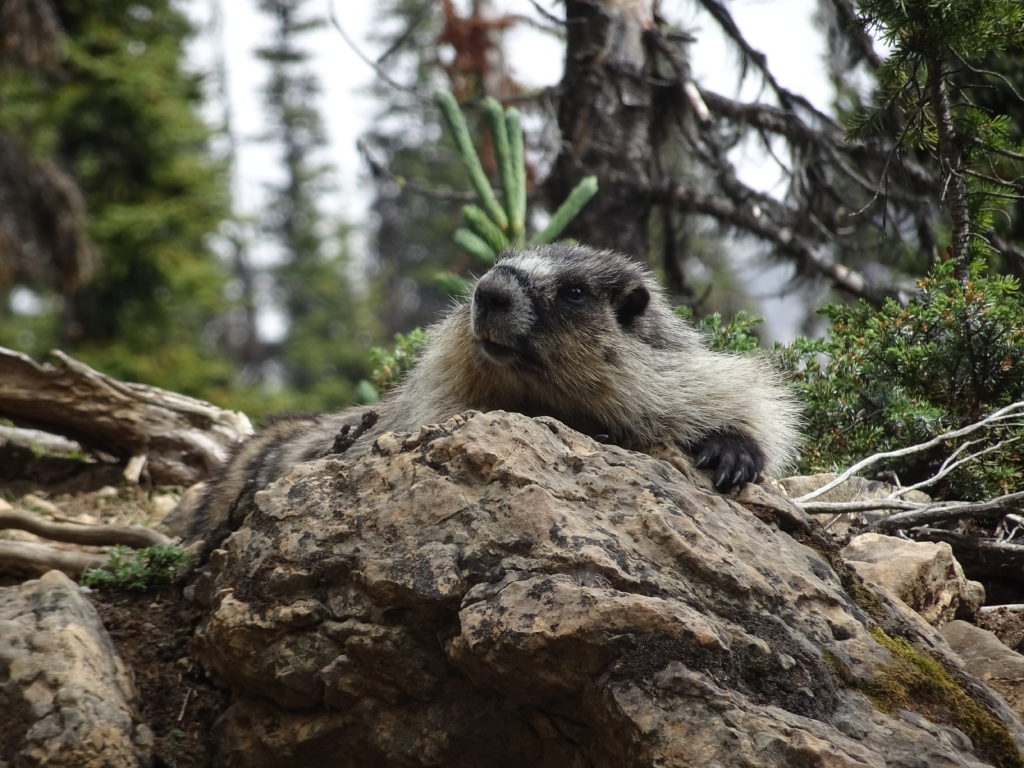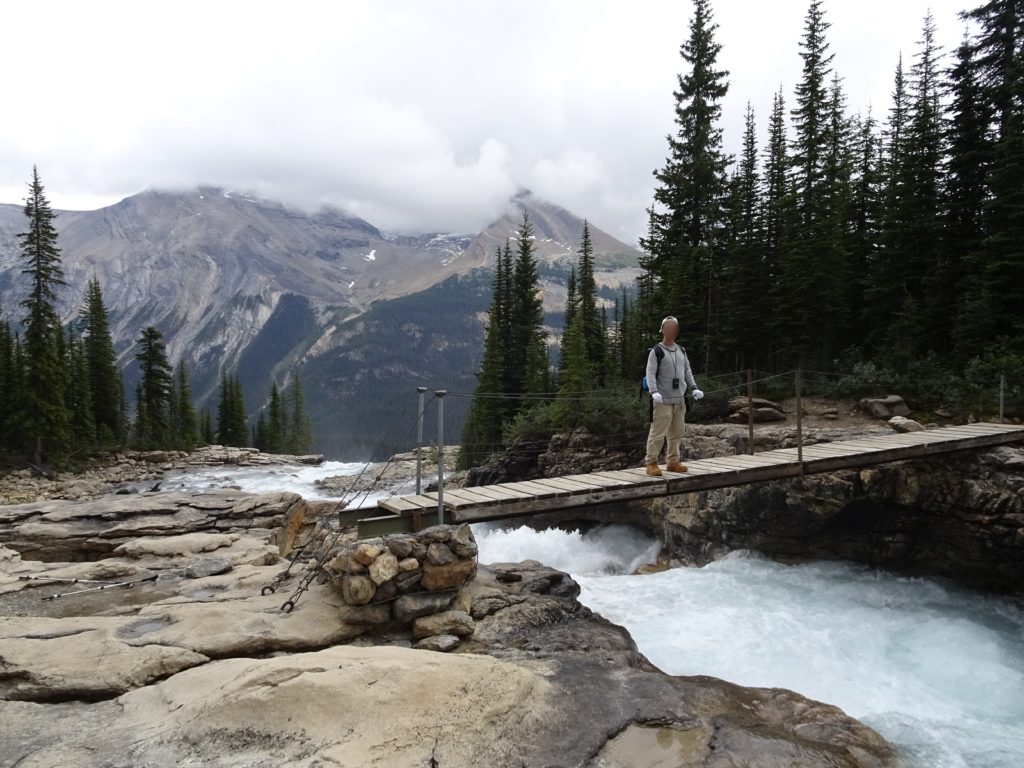 When we crossed the bridge over the strong stream, the moderate path continued, which spread alpine flower garden, for a while. As we had a wide view, the mountain scenery was wonderful.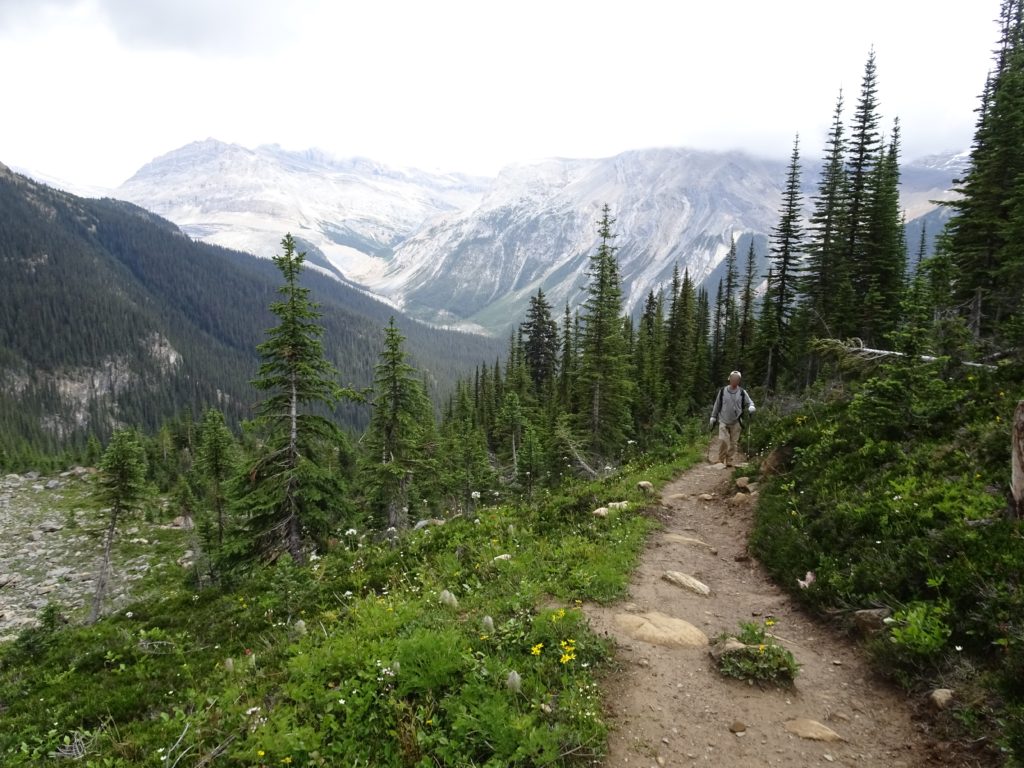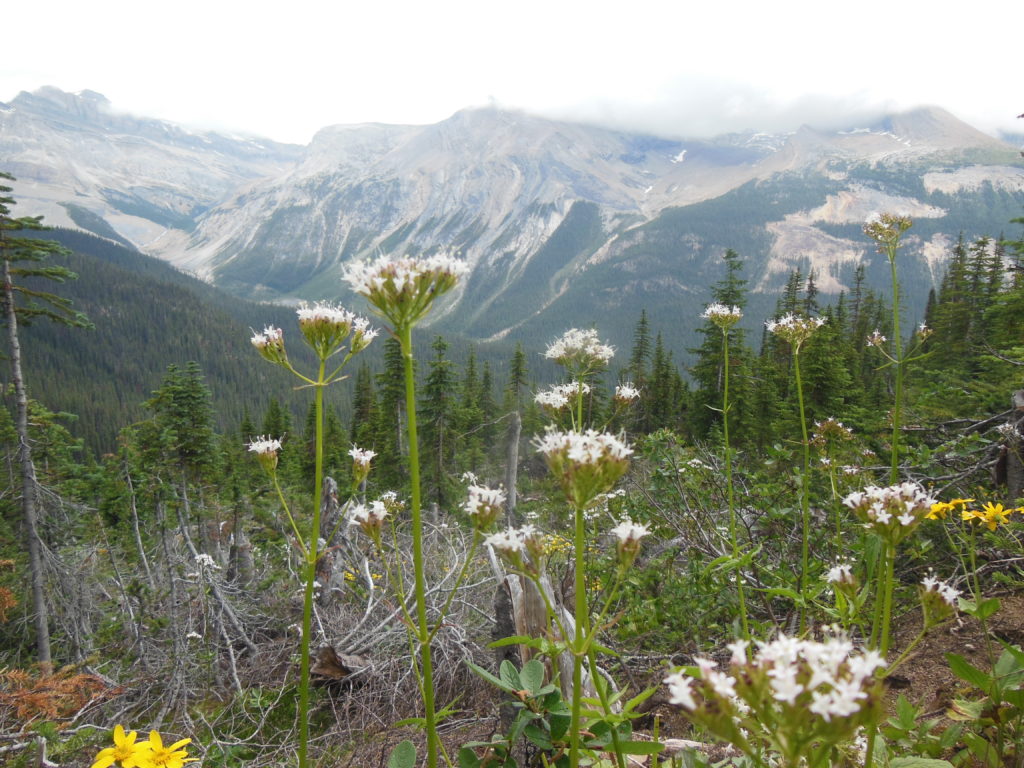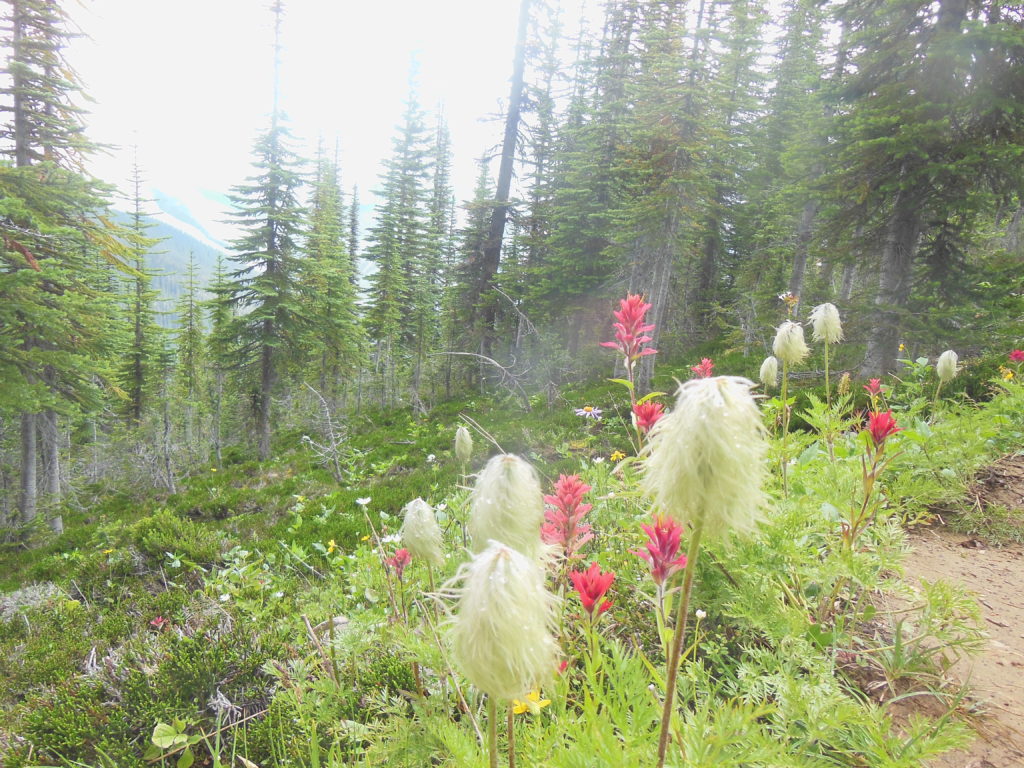 We were able to see around the mountains at the top of the Whaleback Trail.
The Celeste Lake Trail was a moderately woodsy and meadowed trail. Celeste Lake was on the way.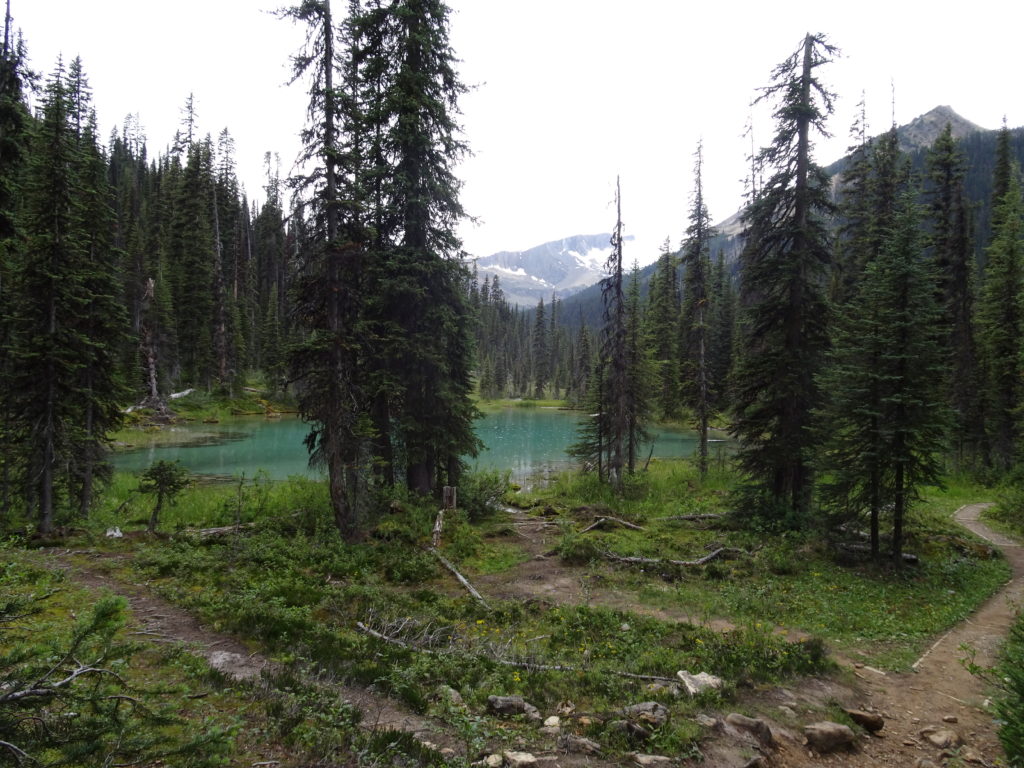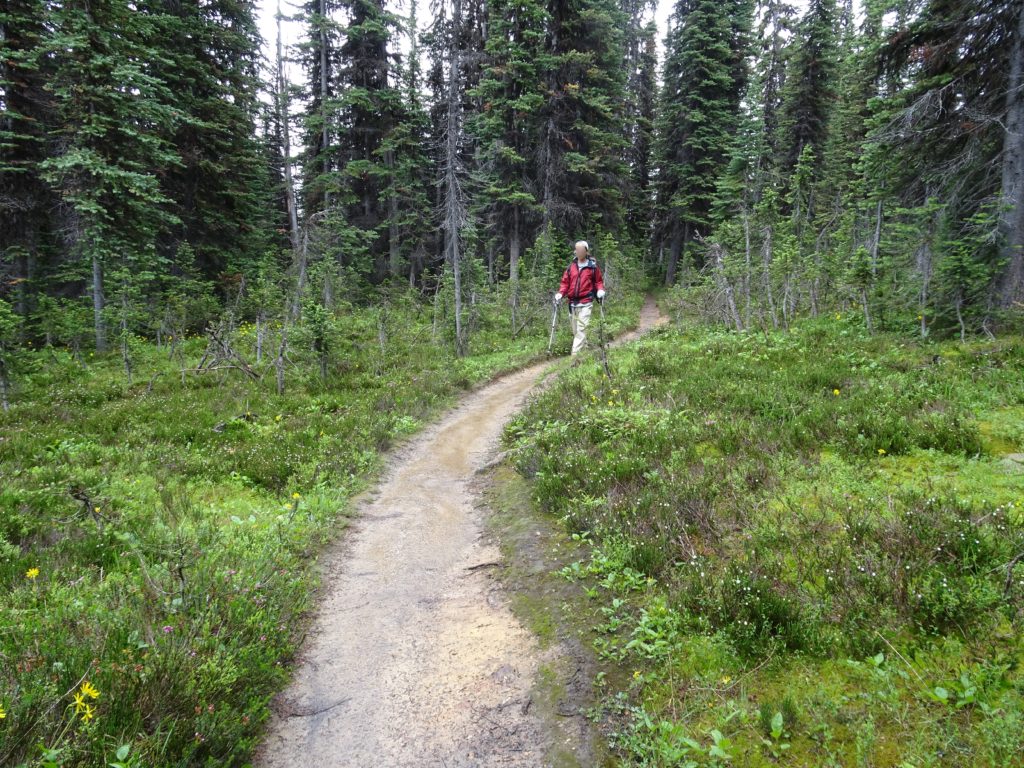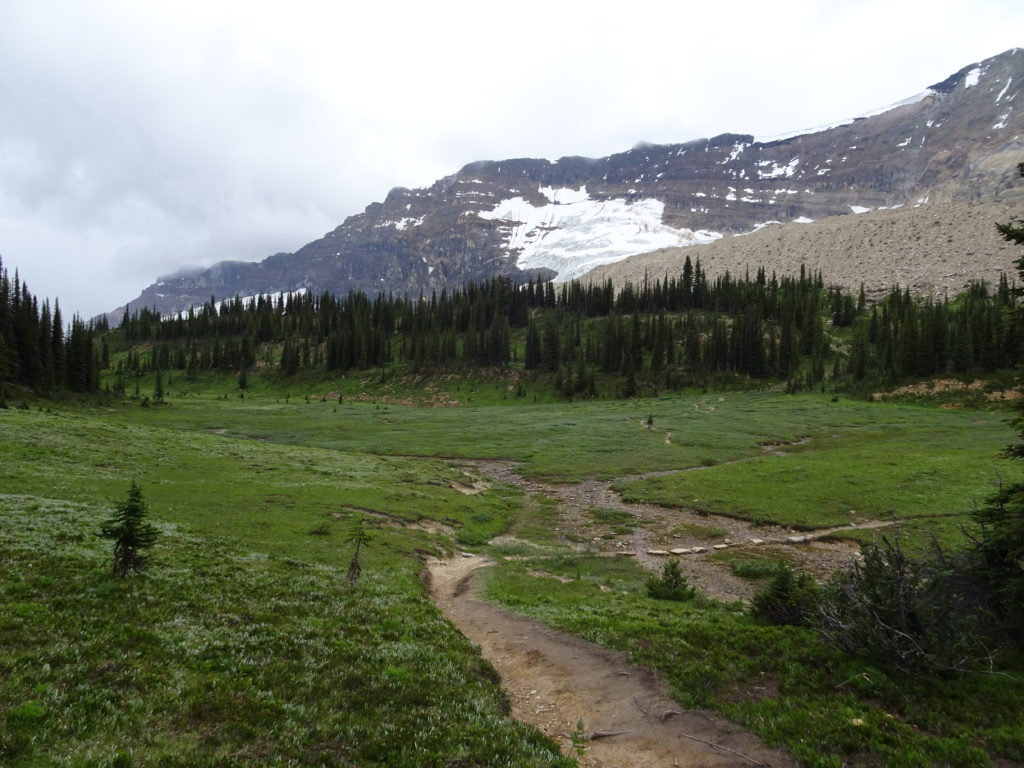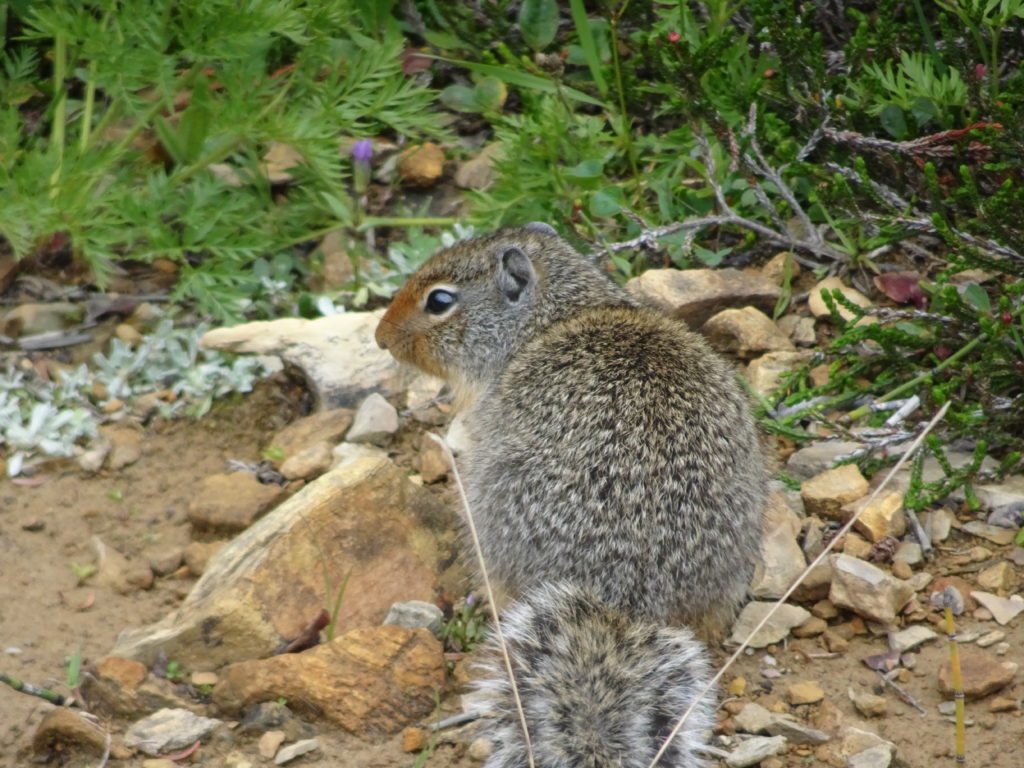 Iceline Trail, which was one of the destinations, was a desolate path with a clear view of the mountains and glaciers.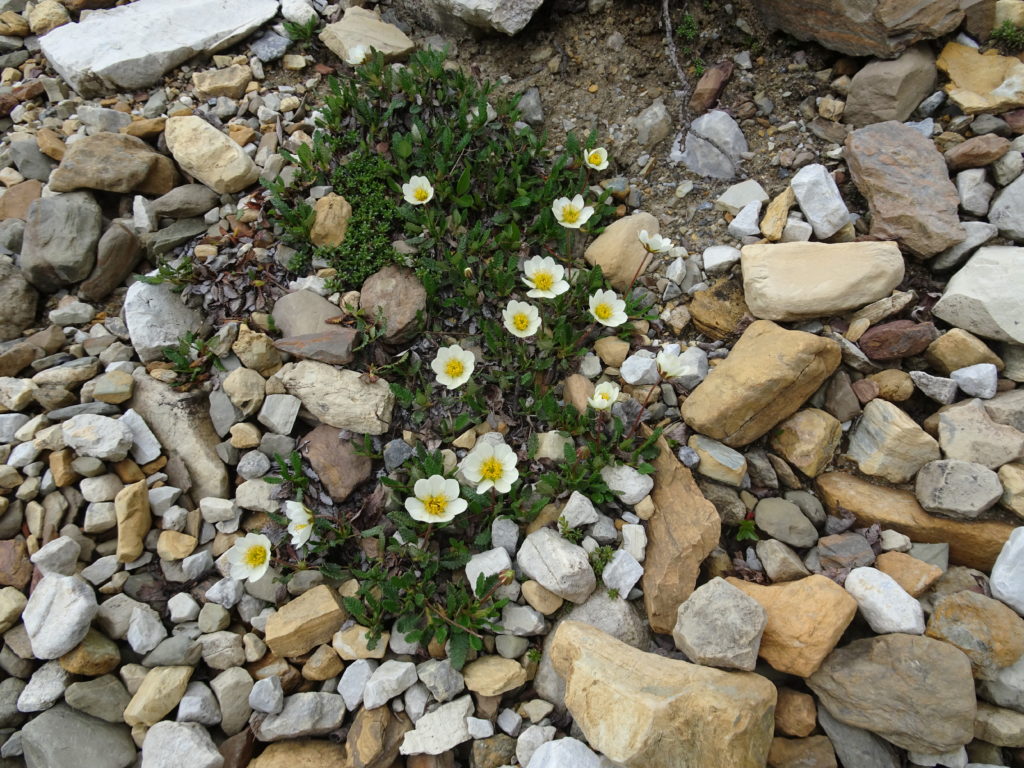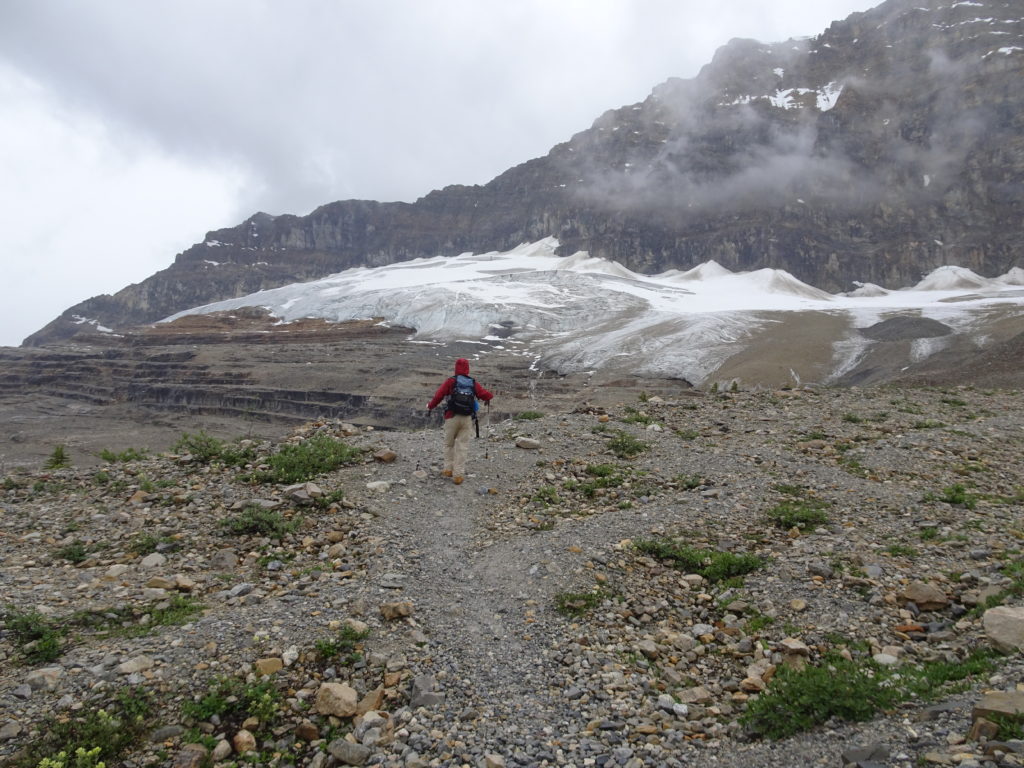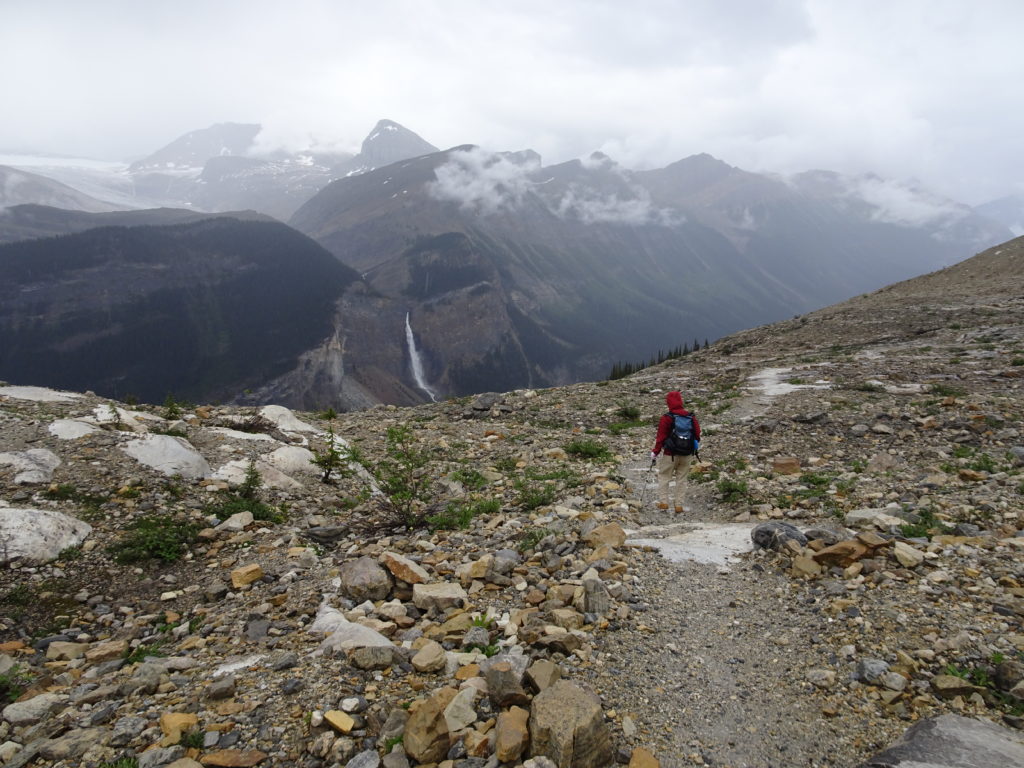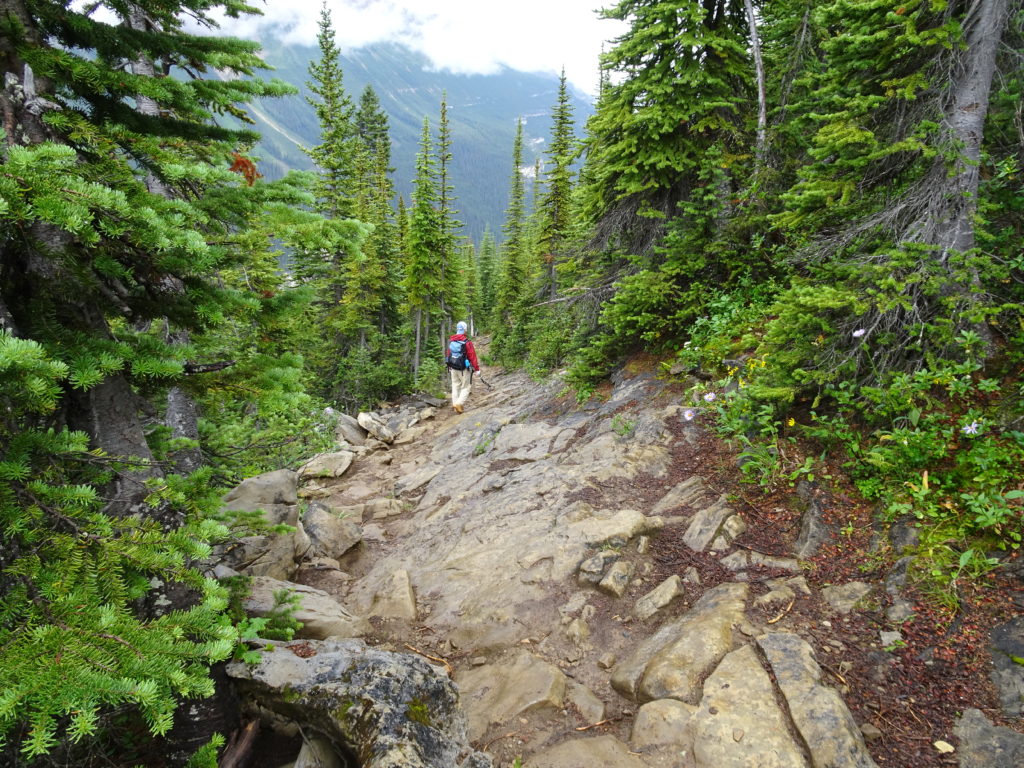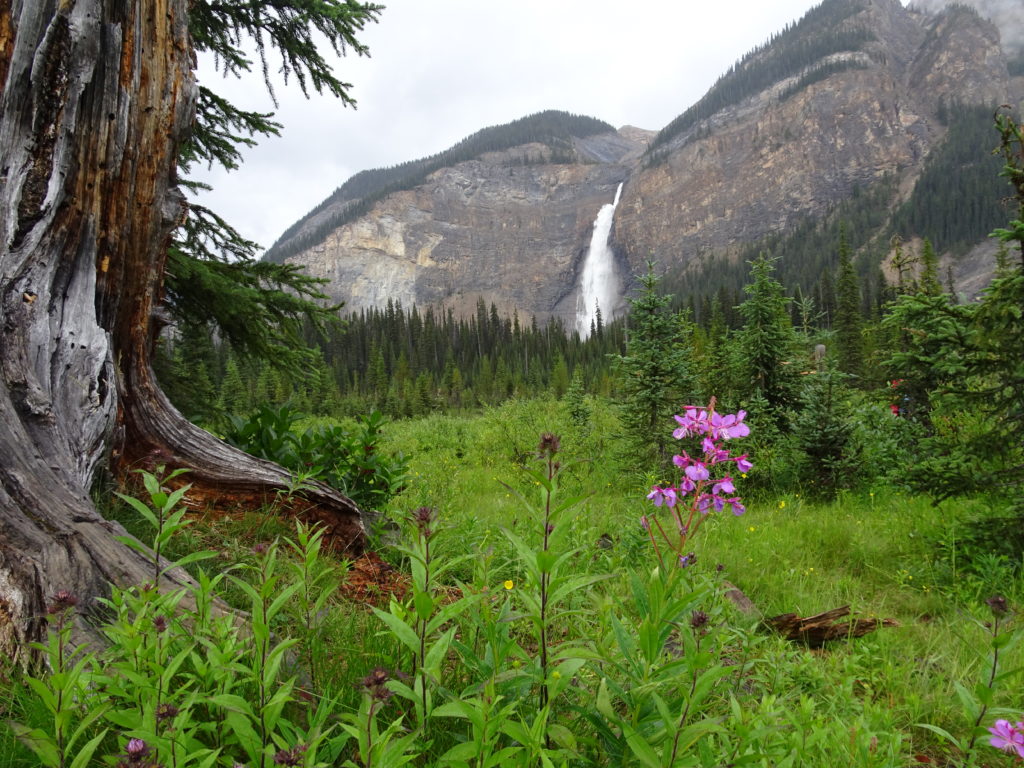 At last, we saw Takakkaw Falls, which was the second-largest fall in Canada, up close.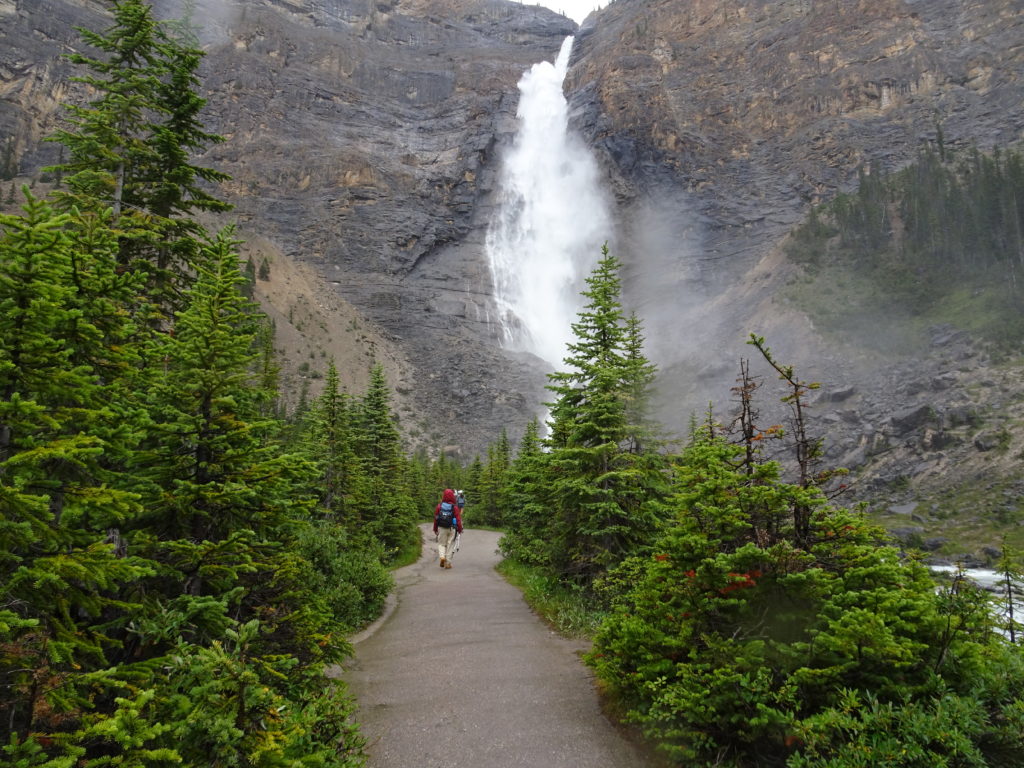 There were no rooms where we could stay a few days in a row, so we checked in at a different room at Mountaineer Lodge. We were late for dinner because of the long hike, but Bill Peyto's Cafe was still open.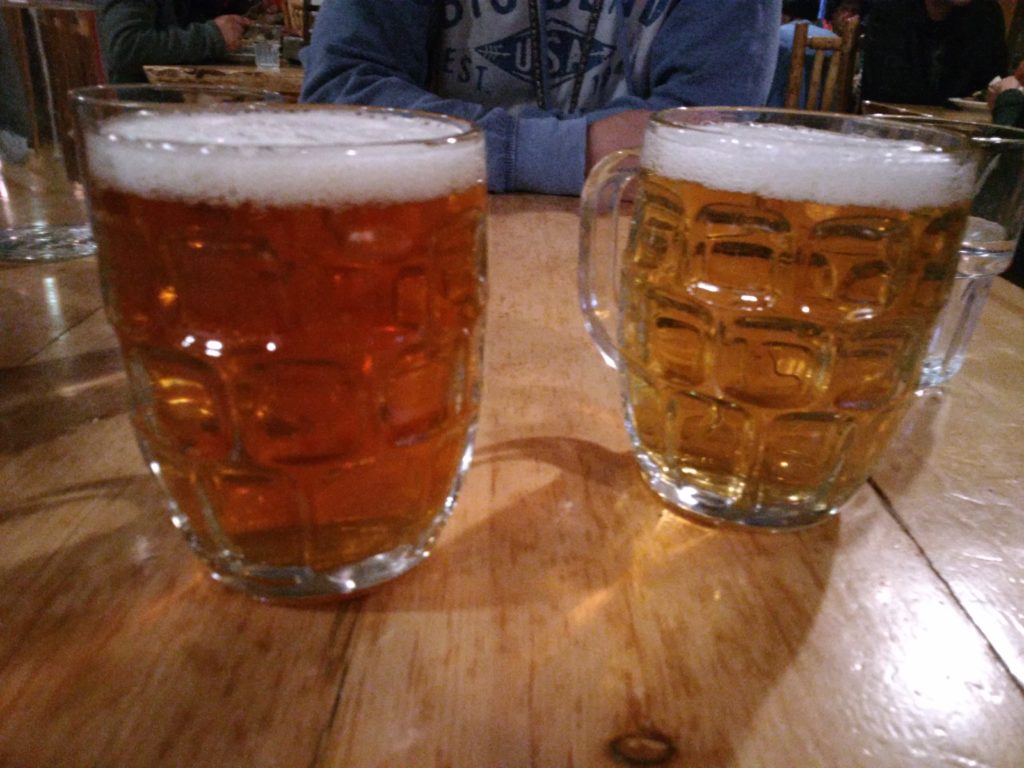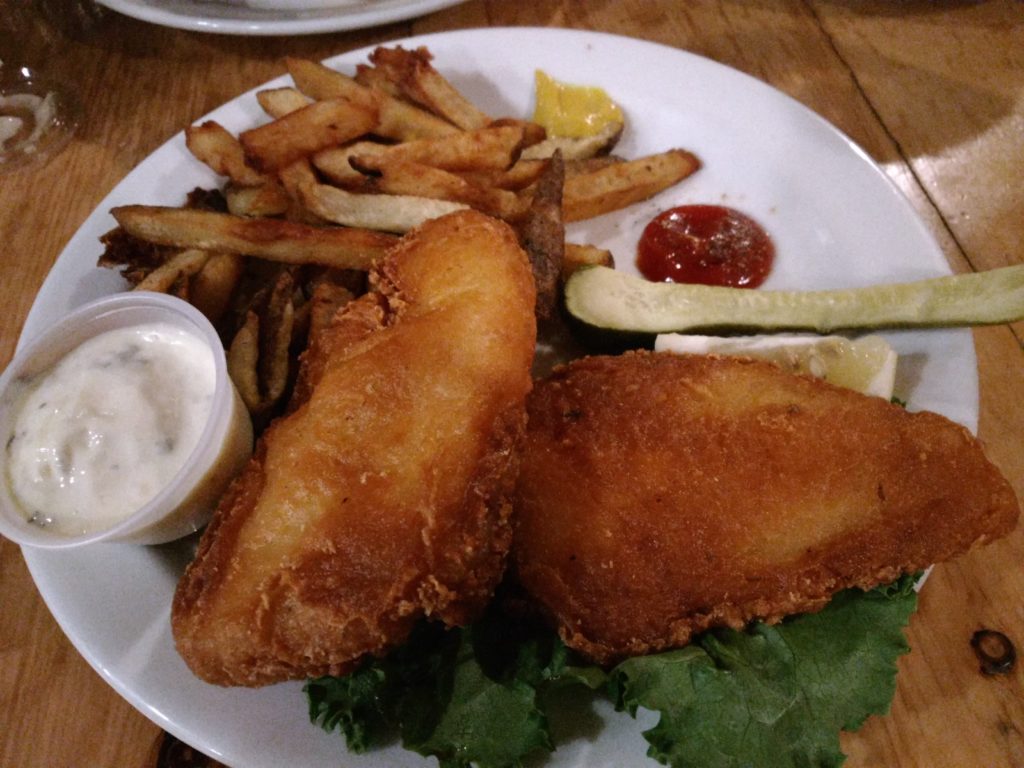 07:30 Check out from the lodge
08:00 Start hiking in Yoho National Park
19:30 Finish hiking
20:00 Check-in at the lodge
21:00 Dinner at Bill Peyto's Cafe
Fifth day: Mon, August 12th
We planned to sightsee around Lake Louise, but there was bad weather, so we changed our plans for the next two days. We went around Kootenay National Park.
At first, we went to Continental Divide, which was located just near the entrance to Kootenay Hwy from Trans-Canada Hwy. It was the boundary between Banff National Park and Kootenay National park, as well as the Alberta-British Columbia provincial border, and also the waterhead between the Atlantic Ocean and the Pacific Ocean.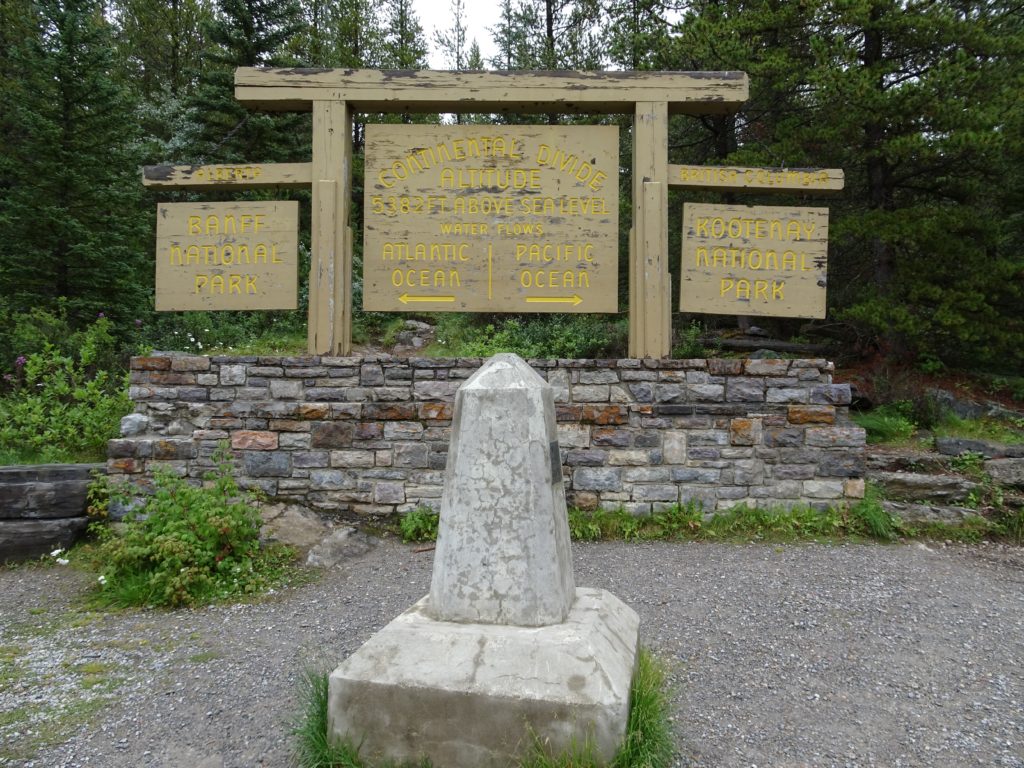 Small bush fires often break out in the Canadian Rockies, but there was a big wildfire in Kootenay National Park in 2017, so some trails were still closed. The Marble Canyon and Paint Pots, where we planned to go, were also closed because the trails were being repaired.
We changed our plan and drove to Radium Hot Springs, which was the other gateway to Kootenay National Park. We stopped by Sinclair Canyon, the visitor center, and the town supermarket.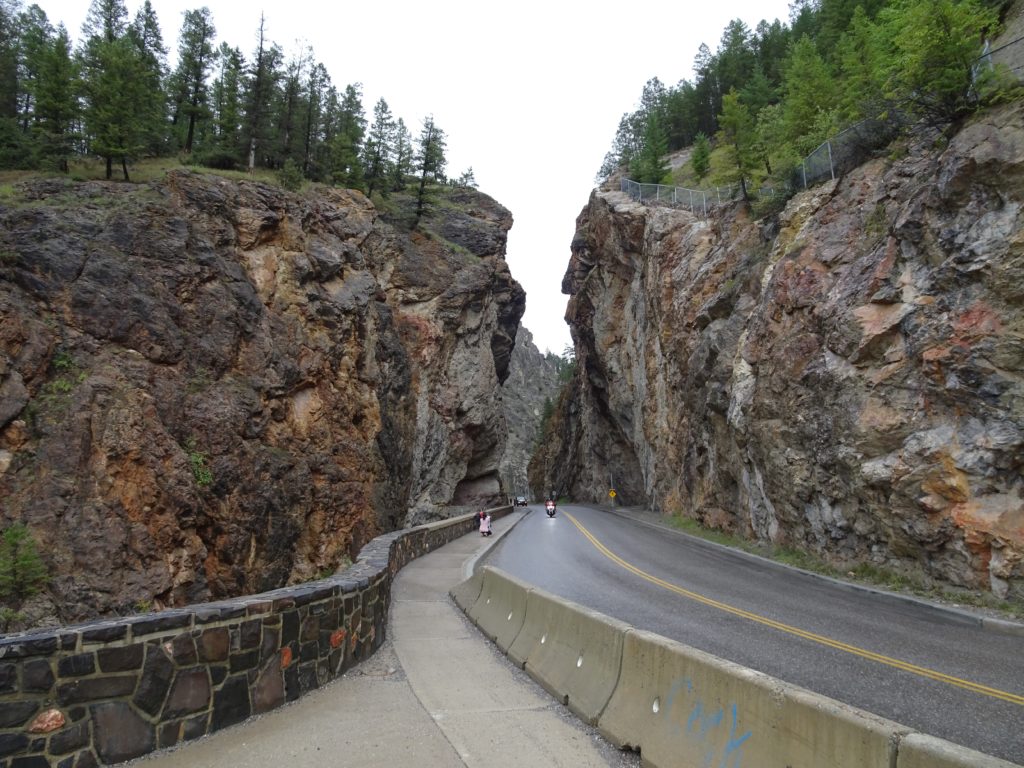 When we returned to Banff from Radium Hot Springs, we stopped by Olive Lake, Kootenay Valley Viewpoint, and Dog Lake, where we could walk around in a short time. It rained heavily off and on.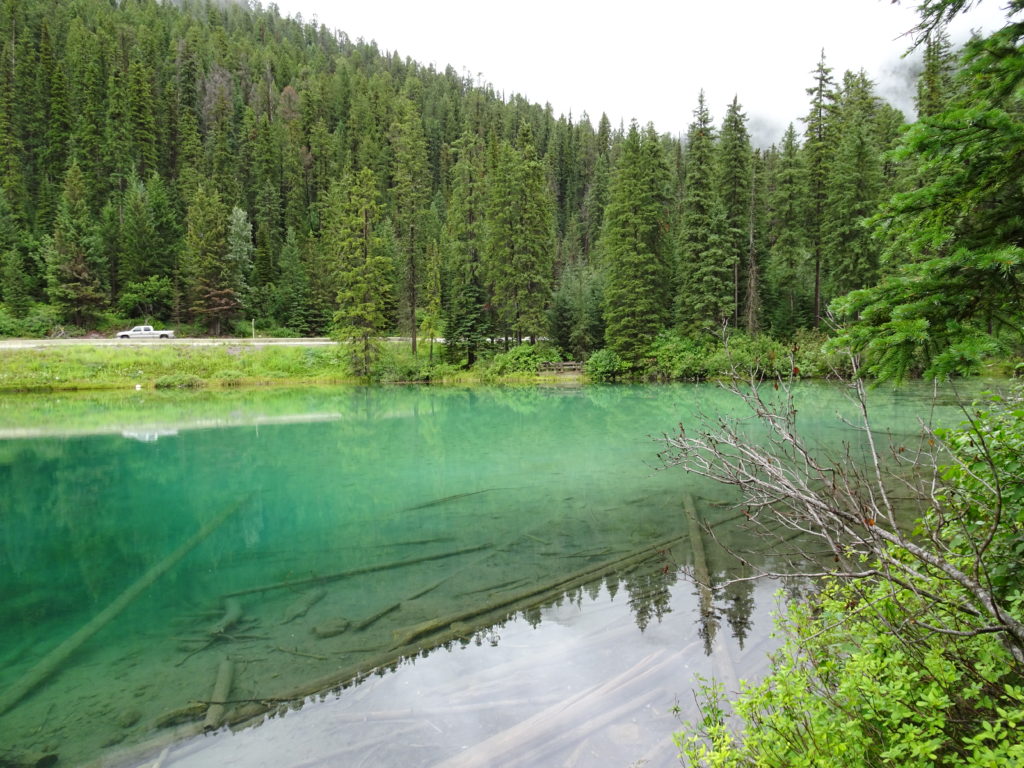 It's Kootenay Valley viewpoint. We can view the mountains on a sunny day.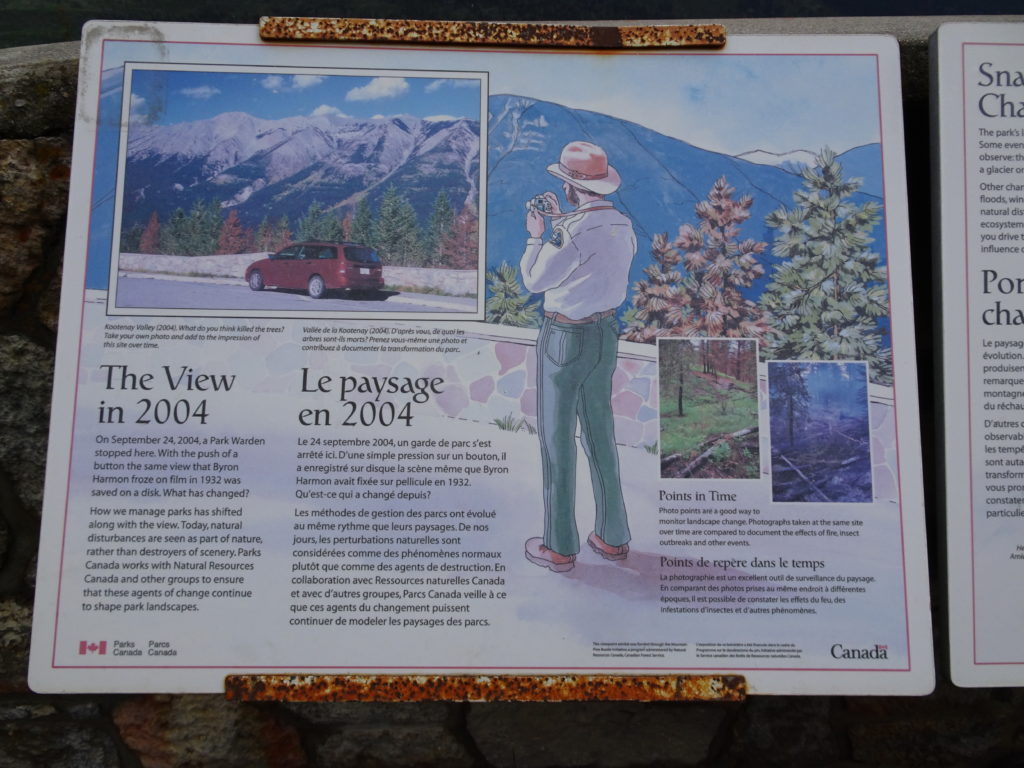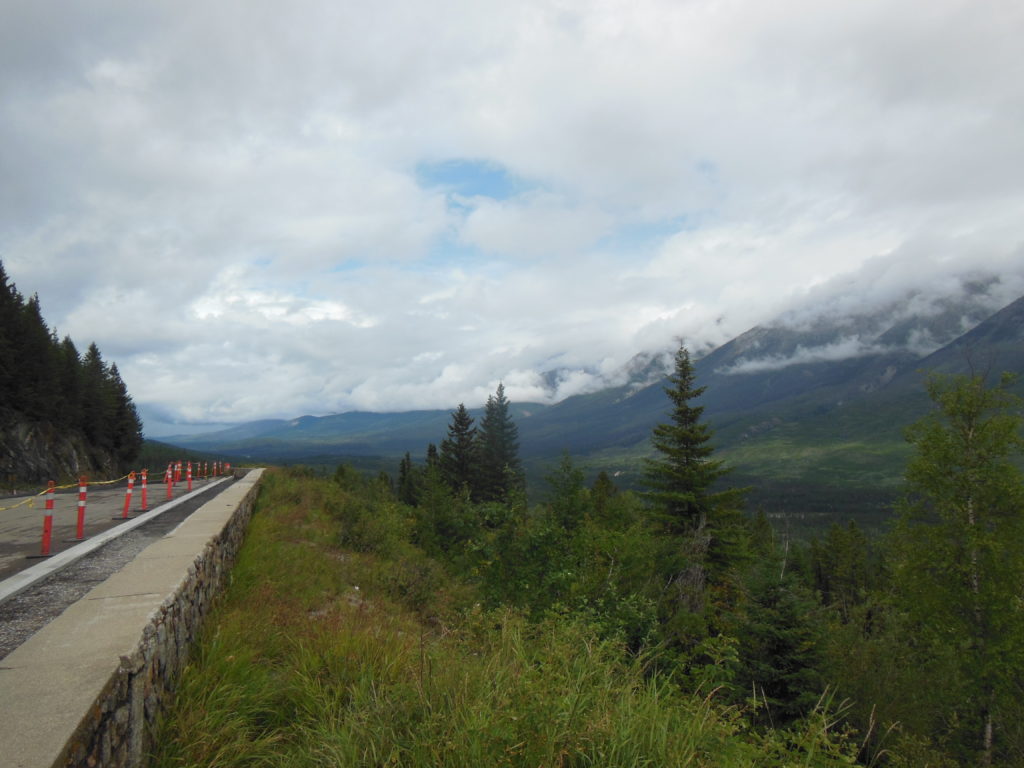 Dog lake was about a two-hour trail, and this was an easy trail to walk in the rain.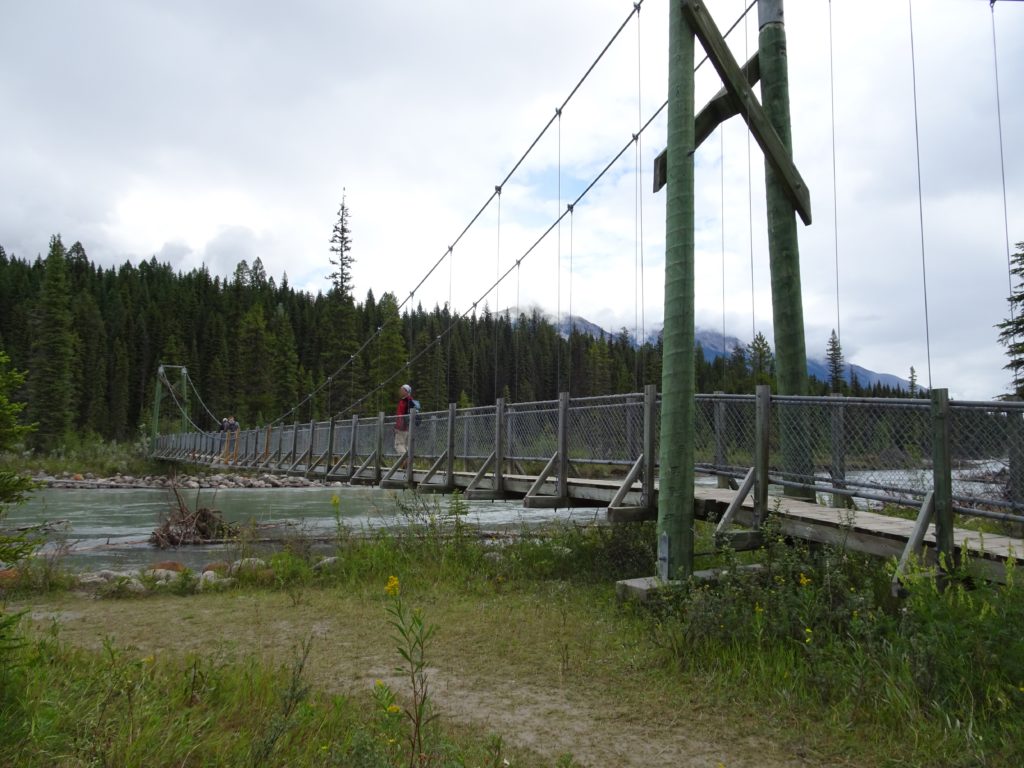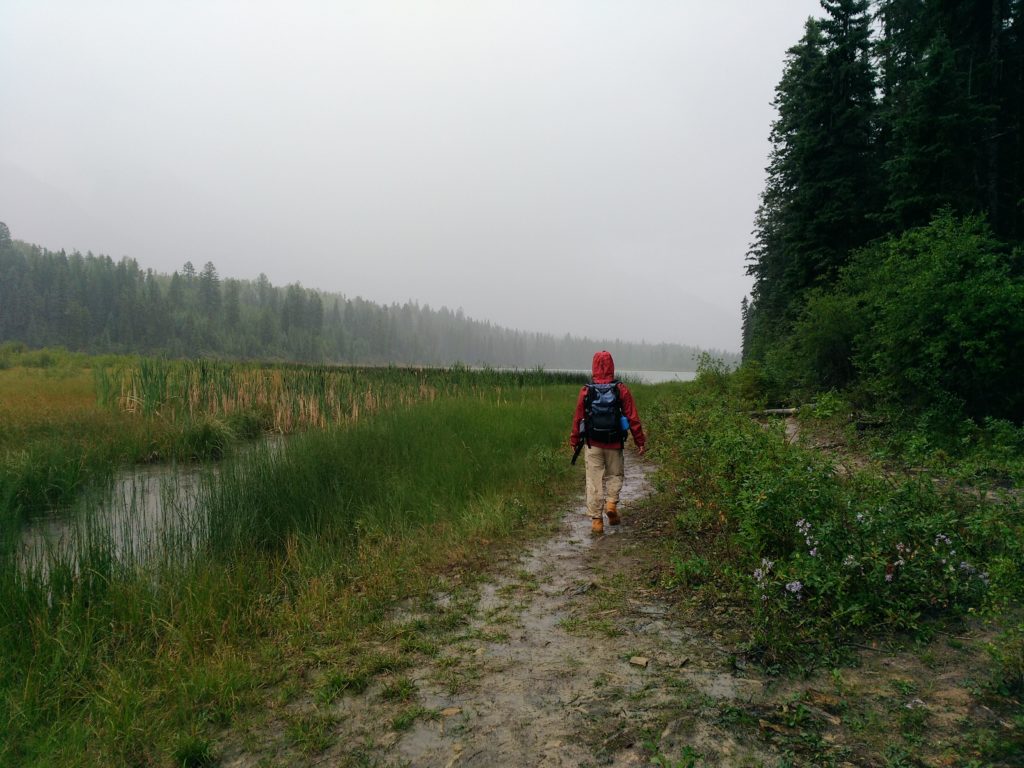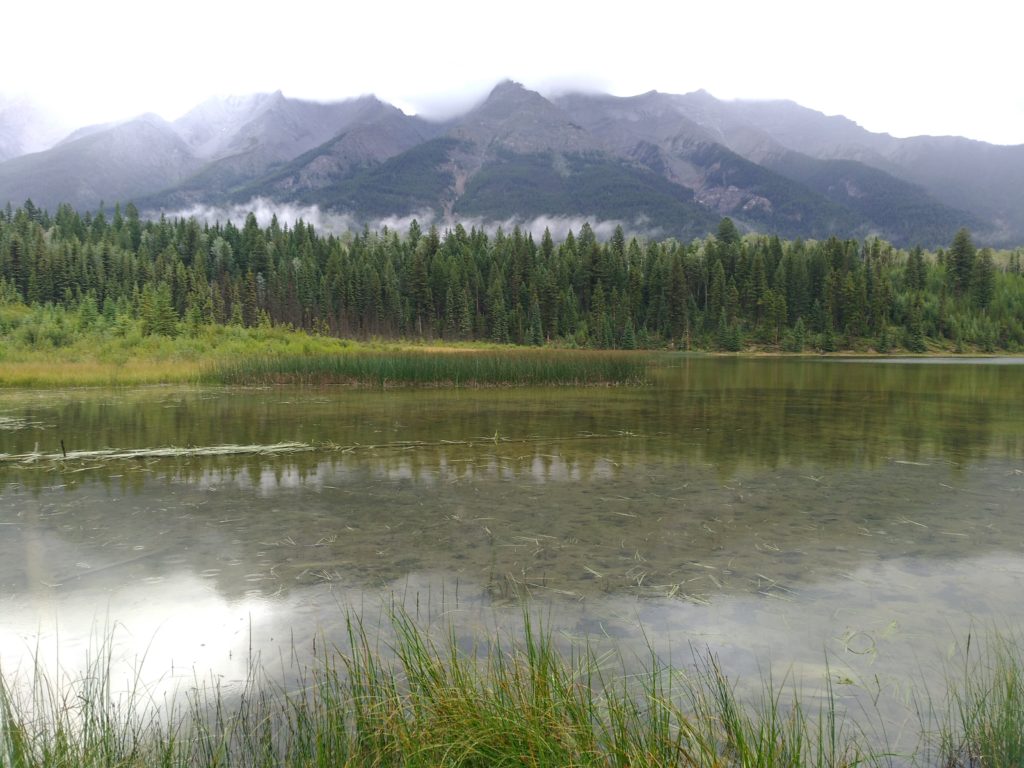 We stopped by a souvenir shop at Vermilion Crossing and checked in at Banff Inn early this day.
We went to Chuck's Steakhouse for dinner while taking a detour to souvenir shops.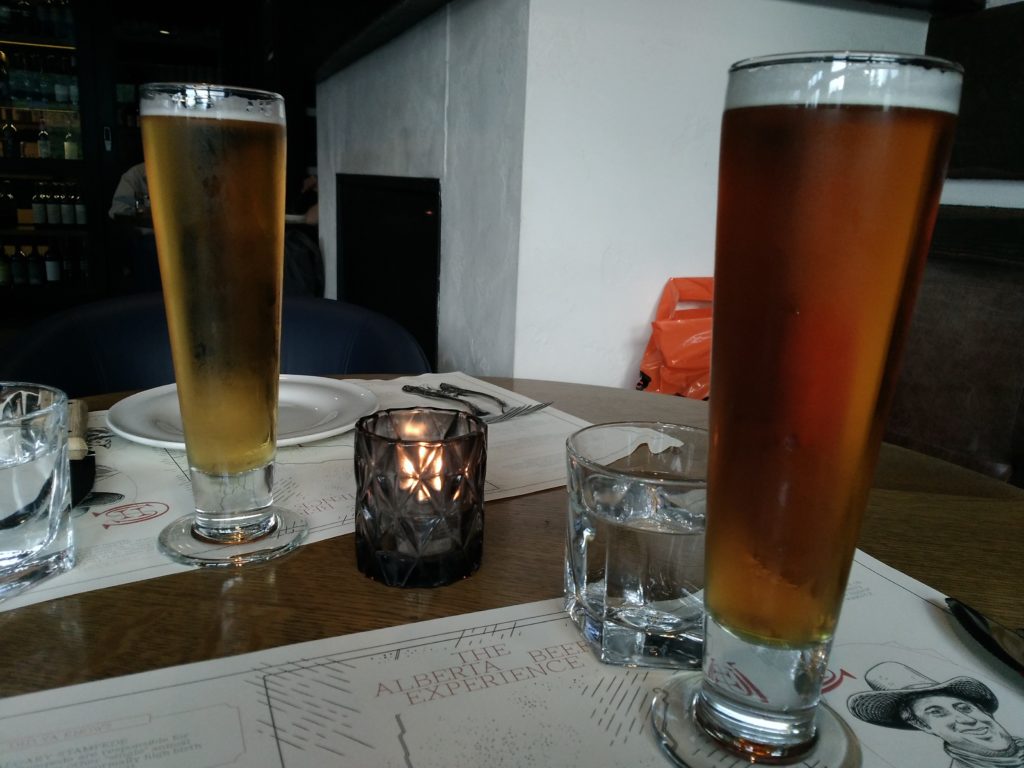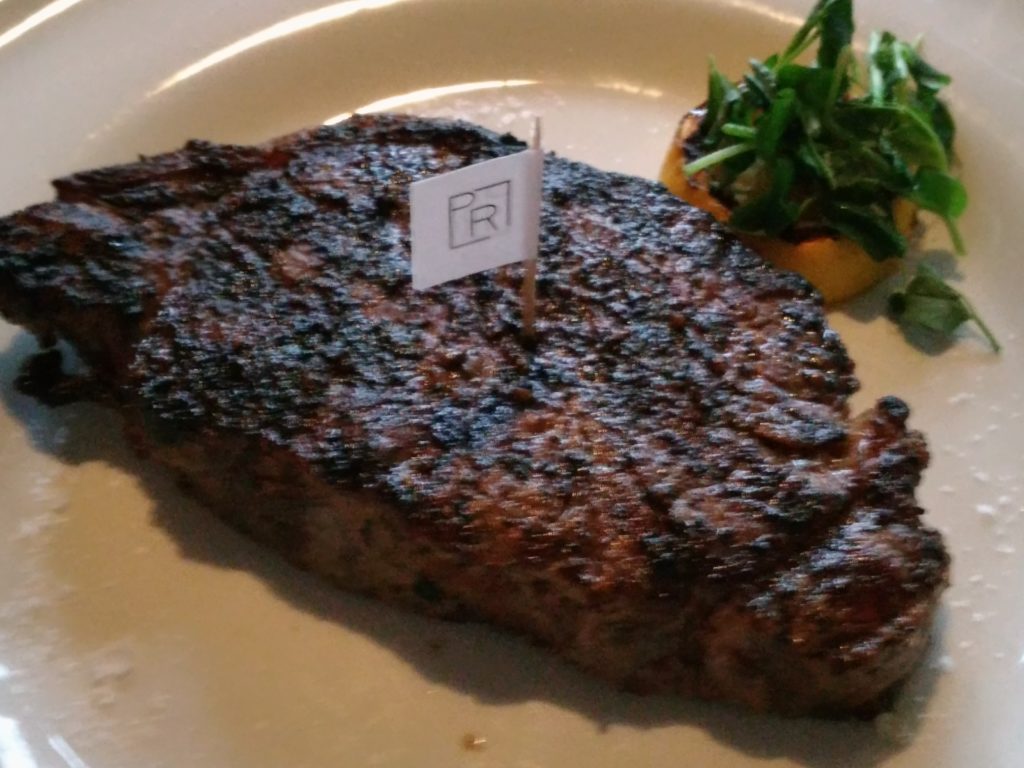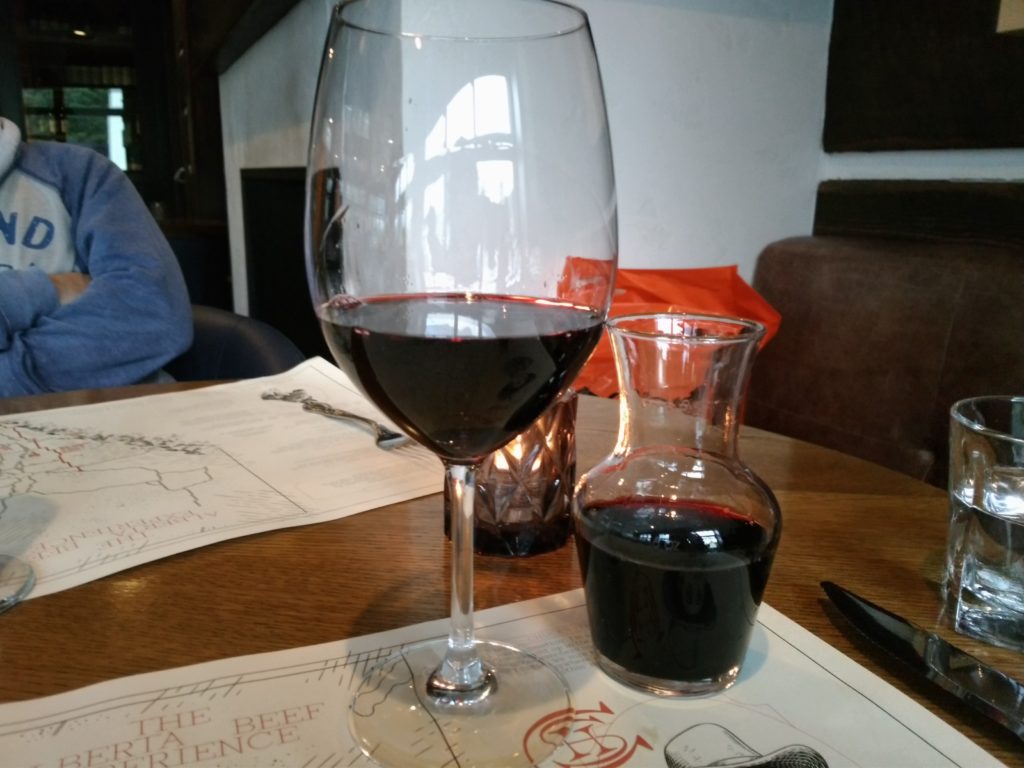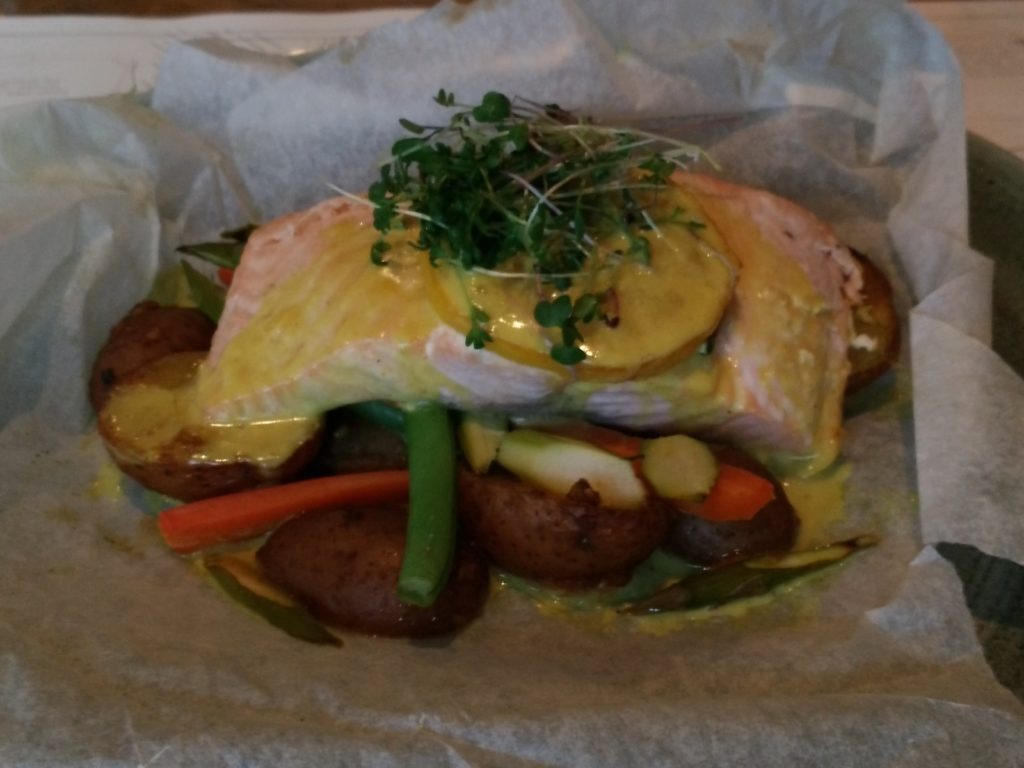 We weren't sleepy because we didn't walk much during the day, so we drank again at the lodge bar.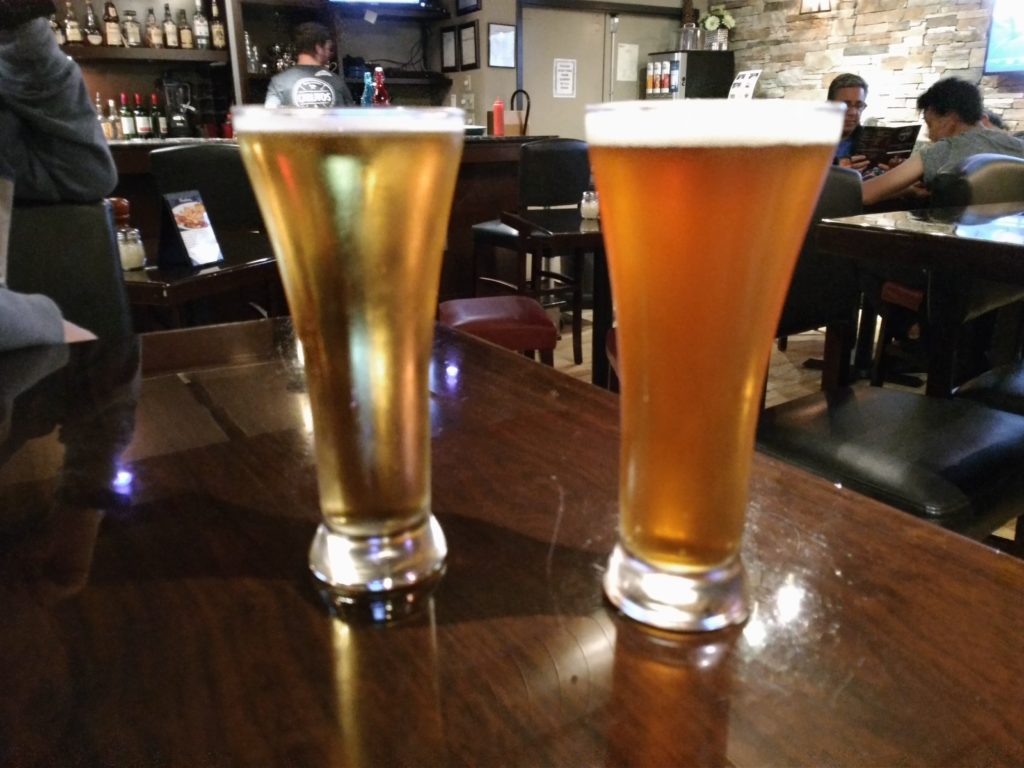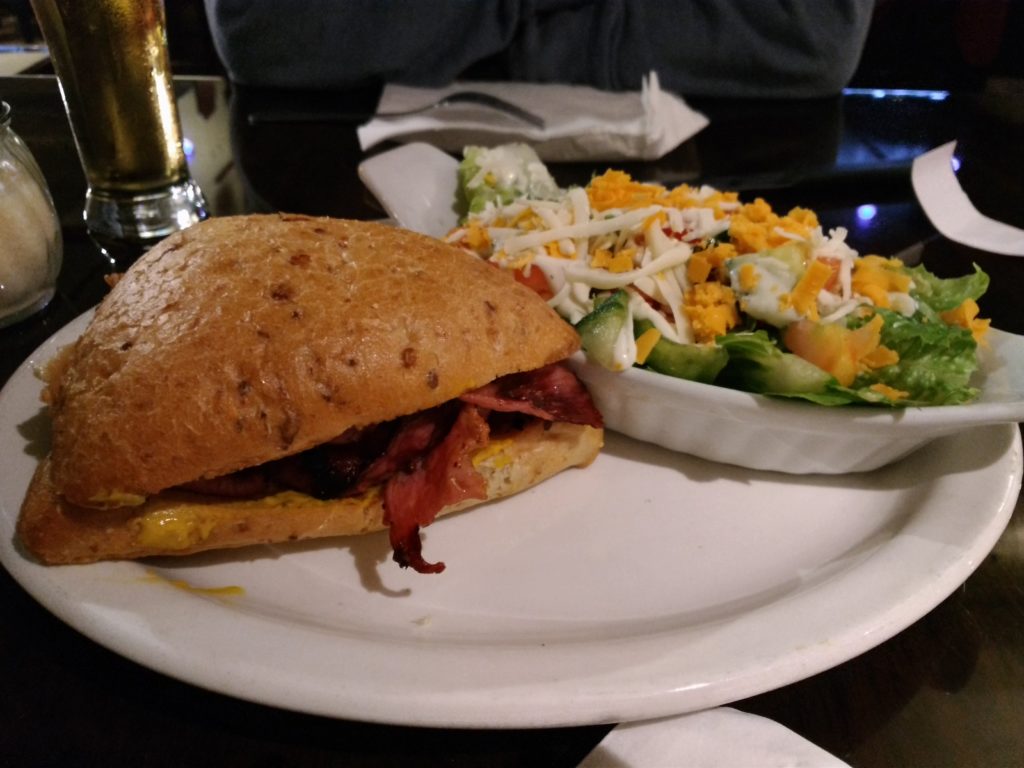 09:30 Check out from the lodge
10:30 Continental Divide
12:00 Sinclair Canyon
13:00 Visitor Center of Radium Hot Springs
14:00 Dog Lake
18:00 Check-in at the lodge
20:00 Dinner at Chuck's Steakhouse
22:00 Bar
Sixth day: Tue, August 13
It was a fine day as it had been forecasted. We went around Lake Louise and went to Calgary.
We had planned to climb Mt. Temple near Moraine Lake. However, the road to Moraine Lake had already closed because of full parking lots when we got there a little before 8 a.m. We had to drive to the town in order to turn around because U-turns were banned on the roads around Lake Louise, and on the way back, the parking lots of Lake Louise were full too. When we looked for a parking lot for a while, other cars squeezed wherever they could to park, so the parking areas were completely full.
We gave up and asked the visitor center what we should do, and they said that the limousine buses ran from the large parking lot, which was a little far from the visitor center. At last, we were in the line for a bus at the large parking lot for two hours, and furthermore, we reserved a bus that would depart from Lake Louise for Moraine Lake two and a half hours later.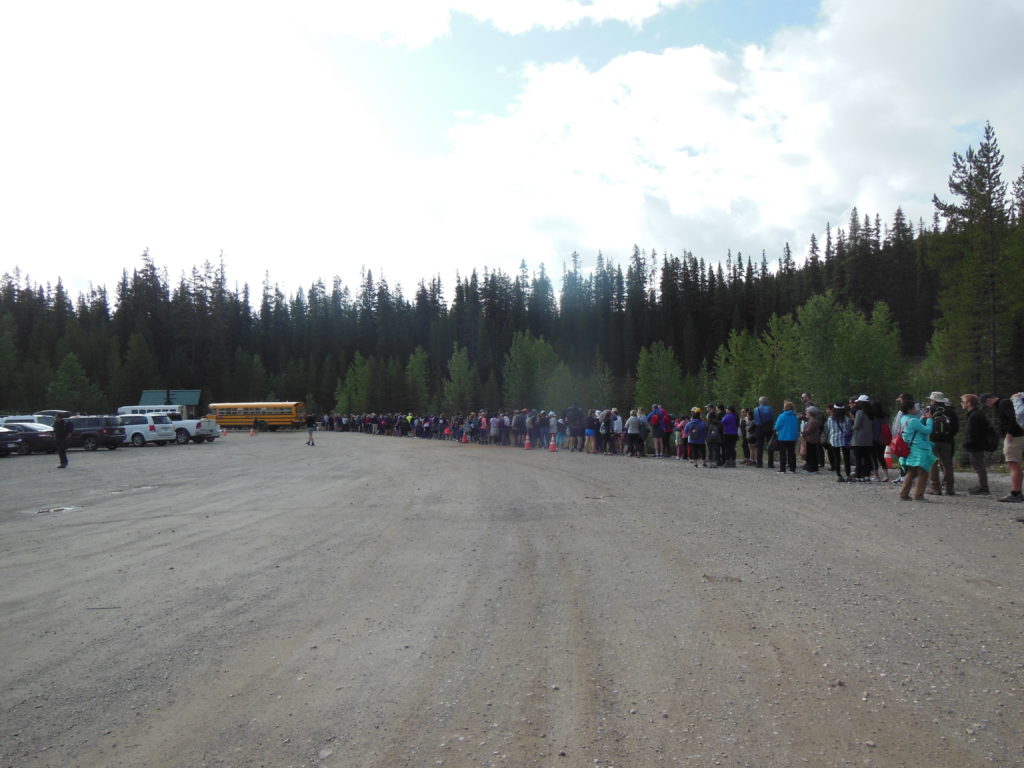 We hiked to Lake Agnes while we were waiting for the bus to Moraine Lake. It was a bit hard because we hiked the trail at a fast pace, two hours, but it usually takes two and a half hours.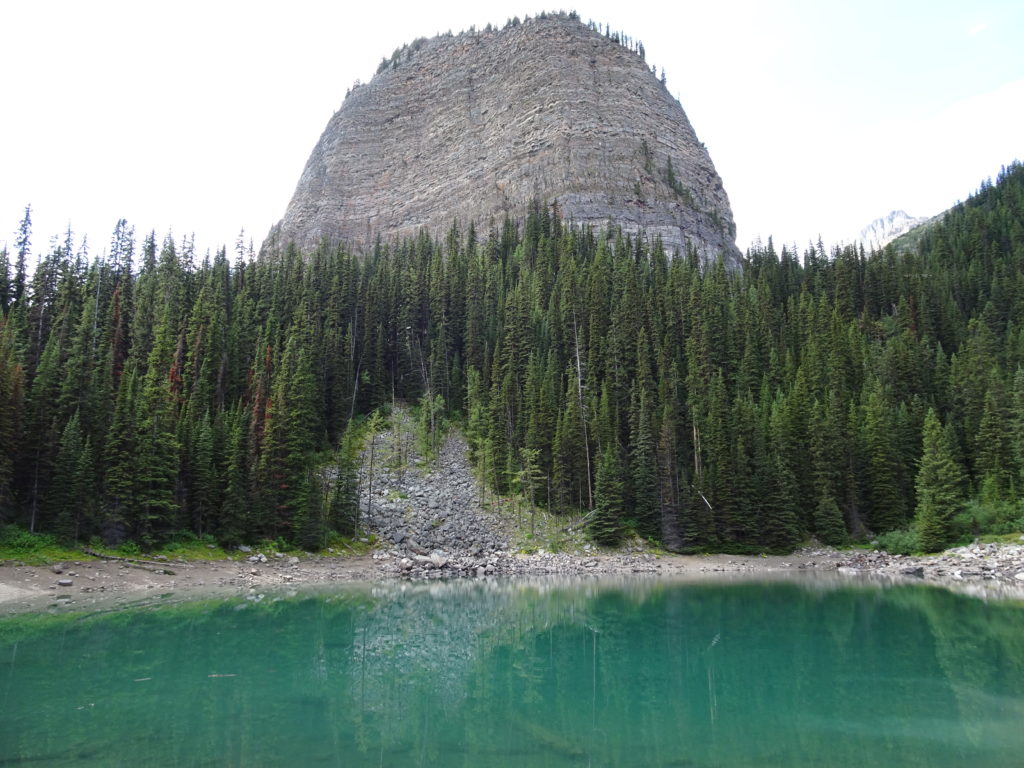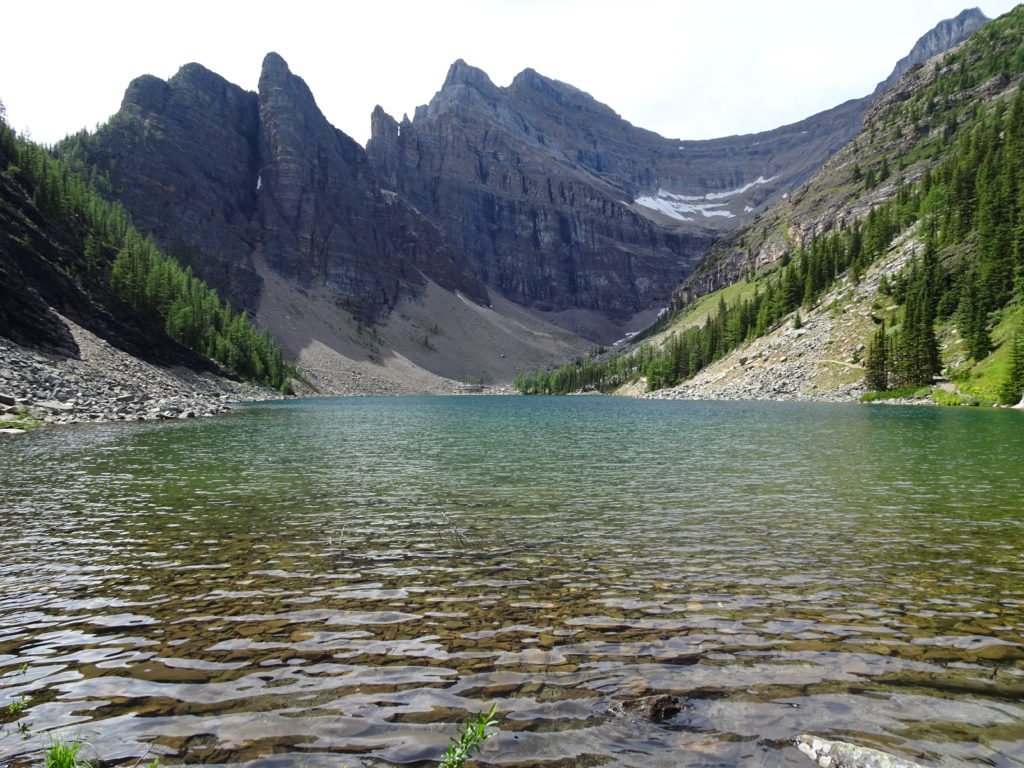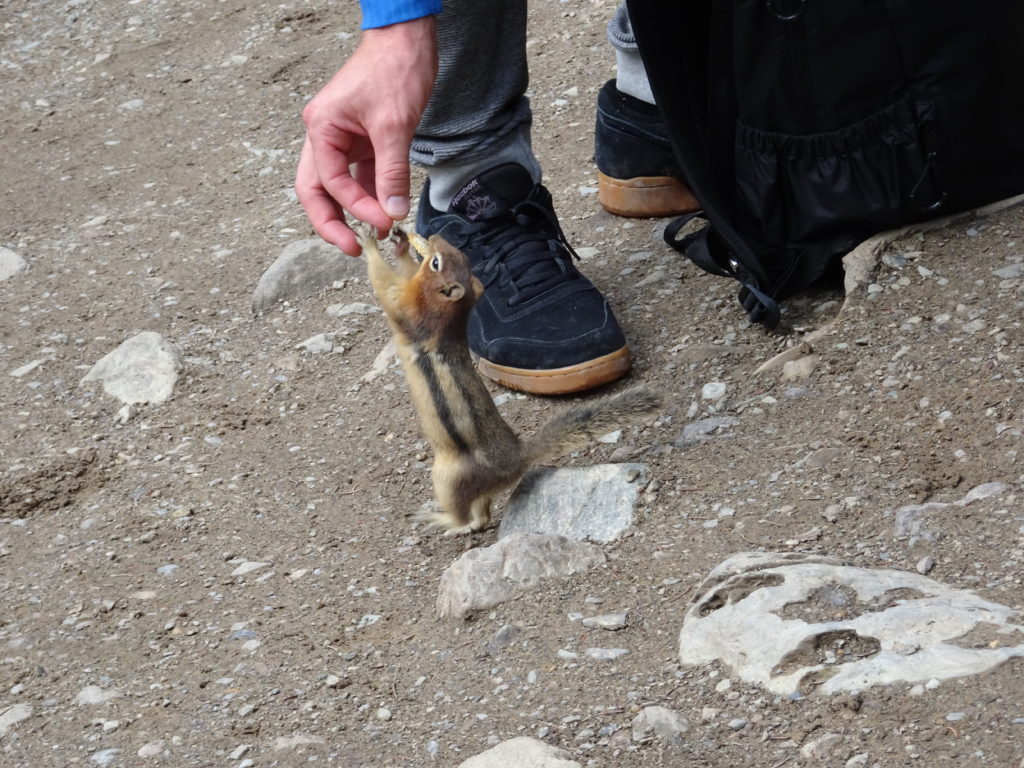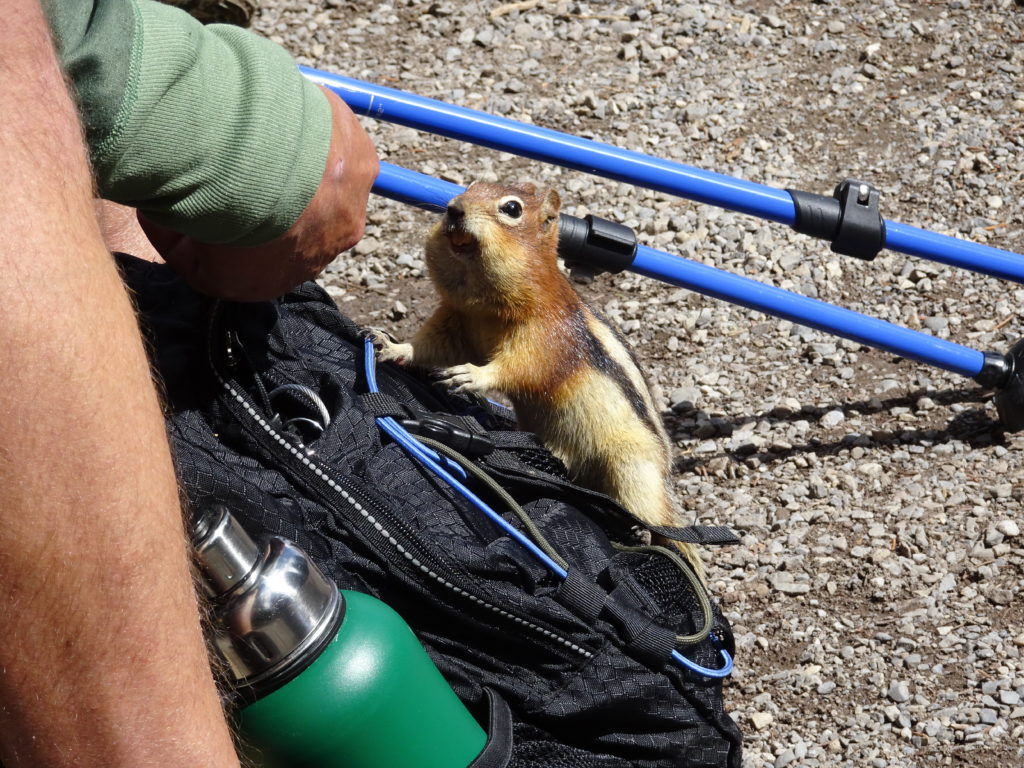 The bus departed on time. The scenery of Moraine Lake, which was printed on the Canadian bill, was as beautiful as rumored. I thought if I have a chance to come again, I want to look around slowly while hiking.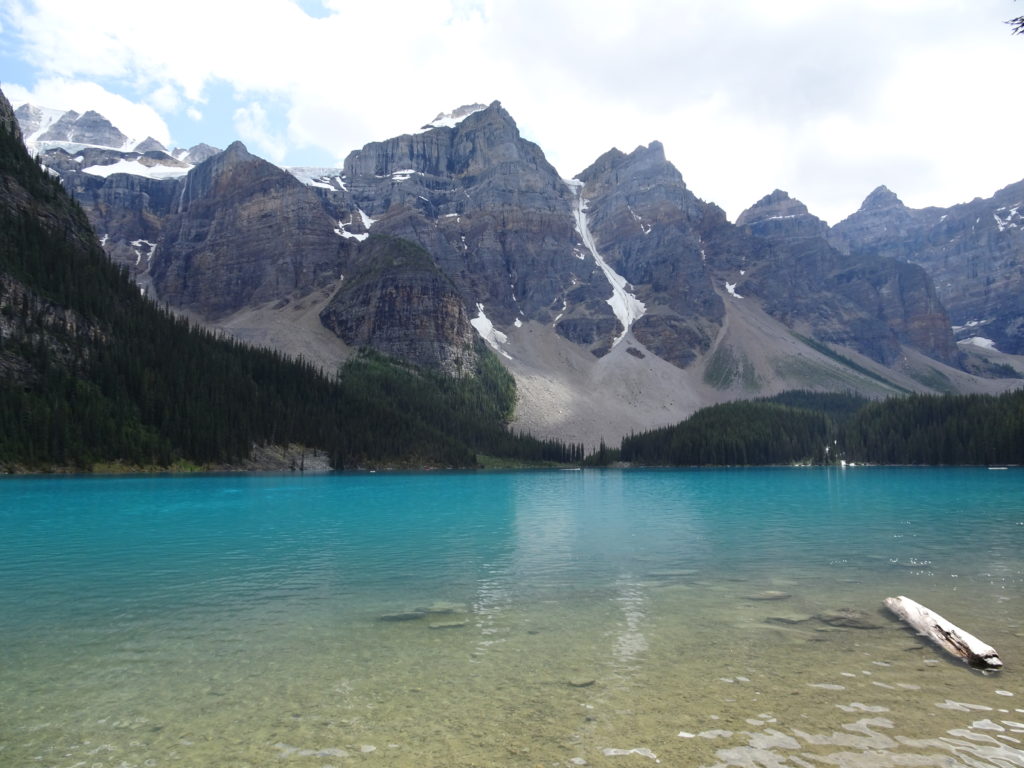 Because the last bus left in the afternoon, we had to hurry to buy souvenirs at the shop. The bus went to the stops in the town and the large parking lot without returning to Lake Louise.
We spent a lot of time sightseeing around Lake Louise and the National Park Passport had expired at 4:00 p.m, but we were able to go out without any problems. We stopped by the gas station in Canmore, which was out of the national park, and checked in at Westmount River Inn. We had dinner at Hayden Block Smoke & Whiskey nearby. I had a pairing of whiskey and smoked meats for the first time, and it was very good.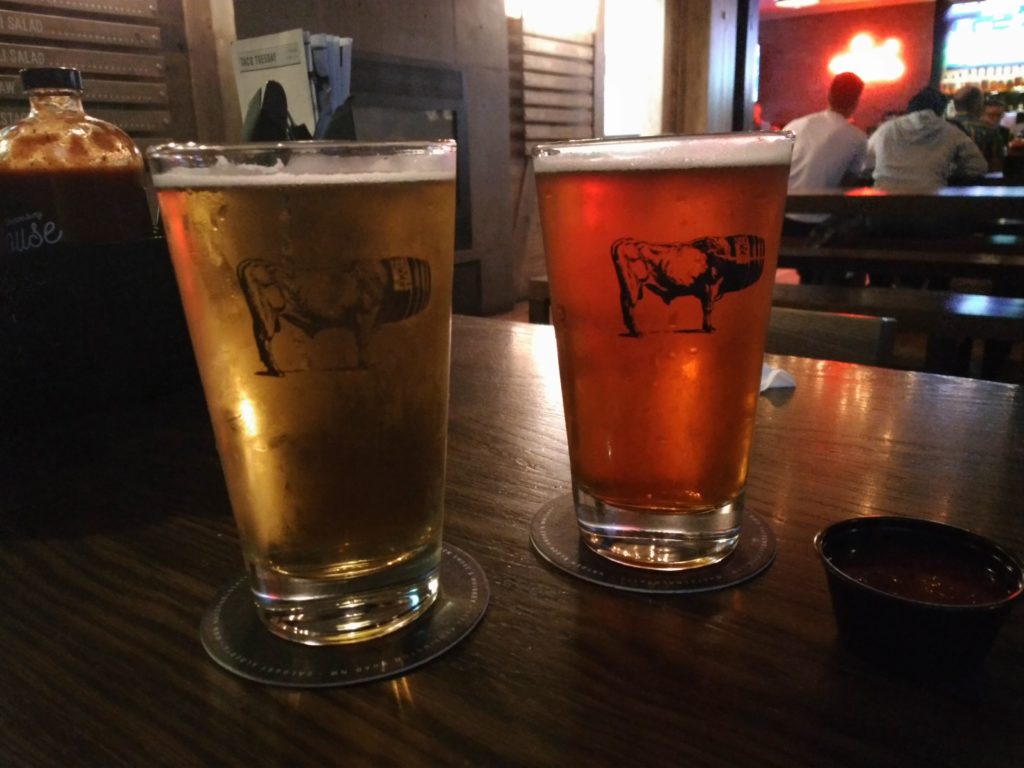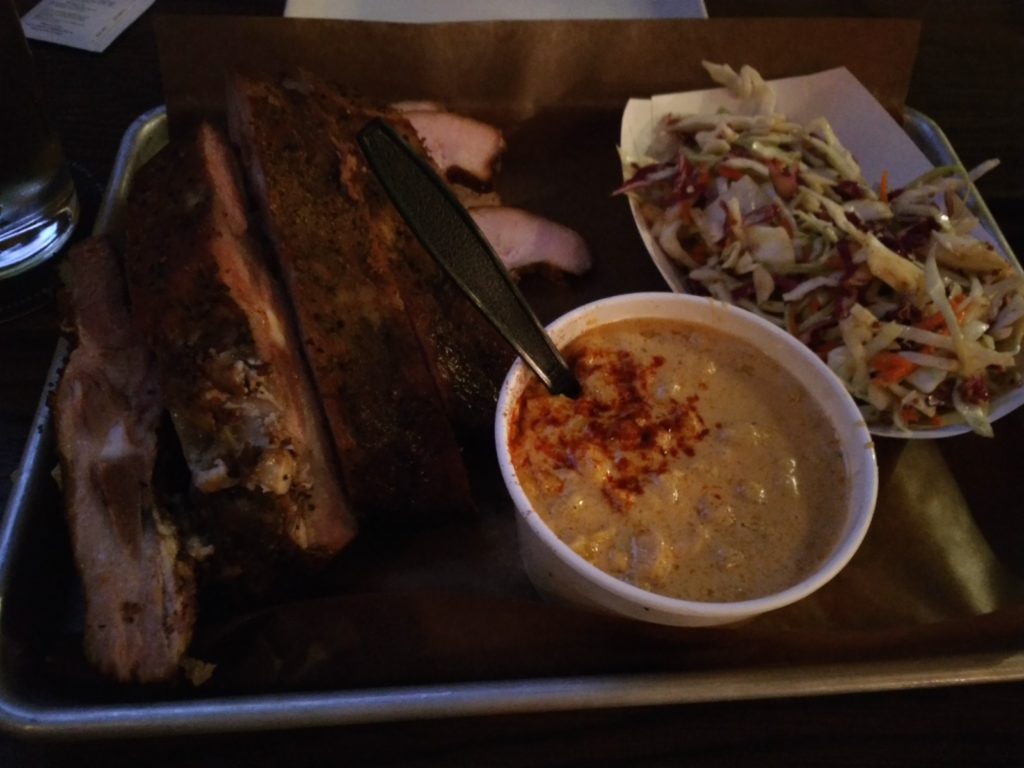 06:45 Check out from the lodge
10:00 Bus station at the large parking lots
12:30 Lake Louise
15:45 Moraine Lake
18:30 Canmore
20:00 Check-in at the lodge
21:30 Dinner at Hayden Block Smoke & Whiskey
Expressions
We stayed in the Canadian Rockies for six days, but it was not good weather except for the first and last days. I don't know what the normal weather in the Canadian Rockies is, but there were heavy low clouds in the cool morning, and when the temperature rose, we were often able to see the blue sky because the clouds rose. It rained many times when we were hiking, so rainwear was necessary.
There were many mosquitos, so the repellent spray was necessary. However, we were bitten a lot, and our itch relief medicine hardly worked.
The parking lots and the buses in high season Lake Louise are very crowded, so we needed to prepare for crowds.
If you look for wild animals, it's better to go to a few tourist areas, not around Banff. Commonly, we found black bears eating bearberries many times along the road past Lake Louise.