April 2019 (1MYR=27JPY=0.24USD):
This trip was during the Golden Week (long holidays in Japan) in 2019. We reached the Mt. Kinabalu summit in Borneo Island in Malaysia. We are a mid-40's couple and beginner climbers. We used the 2D1N Mount Kinabalu Climb Package from River Junkie Tours, which is a local tour company, and they had our mountain hut and guide arranged. We paid by card.
Itinerary
Pre-trip day: Kuala Lumpur International Airport – Kota Kinabalu International Airport
1st day: Kota Kinabalu City – Climb Kinabalu Mountain
2nd day: Reach the Kinabalu Mountain and Via Ferrata – Kota Kinabalu City
Pre-trip day: Sun, April 28
We arrived at Kota Kinabalu Airport in the evening. Luckily, we were able to catch the shuttle bus. This transportation is the cheapest (5RM/Adult). We got off at Centre Point and walked for about 5 mins to the hotel Le Méridien Kota Kinabalu. After check-in and taking a shower, we ate dinner at D'place Kinabalu, which served traditional local food of the Kadazan Dusun, and was about a 10-minute walk from the hotel.
1st day: Mon, April 29
The tour bus came to our hotel at 6:30 A.M., and we arrived at the Reception Office of the Kinabalu Park in about two and a half hours. We passed our passports to our driver and had him do the procedure for entering a mountain and obtaining an ID TAG, which we had to wear around our necks. We deposited our luggage in the meantime. You can rent trekking poles and headlamps here. Our guides joined us here because enlisting a mountain guide is compulsory for a group (Ratio of Max 5). We moved to the Timpohon Gate, which is a trailhead, by car.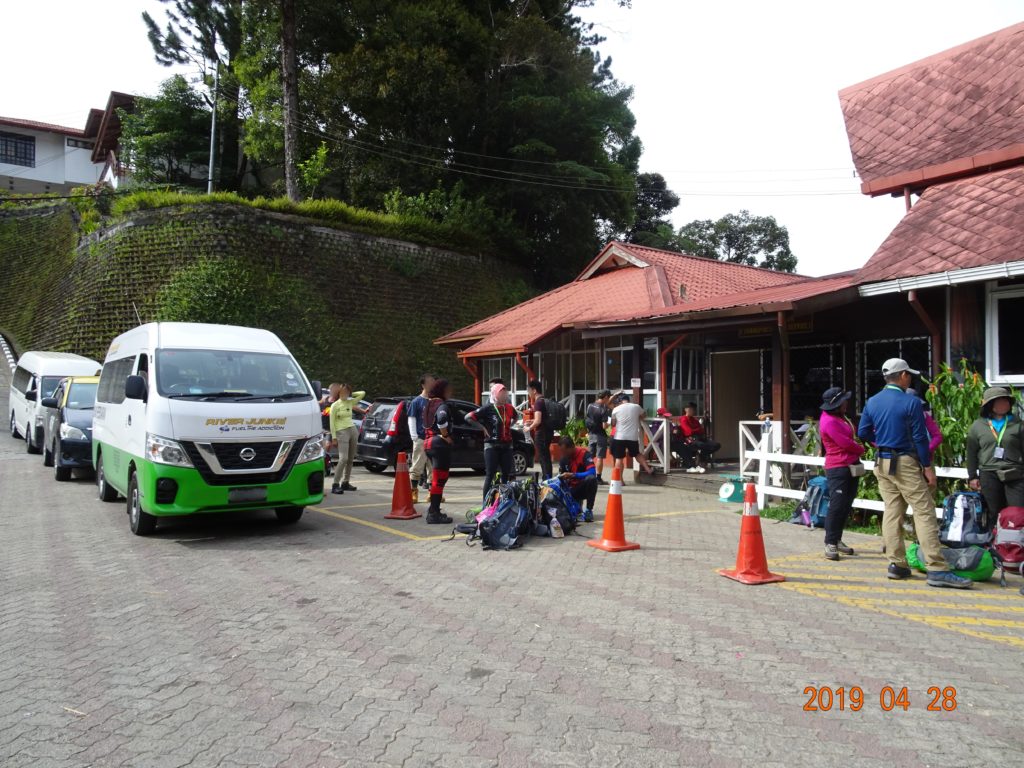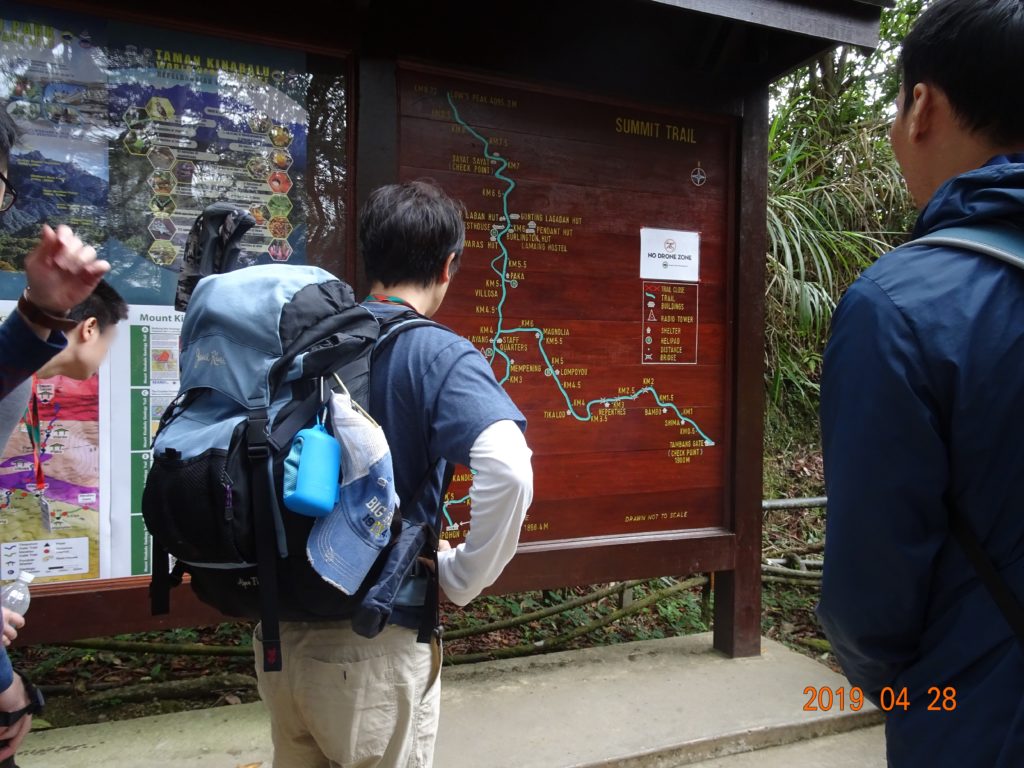 We started to climb at about 9:30 A.M., and we set out for the Pendant Hut, which was the place we stayed that night and exclusive at the Via Ferrata. We ate boxed lunches, which were given to us by the tour driver, at the Layang-Layang Hut at the 4 km point on the way. We arrived at the hut after 3 o'clock, so it took about 6 hours.
We should only carry a small amount of drinking water to the hut. There was distilled water at the Pendant Hut for free and mineral water was sold at the Laban Rata Resthouse, which is the dinner place.
We were able to have coffee, tea, etc. for free in the lobby. The orientation for the Via Ferrata began around 3:30 pm, and we practiced wearing the kit. We ate a buffet-style dinner at the Laban Rata Resthouse around 6 A.M. There were soups, vegetables, and meat, and they tasted good. After dinner, we looked at the sunset at a field near the restaurant.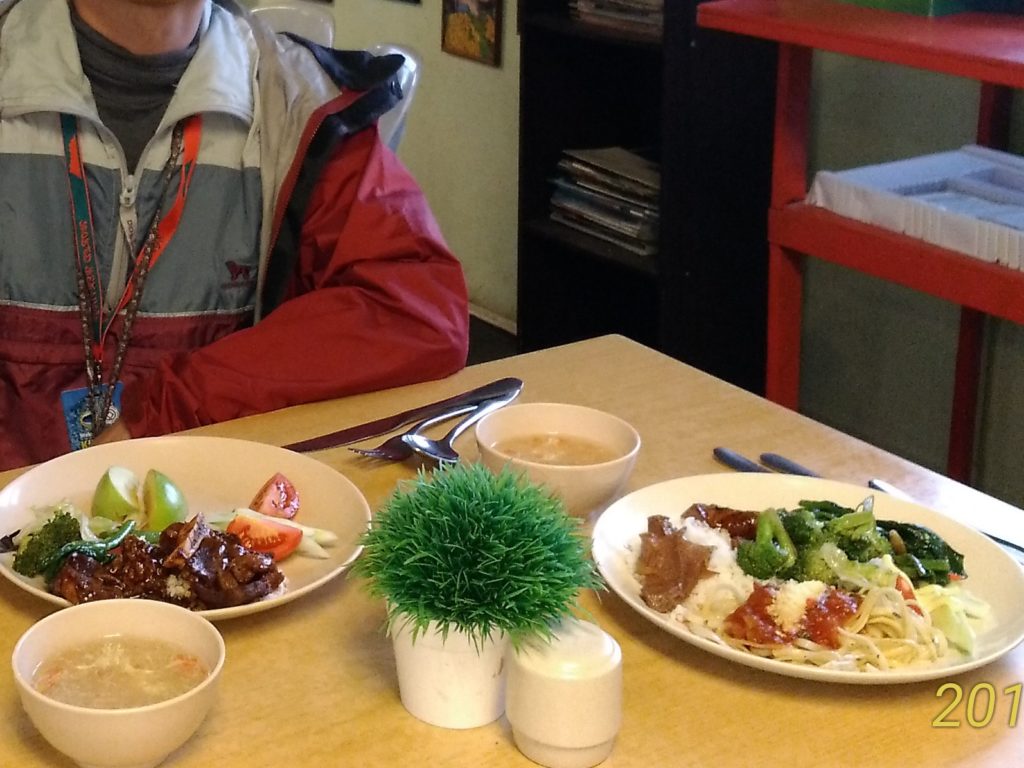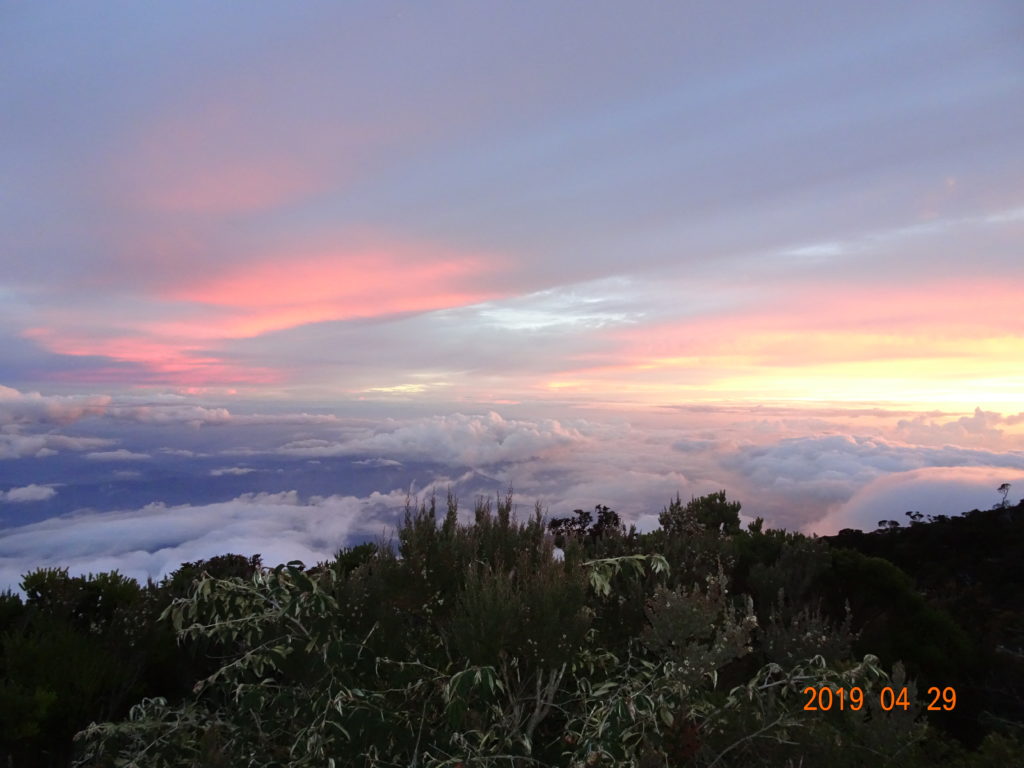 When we returned to the hut, there was a Japanese man, and we had a short conversation with him. He came here with members of a mountain climbing club, and they trained for Mt. Kinabalu in Japan. It would be harder than ever to reach the summit. I was a little worried about it. As we would get up early the next day, we went to bed at about 8:00 pm, but I wasn't able to fall asleep because of breathlessness, and I'm not sure if it was mountain sickness.
09:00 Reception Office (1,564m)
09:30 Timpohon Gate (1,867m, Start Point: 0km)
12:30 Layang-Layang Hut (2,702m, 4km)
15:15 Pendant Hut (3,290m, Approx.6km)
2nd day: Tue, April 30
We got up after 1:00 A.M. We left the things that were not necessary for reaching the summit at our bed, and had a brisk meal in the lobby. We met our guide at 2:30 A.M. and waited in front of the gate until it opened. There were a lot of people from other huts.
As it was dark, it was hard to walk without a headlamp. We wore knit hats and work gloves because of the low temperature. The stairs that only about two people could go through continued; therefore, it was crowded because fast walkers and slow walkers were mixed. Sometimes, there was steep terrain on which ropes were dropped.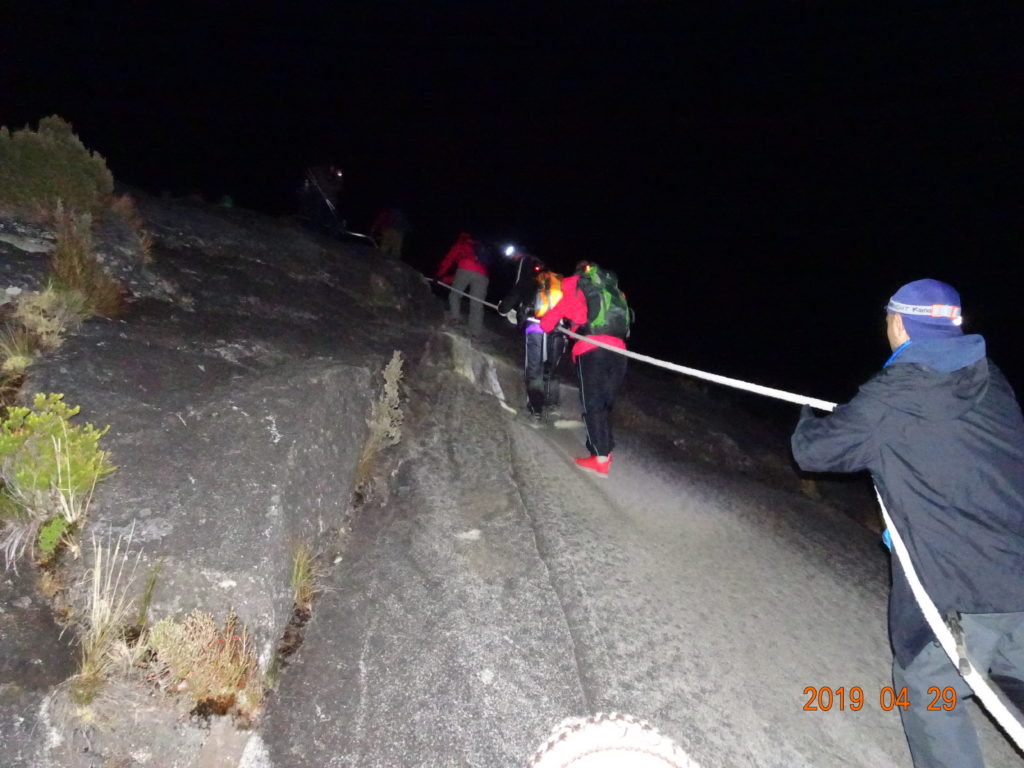 We showed our ID TAG at the Sayat-Sayat checkpoint on the way. From here, there was a very wide area in which we climbed endlessly. We reached the foot of Low's Peak at about 5:45 A.M. We climbed the last rocky mountain nonstop and reached the summit after 6:00 A.M. The sunrise had already started.
As the summit was so crowded, we got in line for the commemorative photo. After taking photos at the Summit Signage, we started to descend immediately. It was busy because it was meeting time for the Via Ferrata.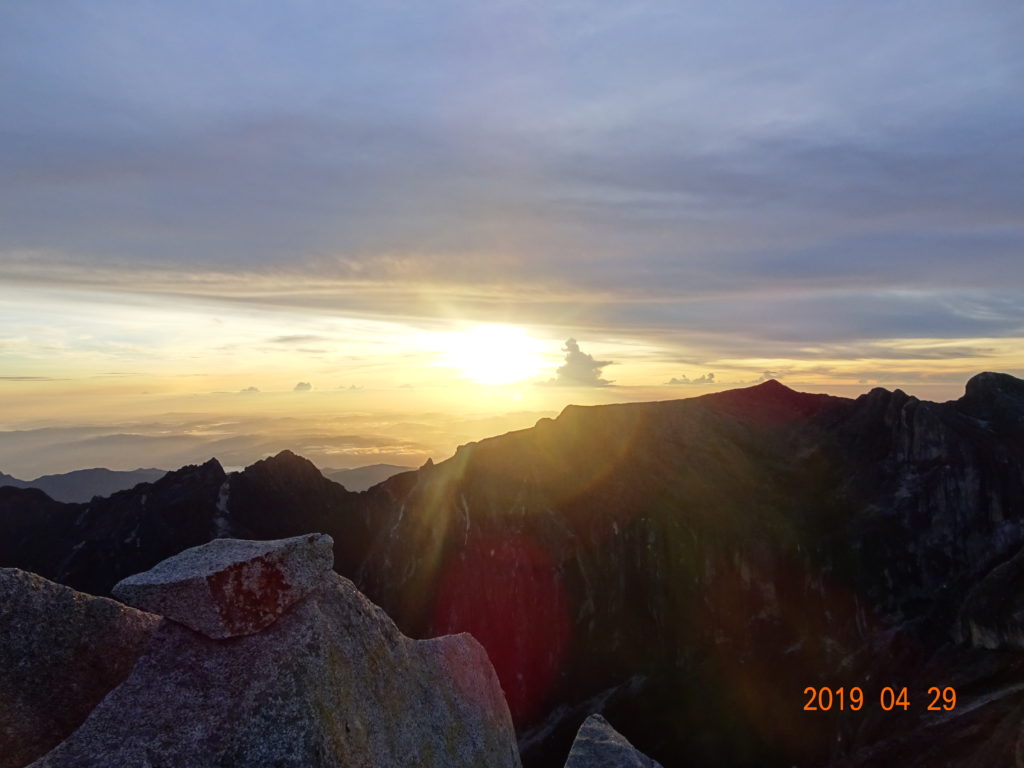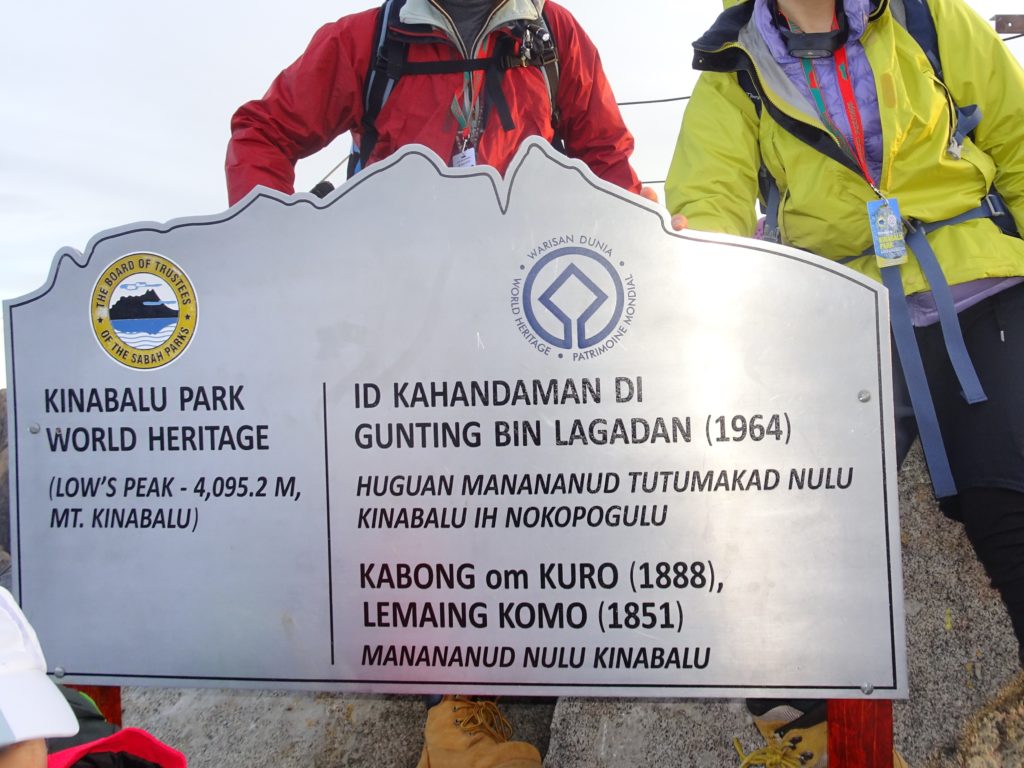 As I began to see the full view when I descended, I could see the beautiful scenery. We arrived at the Sayat-Sayat Hut, the meeting place, around 7:15 A.M. We waited for a Vietnamese couple who were in the same group.
We arrived at the starting point of the Via Ferrata Walk the Torq around 8:30 A.M. The instructor kept my camera and took our photo. It was about a 2- hour course that had us scrambling from one valley to another. There was a long ladder and the course was varied, so we enjoyed it. There was a 4 to 5-hour long course for people with enough stamina.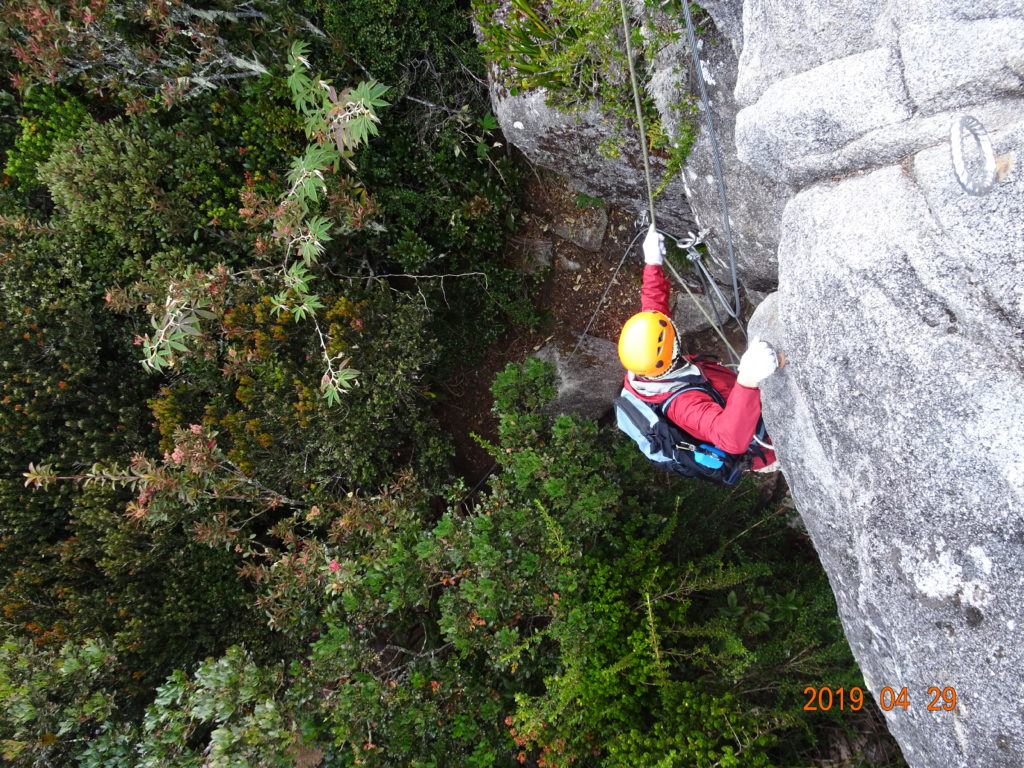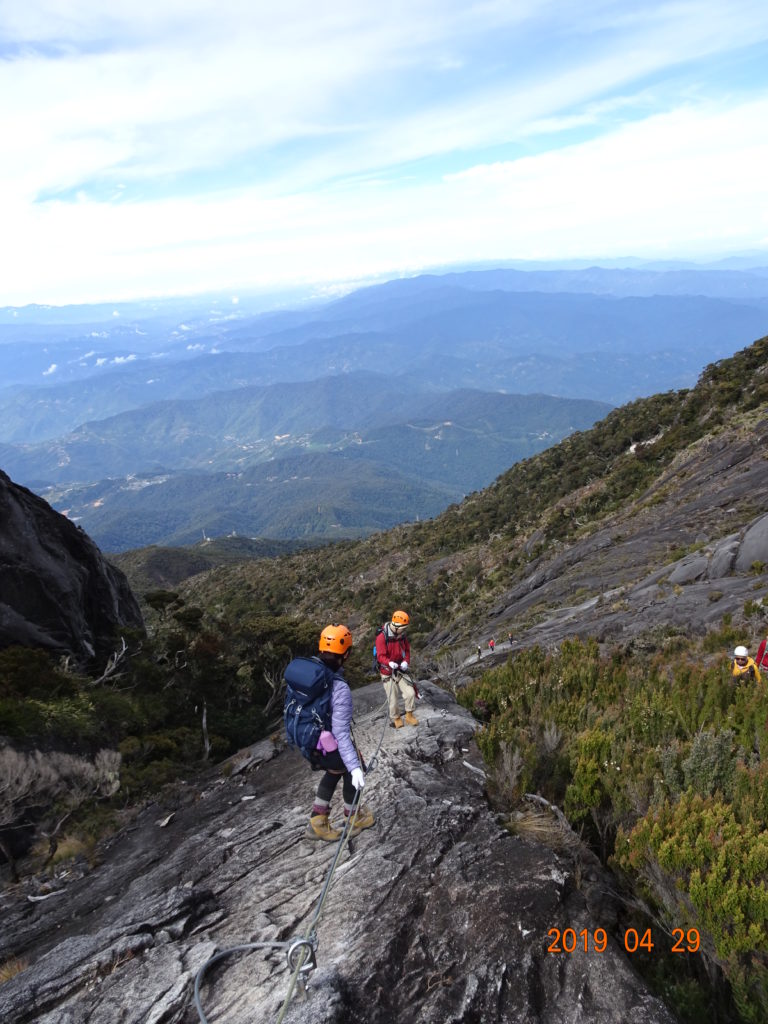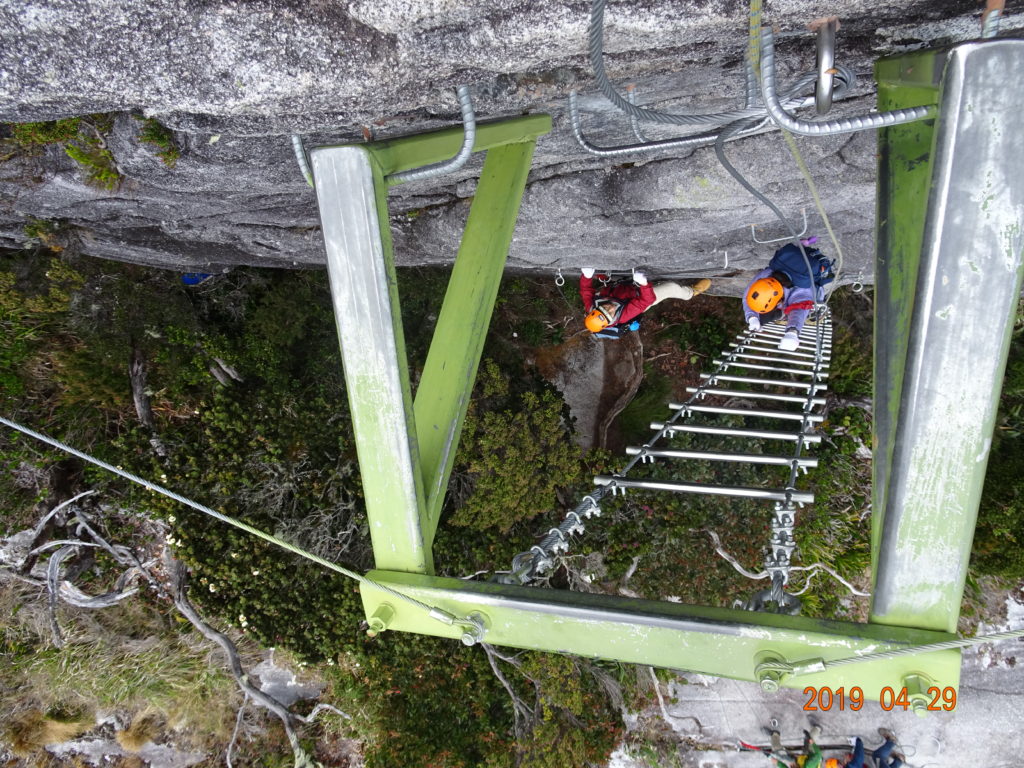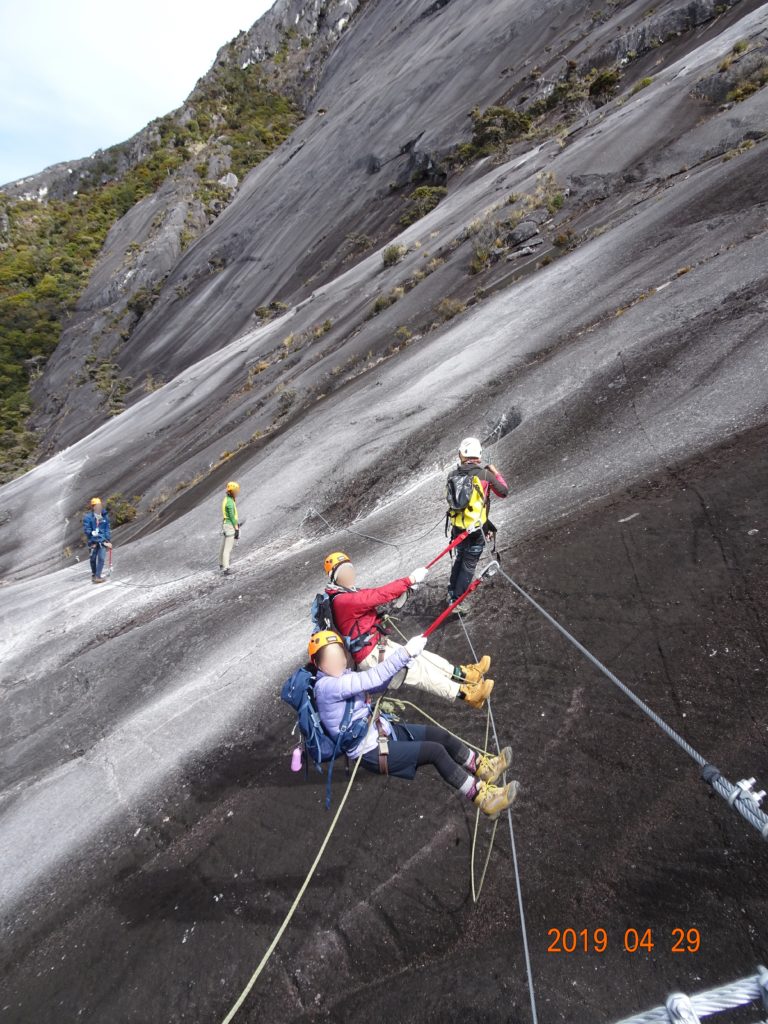 When we returned to the hut, we had breakfast. As we were behind schedule, we started to descend immediately. We were able to see endemic species such as Nepenthes Villosa, rhododendron flowers, etc. On the last part of the way, my stamina was exhausted. It had taken about five hours to get to the trailhead.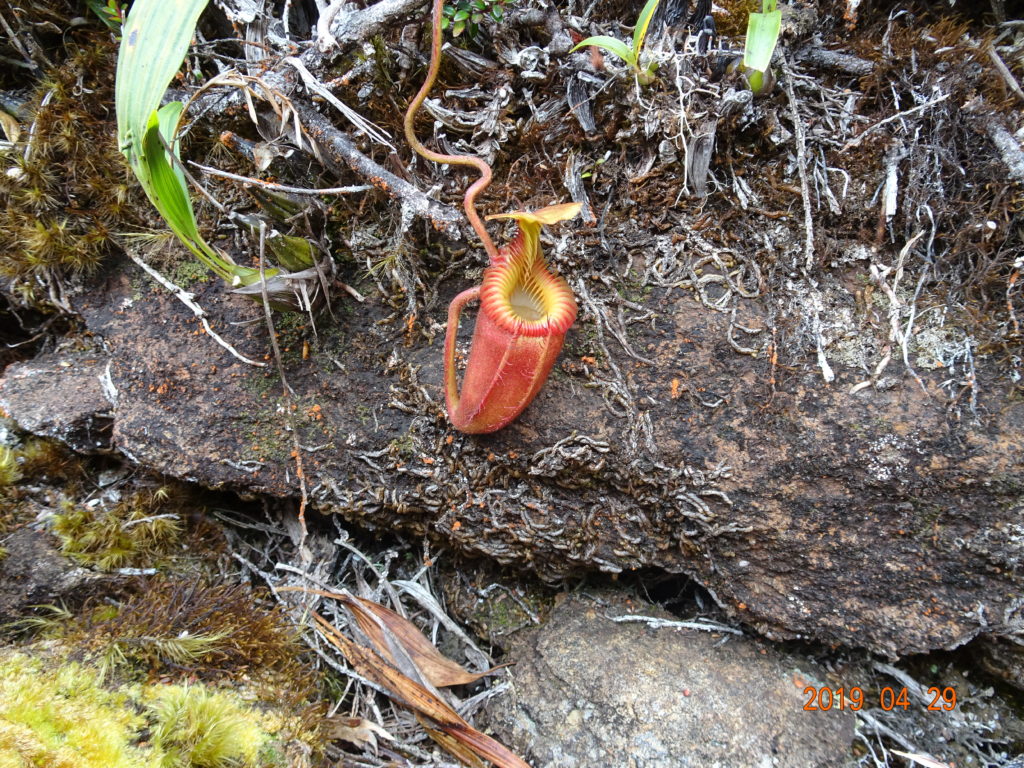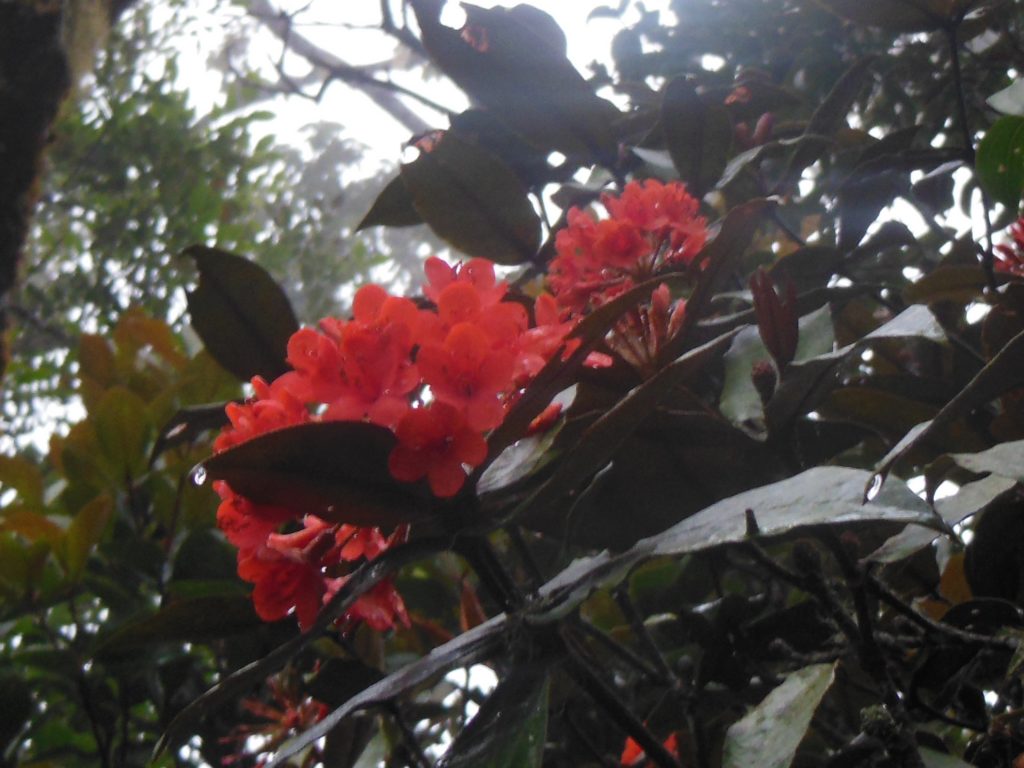 We were picked up by our tour driver at the trailhead and went to the Reception Office. While we received our luggage, the tour driver got the certificates for reaching the Mt. Kinabalu summit and for finishing Walk the Torq. We passed a tip to our guide and parted here.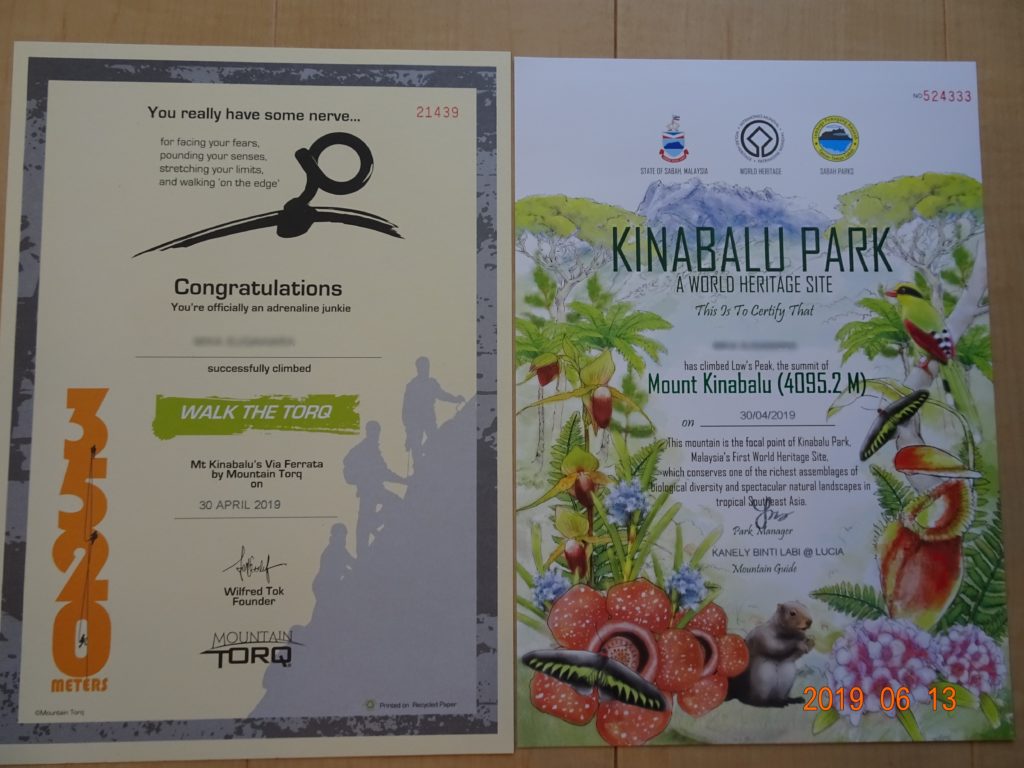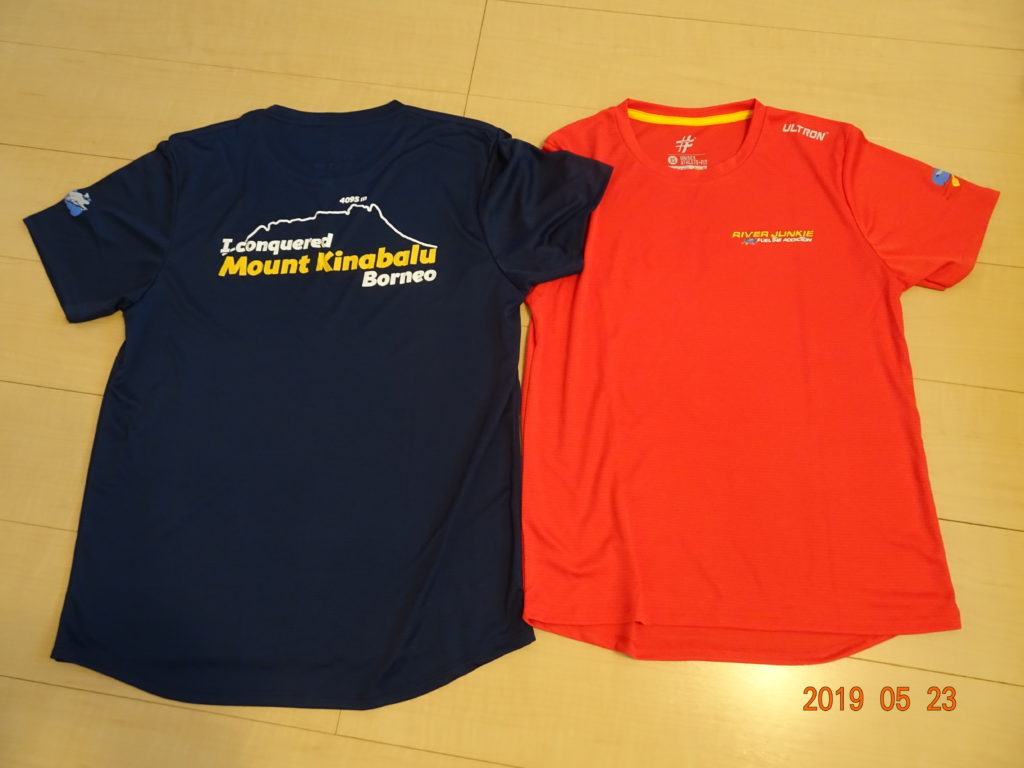 We dropped the Vietnamese couple off at Kota Kinabalu Airport and arrived at the hotel Le Méridien Kota Kinabalu around 8:00 P.M. After taking a shower, we had dinner at Suang Tain Seafood Restaurant which was about a 10-minute walk from the hotel.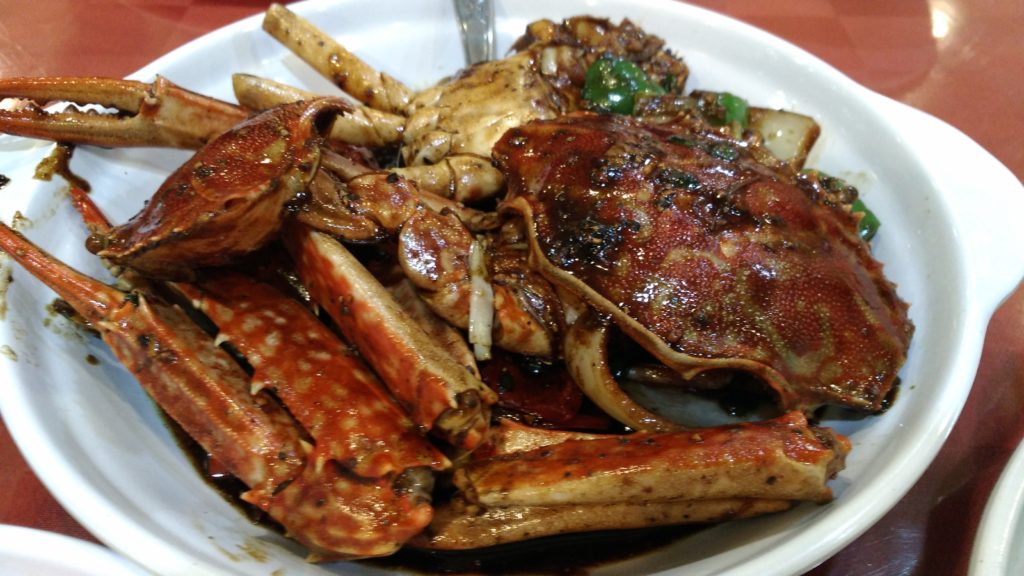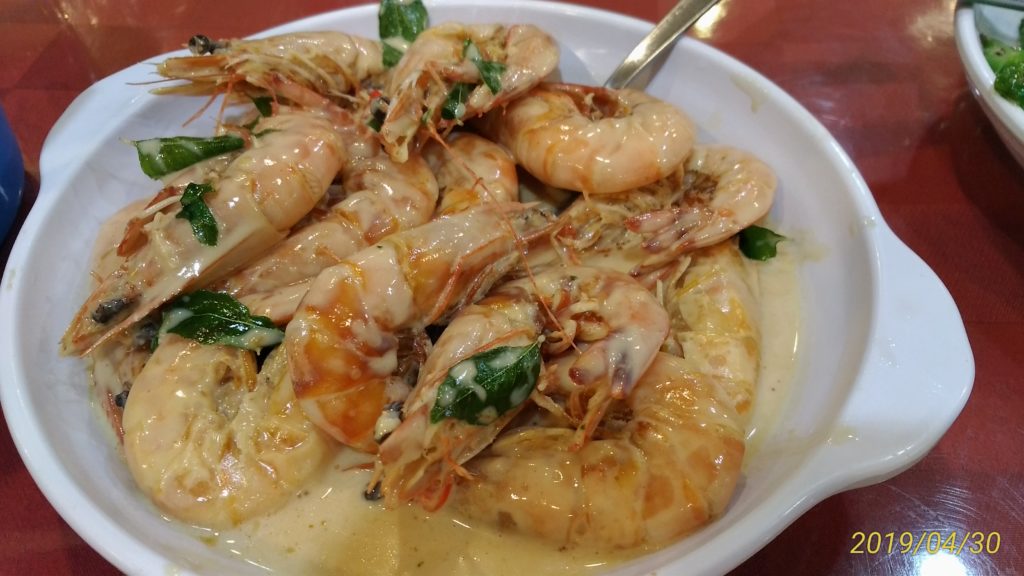 02:30 Pendant Hut(3,290m, Approx.6km)
06:15 Low's Peak (4,095m, 8.7km)
07:15 Sayat-Sayat Hut (3,688m, Approx.7.5km)
08:30 Via Ferrata
11:00 Pendant Hut
11:45 Start descending
16:30 Timpohon Gate
20:00 Le Méridien Kota Kinabalu check-in
21:00 dinner
Impressions
There was unstable weather like the thunderstorms on the previous night, and there were several times when we needed rainwear on our mountain walk. As the temperature is low at a high elevation, we needed enough cold protection. I feel a headlamp and trekking poles are necessary.

The bed in the hut was warm enough because we slept in sleeping bags. The restroom in the hut was clean and had toilet paper, but you had better bring some. There was no toilet paper in the restroom during the walk on the mountain.

I climbed this time and felt a pre-training was necessary. In the case of the Vietnamese couple (they looked to be in their 30's), we heard that only the man climbed. In the case of the Japanese mountain club, we saw the leader and another man and woman (all three looked in their 50's) had reached the summit. The other members (all men and women who looked about 60ish) might have returned because of Via Ferrata. If you aim for the summit, you are more likely to complete it without Via Ferrata.